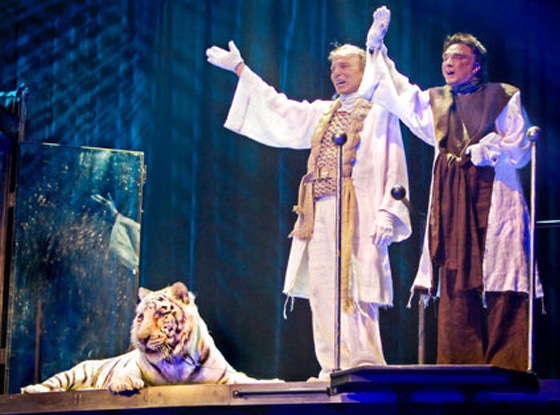 Curtis Dahl Photography
Siegfried & Roy are in mourning.
The Las Vegas-based entertainers famous for incorporating white tigers into their elaborate, illusion-packed stage shows announced today the death of Mantecore, one of their prized pets and former costars.
And yes, the name is particularly familiar because it's the same big cat that nearly mauled Roy Horn to death onstage during a performance on Oct. 3, 2003.
According to a rep for the longtime couple (both onstage and off), Mantecore passed away on March 19 after a short illness at the age of 17. He had been living at the Siegfried & Roy Secret Garden and Dolphin Habitat at the Mirage hotel in Vegas.
Courtesy: Thorsten Jander/Totally Amazing Press
"The world has lost one of its most majestic creatures and I have lost a brother," Horn said in a statement released today. "I will forever believe it was his concern for my safety and well-being that caused him to act as he did on that night long ago. We spent many hours together and he never failed to bring me great joy and wonderment. It was my great honor to be beside him at the end. He is now playing with his siblings in White Tiger heaven.
"His contribution to the avalanche of awareness for conservation and preservation has made him unforgettable. His spirit will live forever with Siegfried & Roy and his multitude of fans." 
Horn's injuries were so extensive that he and Siegfried Fischbacher's long-running show at The Mirage in Vegas ended up closed for good. Siegfried & Roy appeared at a benefit performance featuring Mantecore in 2009, but for all intents and purposes they effectively retired that night in 2003.
But while Horn's loyalty to their tigers never wavered, with the performer always insisting that Mantecore actually pulled him to safety after he got dizzy onstage, he also revealed in his touching tribute to Mantecore on Facebook that he also pulled the tiger back from the brink when he was a newborn cub.
"With a big sigh of relief I left the den, only to be called back later because he wasn't looking so well," Horn recalled. "I went back to find him pretty lifeless, with a cold nose and blue lips. I gave him mouth-to-mouth resuscitation and put him inside my shirt and held him tight...My mouth-to-mouth resuscitation brought him back—I saved his life and then he saved mine, so we were even. His contribution to the avalanche of awareness of Conservation and Preservation as well as countless appearances in our Show, Television and Movies makes him unforgettable."
Now that is love. Eleven white tigers, two white lions, two black leopards and six spotted leopards survive Mantecore at the Mirage habitat.