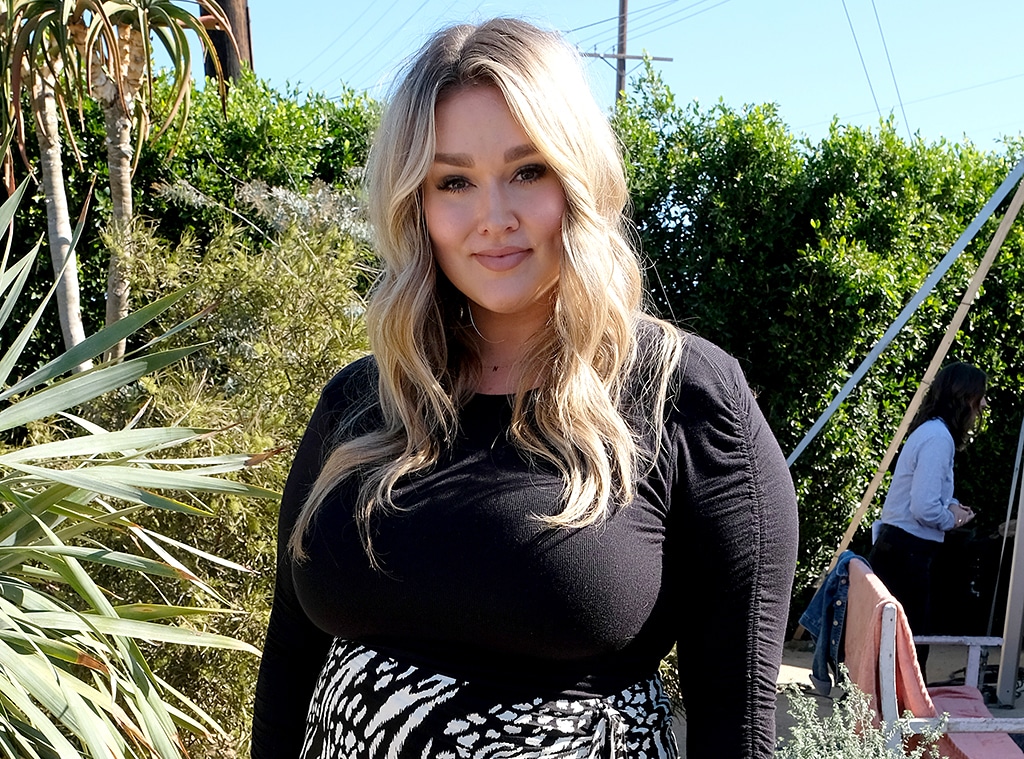 Sarah Morris/Getty Images
We love these products, and we hope you do too. E! has affiliate relationships, so we may get a small share of the revenue from your purchases. Items are sold by the retailer, not E!.
Hunter McGrady is ready to see even more change in the fashion industry. 
Nearly four years after first appearing in Sports Illustrated's swimsuit issue, the 27-year-old model hoped there would be more opportunities for curvy girls like herself. But before speaking at The BodCon's virtual conference this February, Hunter couldn't help but reflect on what she has seen and experienced in the world of fashion.
"I think a lot of people want to report that the industry has changed rapidly and we've seen immense growth, but the truth of the matter is that it's slow. It's slow, but I think we are getting there," Hunter exclusively shared with E! News. "I live in New York City and I still don't have the opportunity to go and shop in SoHo or 5th Avenue in any of the stores because none of them carry my size. I only have a few select stores that I'm able to shop with online."
The body positivity advocate added, "To me, you're really missing a huge, huge part of your customer who's there and willing to spend the money. They just don't have the product and for me, the question is, why? Why are we not catering to these women who are desperately in need of just beautiful fashion? Fashion has no size. Fashion has no age. Fashion is for everyone."
Another point of discontent the East Coast resident has noticed is the lack of diversity at New York Fashion Week. According to the plus-size model, she stopped following the shows because they were "disappointing."
Watch:
Ashley Graham on Becoming "Sports Illustrated" Cover Model
"It goes back to the brands," she explained. "You can't use a plus-size model if you don't have plus-size clothes. It's such a catch-22. Even publications, I want to see curvier girls on the cover and I don't want to hear how curvy they are. It's not about their body. That's the least important thing about them." 
It's a message she hopes to spread at The BodCon, a virtual conference focused on body confidence and the movement towards radical self-acceptance. Scheduled to take place on Feb. 21, the live event aims to bring consumers together to help ignite conversations that will have a lasting impact on how individuals view their bodies. Tickets are on sale now. 
The event is just one of the ways Hunter fights for body positivity and inclusivity. In fact, the designer turned her frustration into purpose when she teamed up with QVC to create a fashion line called All Worthy.
While she previously got offers from other retailers to do a clothing line, Hunter said the shopping network was the perfect fit because of their dedication to inclusivity. 
"This QVC line has been such a blessing," she told E! News. "I'm the first to bring up to a 5X, Size 36, which is awesome. We're a size 00 to 36 and XXS to 5X. We have petite, regular and tall pants." In fact, Hunter shared some of her favorite pieces below.
All Worthy Hunter McGrady The Ultimate Regular Faux Leather Legging
Slip into these stunning and deceptively realistic-looking faux-leather leggings with a curve-hugging silhouette. With multiple colors to choose from and a great sale price, it's no surprise this is one of All Worthy's top-selling items. 
All Worthy Hunter McGrady Regular Knit Jumpsuit
The comfy equivalent of waking up to breakfast in bed, this knit jumpsuit is scrumptiously soft. Warning: This item just launched and is already selling out in several sizes. 
All Worthy Hunter McGrady Regular Lace Up Jogger
Comfort is key at the beginning of 2021! These cozy knit joggers feature a lovely lace-up front for added femininity. Heads up, you may never want to take these off. 
As a new year kicks off, Hunter promises to continue to be a voice for plus-size women everywhere. Instead of making resolutions or major goals for 2021, the model said she is trying to "enjoy each day and take it in stride."
And while the future is unpredictable, one thing is certain: Hunter won't stop advocating for her fellow curvy girls.
"Anytime someone messages me saying that I make them feel more comfortable in their skin, it is the most rewarding compliment I could ever, ever, ever get," she shared. "When I started out, I said to myself, 'If I could make just one person feel comfortable, I would be happy and consider that successful.' To hear that every day, it's so special."