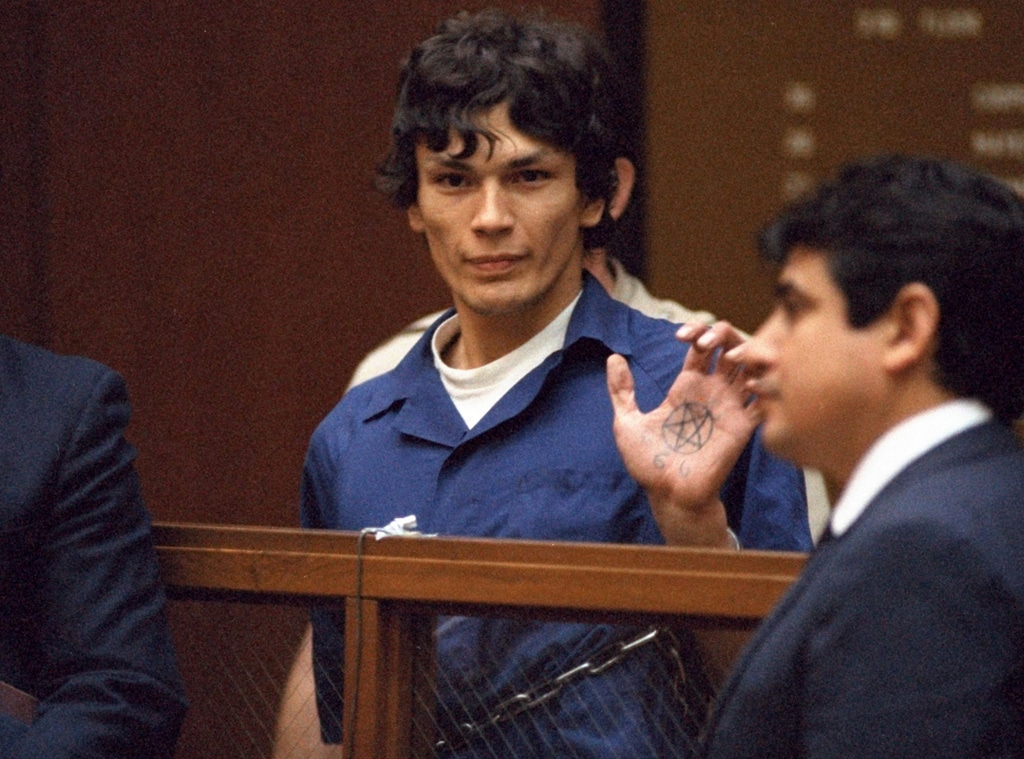 Lennox Mclendon/AP/Shutterstock
One of the reasons why American Horror Story remains must-watch terrifying TV is the way in which it craftily utilizes real-life figures in its otherwise fantastical story plots, from making the Black Dahlia, Elizabeth Short, one of the unfortunate victims to pass through the Murder House to the banquet of ghostly serial killers convening at the Hotel Cortez in season six.
Moving from Devil's Night dinner guest to recurring nightmare in AHS: 1984 was Richard Ramirez, played in the latter season by Zach Villa as a reliably murderous presence at Camp Redwood, imbued with supernatural powers that made him unkillable.
Which can't be far from how it felt when the real Ramirez—the serial killer known as the Night Stalker—was terrorizing the Los Angeles and San Francisco Bay areas during a brutal spree of rape and murder between 1984 and 1985 that left at least 14 people dead and countless others physically and psychologically scarred.
Ramirez spent almost 24 years on death row before dying of cancer in 2013 at the age of 53, having told reporters after a jury handed down his punishment, "Big deal. Death always went with the territory. See you in Disneyland."
Watch:
Macaulay Culkin Joins "American Horror Story" Season 10
It's not to say that AHS brought him back to life, because the world's most notorious villains are never really forgotten, and pop culture holds a special macabre place in the darker regions of its soul for monsters. But it's unlikely that finding out the Ramirez character was based on a real guy didn't get younger audiences, or those lucky enough not to know much about him, interested in the true story, which is now also the subject of the new Netflix docu-series Night Stalker: The Hunt for a Serial Killer. 
And for those who did know of him, it was a mixed bag to see him—not glamorized, exactly—but turned into someone whose fate you could have a general interest in. (Lou Diamond Phillips also played Ramirez in a 2016 TV biopic, The Night Stalker.)
"I mean, I just hate it," AHS: 1984 costar Angelica Ross told Cinema Blend in 2019. "Honestly, it's hard to say, because I love Zach. Zach is great, but I hated his character. I hated Richard Ramirez. I felt just a lot of different feelings about serial killers, and he's a real serial killer, and...there's just a lot of things going on. But I realized that I like to look at the world with rose-colored glasses. And as a Black trans woman, I've kind of had to settle with the fact that I can't walk alone a lot. I have to check the backseat. I have to do these things in order to stay safe in today's society, in this world. You don't want to think that these things exist, but there are boogeymen out there."
And Ramirez was one of the worst.
His first victim actually ended up being counted as his 14th, the April 10, 1984, rape and murder of 9-year-old Mei Leung in the basement of a seedy hotel in San Francisco's Tenderloin district not officially attributed to him until he was linked by DNA in 2009.
It was after that killing that the drifter from El Paso, Texas, took off for Los Angeles.
Between June 28, 1984, when he nearly decapitated 79-year-old Jennie Vincow, who was asleep in her bed in her L.A. apartment when Ramirez crawled in through a window, and Aug. 24, 1985, when 30-year-old Bill Carns survived being shot in the head as Ramirez beat and raped Carns' girlfriend, Inez Erickson, Ramirez gleefully taunted investigators and repeatedly evaded capture, all the while thinking the devil was on his side.
Women he raped who survived recalled him demanding that they declare their love for Satan. Pentagrams scrawled in lipstick on walls and on victims further perpetuated the narrative that the killer worshipped the devil. Ultimately the pentagrams helped prove his undoing, investigators finding a similar one drawn on the bathroom door in a hotel room where the suspect had stayed.
Believing that the devil was looking out for him, Ramirez was a delusional sadist who injected cocaine and heard subliminal messages in the lyrics of the heavy metal music he favored. At 24, when he committed his first known murder, he was a veteran burglar and car thief, as well as often homeless because he spent the majority of his cash on drugs and prostitutes. He had noticeably bad teeth, the ones he still had rotting away.
"He was certain that Satan, archenemy of Christ, of all things good, was traveling with him," wrote author Philip Carlo, who conducted extensive prison interviews with Ramirez, in his 1996 book The Night Stalker: The Disturbing Life and Chilling Crimes of Richard Ramirez, "and that Satan would protect him so long as he stayed evil in his heart and showed no mercy."
Michael Ochs Archives/Getty Images
But while Ramirez was cunning, sometimes breaking into two or three homes a day, he was no criminal mastermind. He left partial fingerprints on Jennie Vincow's open window, having briefly removed a glove to pop out the screen, and in his car. His hat fell off at one murder scene, and detectives found a shoeprint outside another.
His mistakes didn't make him any less deadly, however. Once he was inside Vincow's small one-bedroom apartment in June 1984, finding out the woman didn't have anything worth stealing enraged him so much he started stabbing her with a six-inch hunting knife. All he ended up taking was a small radio.
At some point in the ensuing year, Ramirez swore off cocaine, according to Carlo, but that seemingly only clarified his urges. On March 17, 1985, he bought a .22-caliber revolver, stole a car and set out to hunt for a victim. On the freeway, he spotted a young woman driving a gold Camaro.
Ramirez followed Maria Hernandez to Rosemead, a city about 12 miles away from the bowels of downtown L.A. where he had made himself at home, and watched her pull into the garage of the condo she shared with her roommate, Dayle Okazaki. He ducked under the automatic garage door as it was closing behind Hernandez, gun drawn. As she was unlocking the door, she turned around, saw the intruder and screamed. He fired, but in a stroke of luck the bullet hit the keys she instinctively was holding up in front of her face, wounding her hand. She plunged to the ground and, as she played dead, Ramirez walked past her into the house.
Okazaki, presumably hearing the gunshot, had ducked behind the kitchen counter, but not before Ramirez had seen her. So he just stood there, waiting.
Okazaki eventually peered over the top of the counter and Ramirez shot her in the head.
Hernandez, who had run around to the front of the complex, saw him as he let himself out through the front door. And he saw her. But though he pointed his gun in her direction, he just walked back to his car and drove off into the night, leaving the AC/DC cap he had been wearing somewhere at the scene.
The L.A. Sheriff's Department Homicide detectives who later worked the site at first pondered whether there had been some sort of love triangle gone wrong at play. But Deputy Detective Gil Carrillo believed Hernandez when she told him she had no idea why someone would have followed her home and shot her.
Meanwhile, back on the freeway, perhaps minutes later, Ramirez saw another young woman exiting toward Monterey Park and headed after her. Veronica Yu, however, noticed that a man in a Toyota appeared to be following her and pulled over to see if he would pass her. When he did, according to Carlo, she started following him. Both stopped at a red light, Ramirez, his gun tucked in his waistband, got out of the Toyota and approached her window. Yu opened it and demanded to know why he had been following her.
Ramirez told her he had thought he knew her from some place, but Yu said she was going to call the police. In 1984, however, that meant whenever she got to a land line or payphone.
Ramirez grabbed Yu's arm and tried to pull her right through the driver's side window. She started screaming, and he ran around and opened the passenger side door before she could lock it. And then he shot her in the side, under her right arm. She managed to get out of the car, and he shot her again, in the back.
Meanwhile, Jorge Gallegos, who had been sitting with his girlfriend in a parked truck down the street and saw this happen, rushed over to Yu as Ramirez took off. Another man had seen the struggle go down from his bedroom balcony facing the street and called police.
Yu was still breathing when the ambulance arrived, but was pronounced dead at a nearby hospital.
But now, police had something to go on. "He was five-ten, thin, with black hair and dark, real scary eyes," Hernandez described her assailant to Carrillo. Recalling what happened, she said the man didn't say a word. "Not a sound."
The utter randomness, of course, was what made the Night Stalker's crimes especially terrifying. Women would start sleeping with butcher knives next to their beds and stick guns in their purses for nighttime errands. As was the case at Hernandez and Okazaki's place, where nothing had been taken, Yu hadn't been robbed. It appeared, to investigators, that the killing was the point.
Hearing about Yu's murder, Carrillo got in touch with Monterey Park police to compare notes. Ballistics would soon show that Yu and Okazaki had been killed with the same gun. And when Carrillo later showed the sketch made from Hernandez's description to a deputy with the sheriff's East L.A. office, the deputy thought it looked like a composite he had made of a suspect in the attempted abduction of a girl. 
Carrillo sought advice from local legend Sgt. Frank Salerno, who had headed up the Hillside Strangler investigation that ultimately resulted in the convictions of Angelo Buono and Kenneth Bianchi, serial killer cousins who left 10 dead women in their wake. Overtime on that case paid for Salerno's swimming pool.
Salerno recommended that Carrillo look at sex offender cases, as well as comb through police crime reports for matching suspect descriptions.
"A man does not become a killer overnight," the elder detective advised.
But while detectives had a description and a probable theory to work with, Ramirez had found his calling.
On March 26 at around 2 a.m., eight nights after the two women were killed, Ramirez drove (still in the stolen Toyota, now with a bumper sticker reading "America, love it or leave it" to placate cops with a show of patriotism) to a house he had previously robbed in nearby Whittier, Calif. Through the window, he could see Vincent Zazzara sleeping on the couch. He walked to the back of the house, pried a laundry room window open, and was in, leaving a size-11 1/2 print from an Avia sneaker on the compound can he used to reach the first-story window.
Still on the couch, Zazzara was fatally shot in the head.
His wife, Maxine, woke up to find an intruder in their bedroom. Ramirez tied her hands together with a necktie and told her not to move while he rummaged through their possessions. Maxine managed to free herself and go for the shotgun her husband kept under their bed. She pointed it at Ramirez, pulled the trigger and heard a click. Not loaded, because their grandchildren had recently visited and Vincent had removed the shells.
Ramirez shot her three times with his .22, then went to the kitchen and grabbed a 10-inch carving knife. He left gaping wounds in her chest and pubic area and cut out her eyes, which he took with him. He threw, among other things, a VCR and some jewelry, into a pillow case and fled, taking the shotgun as well. He ditched the Toyota in Hollywood and took a bus back to downtown, where he was staying at the Cecil Hotel.
Though LAPD had caught the Viscow murder the year before and that death wouldn't be connected for some time, Salerno saw the detectives' memo from the Zazzara case and immediately called Carrillo because the same kind of gun had been used.
The Zazzara detectives soon found that their shoeprint matched a print connected with an attempted abduction, and in addition there were three open abduction and sexual assault cases they believed had been committed by the same perp. Two of the victims had described a bad smell coming from their attacker.
Carrillo, still pondering why the killer had let Hernandez live, was sure that one guy was responsible for all of it. The other detectives shrugged him off, insisting it didn't all fit.
But their captain thought enough to assemble a small task force, with veteran detective Salerno leading the team.
On the night of May 14, Ramirez stole a car from downtown and—having sold the revolver on the street and acquired a .22 automatic—drove back to Monterey Park, not caring that people might be on their guard after multiple murders in the area.
A woman named Launie Dempster, who had an early-morning job delivering the now-defunct Herald Examiner, drove by where he had stopped on a residential street. She worked during the day, however, as a security guard and was naturally vigilant. She saw the car strangely stopped and stared right at the man inside as she went past. "He had very scary eyes," she later recalled, per Carlo.
Unfazed, Ramirez got out of the car and approached the home of Bill and Lillian Doi. The house had an alarm, but he found an open bathroom window and simply removed the screen.
After fatally shooting Bill—who reached for his own gun that he kept near the bed but not in time—in the face, Ramirez raped Lillian, who was disabled and used a wheelchair. She survived, but the killer made off with a sack of jewelry, including the couple's wedding bands.
By then, more than just Carrillo were convinced they had one sexual sadist on their hands.
On May 29, 1985, in Monrovia, Calif., he bludgeoned 83-year-old Mabel Bell to death with a hammer and beat and raped her disabled 81-year-old sister, Florence Lang, who later died of her injuries.
The next day he drove to Burbank and raped 42-year-old Carol Kyle while her 11-year-old son was in the closet, then fled after handcuffing them together.
The dead, as well as victims who had no idea how they managed to survive, continued to pile up: Widowed grandmother Mary Louise Cannon, 75, was beaten and stabbed to death July 2. Whitney Bennett, 16, survived being beaten with a tire iron on July 5. Joyce Lucille Nelson, 61, was beaten to death July 7, an Avia sneaker print left on her face. That same night, Sophie Dickman, 61, survived an attempted rape at gunpoint after swearing "on Satan" that her attacker had found all her valuables. Maxon and Lela Kneiding, both in their 60s, were killed in their beds July 20. Hours later, Chainarong Khovananth was shot dead in his bed while his wife Somkid was raped and beaten, but she and their 8-year-old son survived.
On Aug. 6, Chris and Virginia Peterson survived being attacked in their home. On Aug. 8, Elyas Abowath was killed while Ramirez raped his wife, Sakina, but left her and their 3-year-old son alive. 
The investigation into the serial killer by then dubbed "the Night Stalker" was ramping up, and Ramirez was following every bit of it on TV, so he drove up to San Francisco.
Ballistics and other forensic evidence in the Aug. 18 murder of Peter Pan and attack on his wife Barbara in their home was swiftly linked to the manhunt in Southern California—and investigators were none too happy when San Francisco Mayor Dianne Feinstein said as much on TV, sure that the killer was watching and worried he'd then destroy evidence. 
Ramirez returned to L.A., but not before dumping his sneakers off the side of the Golden Gate Bridge.
On Aug. 24, James Romero, Jr. was woken up by his 13-year-old son, James III, who thought he heard someone in their backyard in Mission Viejo, and was able to give police the make and model of the car they saw driving away, as well as partial license plate number.
Ramirez drove to another home about a mile and a half away, where he shot Bill Cairns, 29, in the head (he survived) and attacked his fiancée, Inez Erickson, 29.
As he was leaving, Ramirez instructed her to "tell them the Night Stalker was here."
Now with multiple victims able to describe him, sketches of Ramirez were all over the news. When police ran a fingerprint found in the abandoned stolen car described by the Romeros, it was a match for Ricardo Leyva Muñoz Ramírez, a 25-year-old drifter from Texas with a long rap sheet for drugs, auto theft and other offenses.
"We know who you are now, and soon everyone else will. There will be no place you can hide," police told reporters at a press conference.
The manhunt—finally for a man with a flesh-and-blood face—was on.
The younger James Romero, recalling how police came back a week after he and his dad chased away the prowler and wanted to know every little detail about that night, told Los Angeles Magazine in 2017 that he didn't know what they were so interested in at first.
"It was on the news," he said. "My parents said a serial killer attacked a house here in Mission Viejo. My mom said, 'They think maybe this is the same person.' That's when I found out there was a serial killer called the Night Stalker." James III said they were all "pretty freaked out," not knowing if the killer planned to return. "I think my dad even brought out a gun he used to keep locked up."
And when the Night Stalker was spotted on Aug. 31, the terrified people of Los Angeles weren't about to let him go. Ramirez walked into a convenience store in East L.A., not realizing his mug shot was on the front page of the papers. As Philip Carlo relayed in his book, he noticed a group of women were quietly muttering to each other about "el matador" (the killer), after which he dashed out of the store, ran across the freeway and attempted to carjack a woman.
A group of bystanders took off after him and, after more attempts to steal a car failed, soon caught up with him. And once they had him surrounded, they commenced beating Ramirez until the police arrived to arrest him.
One of the cops who responded to the scene described to the Orange County Register years later that it felt like being near "pure evil." (Ironically, they didn't know at first that they were chasing the Night Stalker, but the husband of a woman whose keys he'd tried to grab went after him with a pipe. "He came to the wrong place to steal a car," Julio Burgoin, whose dad and brother took chase, told the Register.)
"I didn't know what he was capable of," recalled LAPD Officer Jim Kaiser, who transported Ramirez to a nearby station. "I looked straight in the eye of absolute evil. He had cold, black eyes. He was the ultimate manifestation of absolute evil." Kaiser said that Ramirez asked him to shoot him in the head. "Let's end it," the killer suggested.
In 1989, 29-year-old Ramirez was found guilty of 13 murders, five attempted murders, 11 sexual assaults and 14 burglaries. As he was taken away, he called the verdicts "evil." His grin, even as he was led into and out of court in handcuffs, remains chilling to this day. He drew a pentagram on his hand that he flashed for the cameras, and another on the wall of his jail cell in blood.
Throughout, the terror he wrought defied description. A Los Angeles Times report on the crimes in the summer of 1985 relayed that police were searching for a suspect "who usually slips into darkened homes through unlocked doors and windows, attacks his victims while they sleep and then ransacks the home."
But the M.O. was for the detectives to consider. Accounts of how he destroyed countless lives and families would come later.
Even James Romero III, who testified at Ramirez's preliminary hearing, was haunted long into adulthood. "I still have nightmares," he said in 2017, 32 years after the night Ramirez fled his family's yard. "It hasn't been easy. I don't wish what I've gone through on anyone, but what I did possibly saved my family's lives. I'm a little more at peace with it now, but for a long time I wished I was never part of it."
Reached for comment when Ramirez died on June 7, 2013, L.A. County Deputy District Attorney Alan Yochelson, who prosecuted Ramirez along with the late Phil Halpin, told the LA Times, "This person hurt many people and our thoughts should be with the next of kin and survivors of these senseless attacks."
Night Stalker: The Hunt for a Serial Killer is now streaming on Netflix.