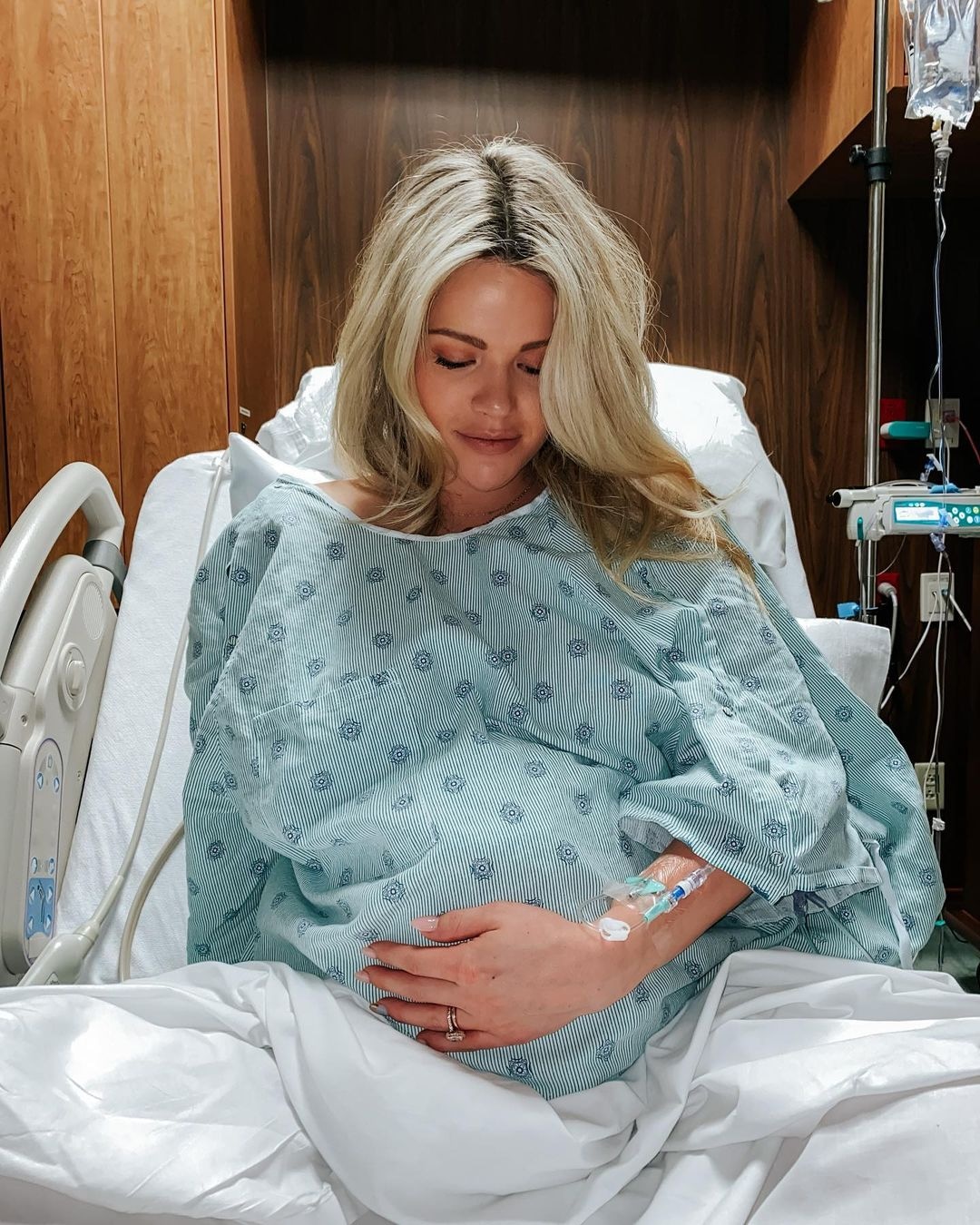 Instagram
Witney Carson McAllister's 2021 is starting off on pointe.
The Dancing With the Stars champion shared the sweet and special news that she's a mom! On Monday, Jan. 4, she and husband Carson McAllister welcomed their first child together, a baby boy.
Witney's journey to motherhood came with some complications, however. As the star wrote on Instagram, "After a really hard 24 hour labor, and an unexpected c-section... we are all healthy and well. We are so grateful & we've been soaking up every moment with our perfect angel boy. Thank you for all the prayers!"
Just before announcing her little one's arrival, the professional dancer shared a photo of herself in a hospital bed. "Alright baby boy, let's do this," she captioned her Instagram on Sunday, Jan. 3.
She also uploaded several behind-the-scenes moments from the delivery room on Instagram Stories, writing, "Contractions are actual hell but the epidural is heaven... so I'm doing great."
"Never loved this man more than I do now," she added with a short video clip of her and her husband cuddling before she gave birth. "He's an actual angel."
Back in July 2020, Witney revealed she was pregnant with her first child in a heartwarming Instagram post.
"Baby McAllister coming Jan 2021!!!!!" the ABC star exclaimed at the time. "We can't even contain our excitement and joy right now. We found out together with @clearblue, which was so surreal and special! Getting our results in words made this whole thing that much more real!"
She added, "We love this little bean so much already and we can't wait to start this beautiful chapter in our lives!"
In October, Carson gushed over his wife and expressed just how eager he was to meet his baby boy. He shared, "Happy Birthday to my best friend and mother of my son. 27 will be a whole new experience and I can't wait to be by your side through all of it @witneycarson."
Watch:
Necessary Realness: It's a Celebrity Baby Boom!
Not only does the couple have a lot to celebrate in the New Year, but their son's birth comes just a few days after they celebrated their fifth wedding anniversary.
"Happy Anniversary honey," the star raved on Friday, Jan. 1. "The best five years of my life. I love you, I love you, I love you 1000x @carson.mcallister."
Witney and Carson, who are high school sweethearts, tied the knot on New Year's Day in 2016. At the time of their wedding, the DWTS pro shared, "Yesterday was absolutely magical. Seriously the best two days of my life! The celebration was so much fun, and I couldn't have asked for better!"
A little after their one-year anniversary, Witney expressed that she was still in newlywed bliss.
"I really don't know how or what I did to deserve such a caring, kind-hearted, hilarious, loving husband but I'm so grateful everyday that you're mine," she wrote on Instagram in 2017. "You are the light & love of my life!!"