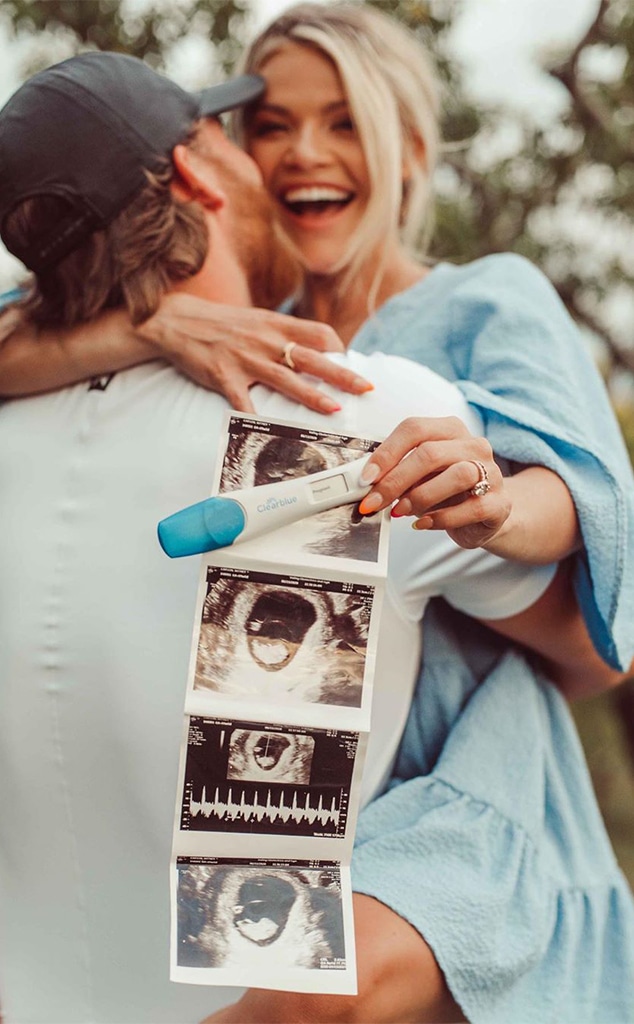 @jenanderson_photography
UPDATE: It's a boy! Witney Carson and husband Carson McAllister have announced that they're expecting a son. The Dancing With the Stars champion took to her Instagram on Monday night, Aug. 10, to share the reveal video with her fans. In the video, friends and family could be seen standing around the couple as blue powder was released from confetti cannons.
_____
Congratulations are in order for Witney Carson!
The Dancing With the Stars professional dancer and her husband Carson McAllister are expecting their first child together early next year.
"Baby McAllister coming Jan 2021!!!!! We can't even contain our excitement and joy right now," Witney shared with her Instagram followers on Thursday afternoon. "We found out together with @clearblue, which was so surreal and special! Getting our results in words made this whole thing that much more real! We love this little bean so much already and we can't wait to start this beautiful chapter in our lives! #15weekspregnant #mcallisterbaby."
The athleisure designer added on Instagram Stories, "We are so excited for this journey and we're so excited that you guys get to follow along." 
As soon as the news was posted, more than a few famous friends couldn't help but express their happiness.
"Omgggg!!!! Congratulations wit!!!!!!! Soo exciting!!!!!" Sailor Brinkley Cook wrote in the comments section. Jenna Johnson added, "SO EXCITED FOR THIS BLONDE/BLUE EYED BABE!!!!!! Sooooo happy."
Candace Cameron Bure, Alan Bersten and Lauren Lane also joined in on the well wishes.
It's an exciting new chapter for Witney and Carson who are high school sweethearts and exchanged vows on New Year's Day 2016.
Today, the pair appears to be social distancing in Utah where they have been able to enjoy a few special date nights.
"Little date night up canyon," Witney shared on Instagram this past spring. "The Sundance Car Cafe was soooo yummy and it was so nice to get out of the house! Turns out fresh air is vital to my health."
Watch:
Tyra Banks Hints at "Dancing with the Stars" Changes
As the couple prepares to expand their family, Witney is more than grateful to have a supportive man by her side who will likely make the experience even more special. 
"I really don't know how or what I did to deserve such a caring, kind-hearted, hilarious, loving husband but I'm so grateful everyday that you're mine!" she shared on Instagram back in June 2017. "You are the light & love of my life!!"
This article was originally published on Thu, Jul 23, 2020, 3:41 p.m.