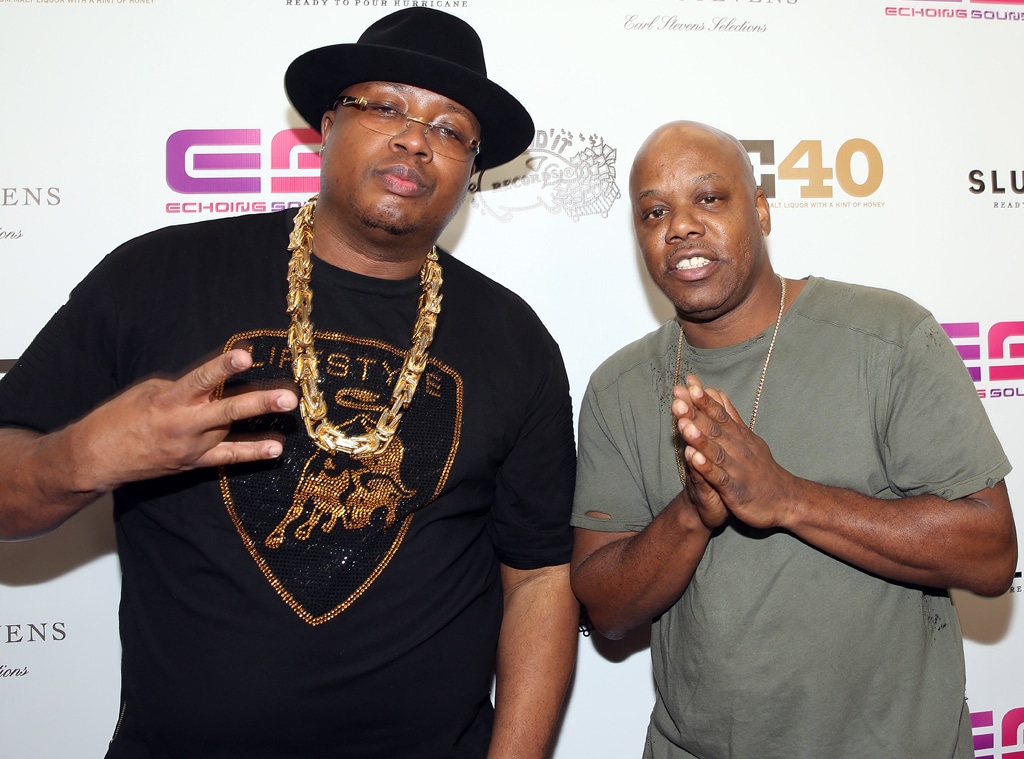 Maury Phillips/WireImage
Yay Area! The most epic battle of the Bay Area took place on Saturday, Dec. 19, with the E-40 vs. Too Short Verzuz battle.
This "Rapper's Ball" was different than any other Verzuz and not just because it reportedly had the biggest budget for such an event yet.
"It's not just a battle," Too Short told The Ringer last week before the battle, dubbed the "Legends of the Bay." "It's not just displaying your catalog, trying to outdo somebody else. It was like, this could be a bigger situation for the Bay, just as far as the story being told."
E-40 added, "We're going to showcase what the unlaced has yet to see or hear."
Doing just that, the veterans let the younger generation know that some of their favorite club hits sampled their original music. DJ Khaled's single "For Free," which features Drake sampling Too Short's "Blow the Whistle," and Three Six Mafia samples E-40's "Captain Save A Hoe" in their song "Shake Dat S--t." The pioneers even shouted out some artists who have sampled their songs, such as Yo Gotti and Gucci Mane.
The two rapping pioneers can be credited with helping put the Bay and its unique sound on the map. Going through their discography, Too $hort also gave viewers a geography lesson, shouting out every Bay Area city and the rappers from them, with the help of E-40. They both continuously shouted out late Vallejo music producer Mac Dre, killed in 2004, who is credited as being a pioneer of the hyphy movement which birthed some of E-40's biggest hits like "Candy (Drippin' Like Water)" and "Tell Me When to Go."
Continuing to pay homage to fallen rappers, E-40 played his song "Nah, Nah…," which features Long Beach native the late Nate Dogg, and called him the "King of Hooks. A noted fan of late rapper Tupac, E-40 also sent the internet in an uproar by saying, "Tupac was the greatest rapper dead or alive." While Too Short played his song "The World Is Filled…" from the late Notorious B.I.G's recorded last album Life After Death.
One thing the battle wasn't missing was love and respect. While the rappers showed love to fellow and fallen rappers, there was no denying the friendship and mutual respect they have for one another. No strangers to collaborating together, from their 1996 song "Rapper's Ball," to dropping a surprise double-set album Ain't Gone Do It / Terms and Conditions on Friday just one day before the battle.
It was no shock when Too $hort was comfortable enough to call E-40 by his government name, Earl, although some fans were shocked to realize that is what the E in E-40 stood for. It didn't stop there though. Earl was comfortable enough to showcase his dance moves and did they steal the show!
Even when the Vezuz was over, the rappers continued "giggin" to their hits together, further proving they didn't do the event as a competition but something for their city and fans to enjoy. If you missed the Verzuz battle, don't worry: You can watch it on Apple Music anytime.
Watch:
Dionne Warwick Roasts Chance the Rapper & The Weeknd on Twitter