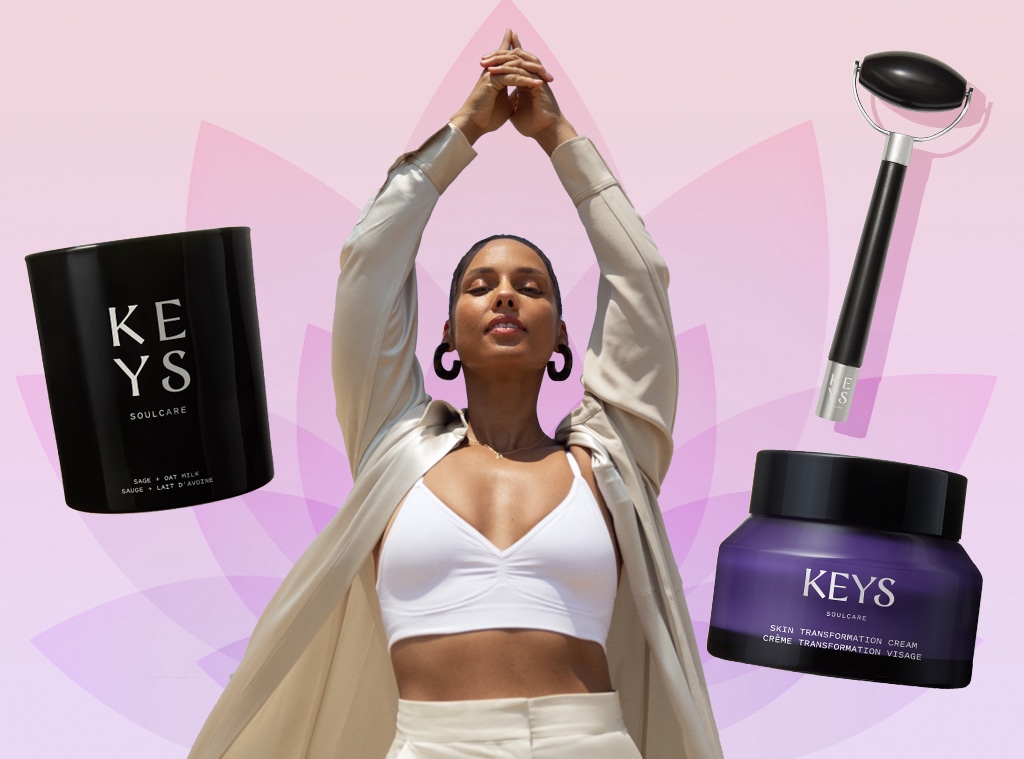 Keys Soulcare Shot by James Bailey/E! Illustration
We love these products, and we hope you do too. E! has affiliate relationships, so we may get a small share of the revenue from your purchases. Items are sold by the retailer, not E!. Prices are accurate as of publish time. 
Back in 2016, when contouring and overlined lips were all the rage, Alicia Keys redefined the beauty standards by vowing to stop wearing makeup. Her decision was unheard of, especially in entertainment—the world of glitz and glamour.
"I hope to God it's a revolution. 'Cause I don't want to cover up anymore," she wrote in an essay for Lena Dunham's Lenny Letter at the time. "Not my face, not my mind, not my soul, not my thoughts, not my dreams, not my struggles, not my emotional growth. Nothing."
Fast forward to 2020 and Alicia entered the beauty space with the release of Keys Soulcare, a brand she described as "serious skincare" with "soul-nurturing rituals."
Because of the singer's unique approach to beauty, her brand feels different from what's already on the market. For one, the Grammy winner is focused on self-care and how that plays a key role in everyone's skincare routine. The first collection, which includes a moisturizer, facial roller and candle, all include a mantra of some sort. "I welcome all circumstances as catalysts for change," one affirmation reads.
Each product is also infused with an ingredient that contains healing properties for the mind, body and soul. But whether or not you believe in the power of crystals, the formulas were developed in partnership with Dr. Renée Snyder, a board-certified Dermatologist based in Austin, Texas. It's that added layer of meaning and extra care that makes Keys Soulcare stand out.
If you're curious to learn more about the star's first-ever line, allow us to help: E! News received the products to review. With that in mind, keep on reading to see which products are worth every penny and which ones you don't need to add to your collection.
Skin Transformation Cream
This palm-sized bottle adds new meaning to having a self-care skincare routine. Prime example: The delightful affirmation emblazoned on the back immediately captured my attention. "I welcome all circumstances as catalysts for change," read the inscription. While the message was simple, it was forceful and made me take a step back to reflect and reset. As cheesy as that sounds, it reminded me to slow down to truly enjoy the beauty of my skincare routine. Because if I'm being honest, I usually rush through each product application like it's a chore to knock off my to-do list.
Now, on to the good stuff: The Skin Transformation Cream is infused with Bakuchiol, a plant-based alternative to retinol (which is also a great option for those who are sensitive to retinol). Malachite is another unique ingredient. It's a blue-green stone that helps to gently detox the skin as well as the mind and body. In fact, it's been dubbed the "Botox of crystals" by many beauty experts. The moisturizer also contains ceramides and hyaluronic acid, which both work to hydrate and nourish the skin.
After testing this product for a month, my face looks more even in tone and texture and has an overall radiance to it. Plus, I've noticed I had way fewer blemishes, especially around that time of the month when I get acne in my chin area. However, I will say that it took my skin about two weeks to adjust to the product. At the get-go, I had a rash-like breakout on my cheeks and forehead—areas I rarely have issues with. But now that my skin has become used to the product, I haven't encountered that problem.
One thing to note, however, is that if you do have desert-dry skin like me, you'll most certainly want to add a super hydrating serum or oil to your routine. Although this cream has ceramides and hyaluronic acid, I personally don't think it's power-packed enough because my skin still feels dry when worn alone. Another downside? This product leaves a slight cast, similar to sunscreen, so you'll need to really rub it in.
Overall, the Skin Transformation Cream has been a lovely addition to my routine—from the optimistic affirmation to the calming ingredients. After all, how many skincare products are wrapped in positivity and good vibes?
Obsidian Facial Roller
Facial rollers are considered an essential skincare tool for many reasons. They not only sculpt the skin, but also help tone and keep it firm. Plus, many credit it for boosting blood circulation—thus reducing aging and stimulating cell growth—and further helping with lymphatic drainage (a.k.a or minimizing puffiness). For me, I love how it uplifts my mood and reduces anxiety. It's why I own more than five rollers!
Making the Obsidian Facial Roller stand apart from what's already on the market is that it's forged with, well, you guessed it, obsidian. Which, if you're asking what the heck that is, allow me to explain: It's known as a protective stone that wards off negativity and it's meant to draw out tension and stress. Not bad, right?
Personally, I find there's something entirely different about the Keys Soulcare tool compared to the others I use. For one, I love how heavy and sturdy the handle is and how weighted the stone feels when rolled onto my skin. But my favorite feature of all is how much this roller remedies my headaches. Whether it's the healing properties of the obsidian or the thickness of the actual stone or just a combination of both, I feel a sense of relief when I roll it on my temples to combat the throbbing and pain.
When it comes to using the roller with the Skin Transformation Cream (as it's suggested by the brand), I find that the tool, unfortunately, holds onto the product more than it disperses it. As I mentioned before, the moisturizer needs to be rubbed in thoroughly, and while you'd think the roller would help with that issue, it actually does the opposite, attracting the cream like a magnet. I find the tool is better suited when merged with an oil.
Sage + Oat Milk Candle
It's uncommon for skincare brands to launch a candle, especially with their first-ever collection. Yet, I've realized how much it sets the tone and creates a soothing and relaxing atmosphere.
Even when I'm not slathering products all over my face, I like to light the Sage + Oat Milk Candle to recharge and have some "me-time." The soft but striking scent of sage, mixed with the savory and comforting fragrance of oat milk is the perfect blend, filling my home with the right touch of warmth and sweetness. And like the moisturizer, the candle comes with a mantra engraved on the packaging: "I shine at full wattage."