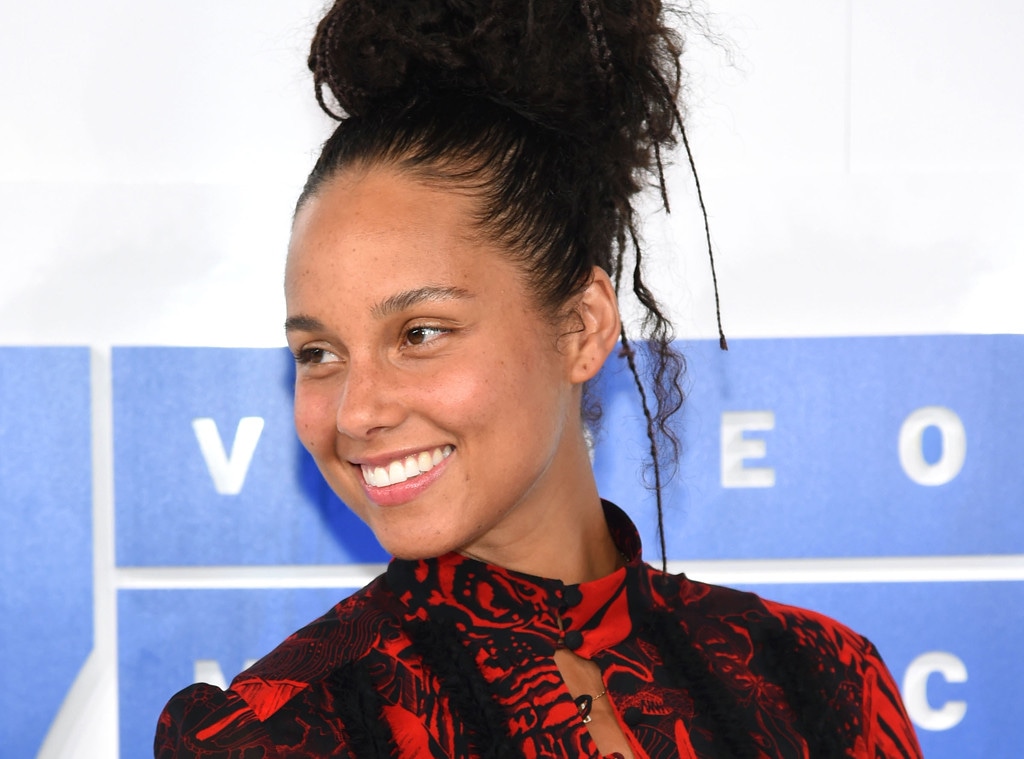 Jamie McCarthy/Getty Images
Alicia Keys took to Twitter today to clarify her position after her controversial appearance at the 2016 MTV Video Music Awards last night.
The Grammy-winning mother of two honored Martin Luther King Jr. and spoke pointedly about equality while presenting Best Male Video to Calvin Harris—who, not coincidentally, couldn't have achieved what he did on the song without Rihanna.
So Keys, after hearing enough from the twitterverse, felt the need to set the record straight.
"Y'all, me choosing to be makeup free doesn't mean I'm anti-makeup. Do you!" she wrote, punctuating the sentiment with a couple of kiss-blowing emojis and a makeup-free selfie.
Wait...
What was the controversy again?
Well, as it always turns out, some people on the Internet took issue with the fact that Keys didn't wear makeup to the VMAs last night. Her perfect skin (she didn't say she was giving up skincare, just the stuff that covers it) was all aglow but her bare face still made for an understated look that stood out as quite the statement amid all the heavily made-up faces.
Of course, in this day and age, just try making any kind of statement and getting away with it without being the target of a few choice tweets.
But Keys' look shouldn't have come as a surprise. She was already at the forefront of the #NoMakeup movement this summer, announcing that she wouldn't be wearing makeup, not just in her daily private life or even during live shows, but on The Voice. On TV! Where even the men wear makeup!
She went makeup-free at the Democratic National Convention, at the BET Awards, in the September issue of Ebony, on the cover of Grazia. On all the promotional materials for The Voice. She made a decision and she's been sticking to it, while inspiring others to dare to go bare in the process.
Frederick M. Brown/Getty Images
"I hope to God it's a revolution. 'Cause I don't want to cover up anymore. Not my face, not my mind, not my soul, not my thoughts, not my dreams, not my struggles, not my emotional growth. Nothing," Keys wrote in an essay for Lena Dunham's Lenny Letter in May, expounding on the various kinds of masks we wear for fear of not being accepted.
She talked about one of her new songs, "When a Girl Can't Be Herself," quoting the line "Who says I must conceal what I'm made of / Maybe all this Maybelline is covering my self-esteem."
I couldn't help but think of the 1998 TLC song "Unpretty" and the lines "You can buy all the make up that M.A.C. can make / But if you can't look inside you / Find out who am I to / Be in the position to make me feel so / Damn unpretty."
Point being, makeup has been a symbol of sociological ills in a judgmental, male-dominated world for years—as it was for decades before TLC sang about it too. Unlike in 1998, though, with social media being what it is, celebrities can reach millions of people at once every time they speak up for a cause, and the #NoMakeup movement—if not necessarily widely adopted by a lot of people as famous as Keys is—has certainly found an enthusiastic following.
So with months (if not years) of precedence behind her, why the big to-do over Keys skipping makeup at the 2016 MTV Video Music Awards (as did Alessia Cara—and Kim Kardashian went for the gently made-up no-makeup look)?
Jamie McCarthy/Getty Images
While there were a few particularly nasty tweets, the predominant theme was skepticism, with most naysayers doubting that she really was going make-up free (is tinted moisturizer makeup, discuss) and others advising Keys to just get over herself.
"@aliciakeys looks a F--KING MESS & needs to get TF off the stage," tweeted one young woman. "I'm all for natural beauty but Alicia girl you not setting no trend with this no makeup s--t. Put on concealer & call it a day," added a guy.
"Alicia keys did not wear one spec of makeup to the VMAs and I wish I was on board with it but I'm just not," wrote another woman.
The more supportive reactions ultimately ended up winning in a landslide (as did the defense of Keys that included nasty jabs at the supposedly ugly women who were obviously jealous that they can't go makeup-free), but not before enough people had weighed in to make the backlash to the #NoMakeup movement come alive once again.
Pietro D'aprano/Getty Images
Are people concerned that...what? The makeup business is going to suffer? That the government's going to come for your makeup? That all of a sudden you'll wake up to find no one in the world wearing makeup and then you'll feel like a fraud if you still want to conceal a pimple?
And don't worry, guys, this doesn't mean you have to stop wearing makeup, either.
What we're seeing here is society being so used to something—we're talking deep, deep entrenchment here—that we can't get over the slightest whiff of a shift in the force either way. The virtual applause is sweet, as are the compliments about how radiant and beautiful Keys looks. The love is certainly nicer than hate.
But it remains a personal preference, and no one should feel ashamed for enjoying makeup any more than they should feel weird about not wearing it.
Michael Buckner/Getty Images
In case we hadn't noticed, Meryl Streep has come as close as possible to skipping makeup entirely on the red carpet, even at the Oscars, for years now—all the better for our tradition of marveling over her unbelievable skin on an annual basis.
Glamour featured a makeup-free-ish (again, is a little pearly highlighter makeup-makeup, discuss) Mila Kunis on the back cover of its August issue. The Bad Moms star, apparently relishing the opportunity to not sit in the chair for an hour before a photo shoot, told the mag, "I don't wear makeup. I don't wash my hair every day. It's not something that I associate with myself. I commend women who wake up 30, 40 minutes early to put on eyeliner. I think it's beautiful. I'm just not that person."
(Actually, whoever's taking 40 minutes to put on eyeliner is doing it wrong.)
"You can put yourself out there and not Photoshop yourself or Facetune yourself," Emma Roberts told Allure last year about posing for underwear line Aerie, which no longer retouches its ad campaigns. "It's just fine to say, 'Oh, I looked bad in that picture, but that was such a fun day'...I also wanted to show people: Yes, there is an Emma Roberts, but there is also 'Emma'! Meaning, not red carpet. My hair down. Basically no makeup."
And last summer Tyra Banks relished showing her fans what she looked like on any given morning sans makeup, assuring them that she normally sported a full face of makeup.
"I wanted to smooth out my dark circles so badly!!!" she captioned a makeup-free selfie. "But I was like, 'Naw, Ty. Show 'em the REAL you.' So...here I am. Raw. And there YOU are...looking at me, studying this picture. Maybe you're thinking, 'Whoa, she looks ROUGH.' And if you are, great! You deserve to see the REAL me. The REALLY real me. #RawAndReal."
Alicia Keys wrote in May that she was hoping the no-makeup thing would become a revolution—less of a call for everyone to be like her and more of an acknowledgment that it would certainly be an easier choice to stick with if more women did it too, because it's obviously still headline news when a celebrity goes makeup-free.
But that's what separates those who do from those who wait for others to do. Keys went for it and, whether anyone else follows suit or at some point she's sporting mascara again, she's made a good point about what a lot of women are expected to do vs. what they actually want to do.
Here's hoping that something we can all agree on wanting is the freedom to live and let live. Because makeup is really just the tip of the iceberg when it comes to respecting other people's decisions.