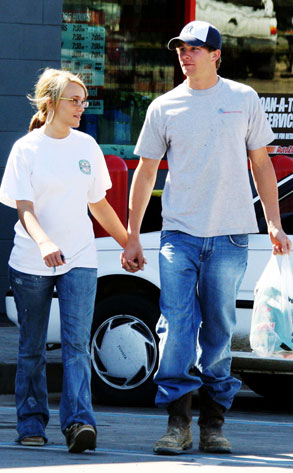 FAME PICTURES
Casey Aldridge is reportedly back home with girlfriend Jamie Lynn Spears less than one week after flipping over his truck driving home from a bachelor party.
"They're both at the house in Liberty [Miss.]... Now Jamie Lynn will have two babies to care for," a family source told People.
Aldridge, father to Jamie Lynn's 10-month-old daughter, Maddie, was released from a Mississippi hospital on Friday where he had been recovering from a head injury suffered in last Sunday's single-car accident.
No surgery was required and he didn't suffer any permanent damage.
"He'll have to have some rest for the next few weeks. He's still got a headache, but everything looks good," says the source.
Aldridge, 20, was cited for the accident, but police say he did not appear to have been driving drunk.