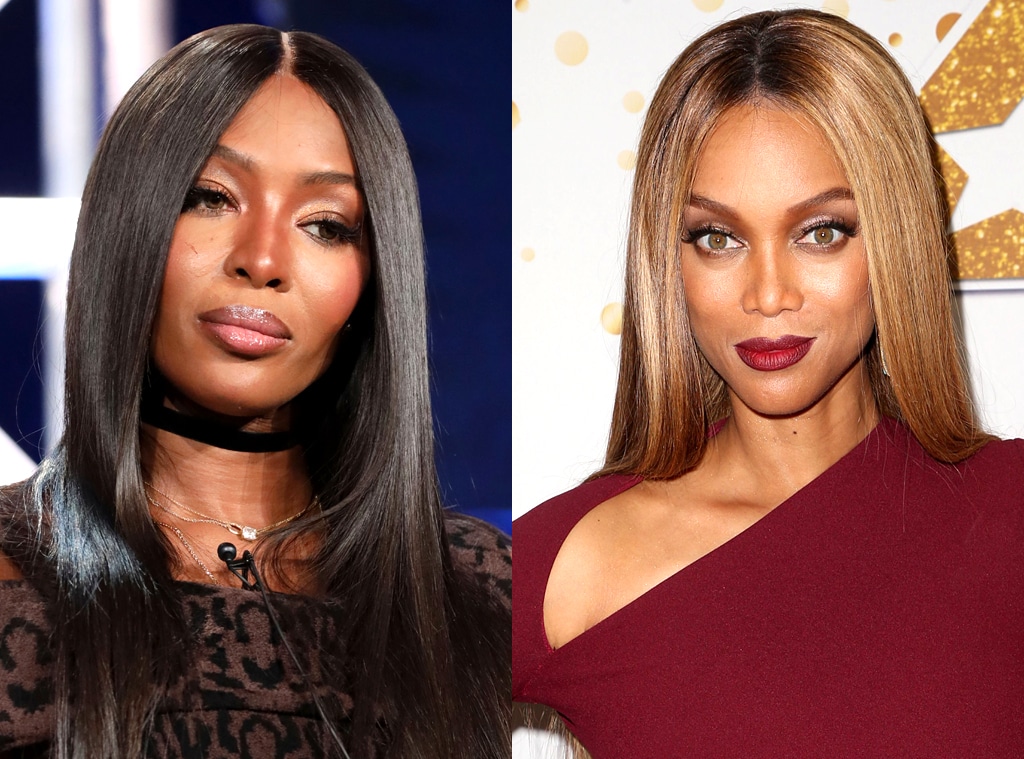 Shutterstock
A picture says a thousand words, indeed. And one thing Naomi Campbell knows how to do is take a good photo.
On Tuesday, Nov. 17, Naomi shared an eyebrow-raising post about Tyra Banks on Instagram Stories that captured the attention of her 9.8 million followers. The supermodel uploaded an article from The Things titled, "Here's Why Fans Are Starting To Think Tyra Banks Is The Real Mean Girl, Not Naomi Campbell."
While Naomi has since deleted her post, many users caught wind of it before it was taken down. "LMAO Naomi really posted this. I am gagging," one Twitter user shared. 
Another wrote, "I will always have an appreciation for Tyra but I was always always team Naomi." One Twitter user added, "They both mean so who cares lol. I'll give Naomi credit bc she's mean with her full chest while Tyra throws rocks and hides her hands."
The article in question critiqued some of Tyra's controversial moments on America's Next Top Model, which she addressed earlier this year.
Back in May, clips from ANTM resurfaced online with most of the commentary being negative.
Some moments from the competition reality show were deemed problematic and spread like wildfire, so much so that Tyra caught wind of the discourse and acknowledged that certain things didn't age well. 
"Been seeing the posts about the insensitivity of some past ANTM moments and I agree with you," she shared on Twitter. "Looking back, those were some really off choices. Appreciate your honest feedback and am sending so much love and virtual hugs."
While it's unclear what prompted Naomi to share the article about Tyra, their drama goes way back, as the two supermodels have been feuding since the 1990s.
Just last year, Tyra discussed her rift with Naomi in a candid interview with The Wall Street Journal. The Dancing With the Stars host explained why she doesn't use the word "rivalry" to describe their bad blood.
"I'm very sensitive to that word because a rivalry is with two equals to me, whereas one was very dominant," Tyra told the publication. "She was a supermodel and I was just some new girl that got on a plane from Paris and was studying fashion in magazines at a fashion library."
"I had very painful early days in Paris," she continued. "As much as I was booking every single fashion show, people didn't know I was going home at night crying my eyes out because a woman that I was looking up to seemed like she just didn't want me to be there, and was doing everything in her power to make me go away."
Watch:
How Naomi Campbell Stays Ageless
In 2005, Naomi famously confronted the model head-on when she appeared on The Tyra Banks Show.
"One of the biggest wishes that I've ever had has come true. I had a conversation with Naomi Campbell," Tyra told viewers and audience members at the time. "I got a lot of answers and it has started my healing from all of the devastating rumors and gossip and rivalry and pain that I've experienced. I've started to heal and I think Naomi has, too."
For the most part, Naomi has remained quiet about her history with Tyra. However, on Tuesday (the same day she posted about the host on Instagram Stories), Naomi opened up about people trying to "provoke" her in the industry.
"Anger is an emotion. And, you know, I've lived my life in front of the world and have made many mistakes. I own my mistakes," Naomi said during Vogue's Forces of Fashion panel on Nov. 17. "I've learned from my mistakes. I've grown up, I've matured to where I am today. I'm still a work in progress. But my understanding of things, the way I react to things, the way I don't react is what it's about today. It comes with the territory that people want to provoke you and you have to roll with the punches. But... as everyone knows, I'm not going to be walked over."
"I don't like people around me that sugar-coat... enablers don't work for me," she continued. "I only can learn if you teach me and tell me my mistakes. If you just keep saying, 'Yes, Yes, Yes' people for me are not in my life. I try not to have in my life. They've done no good for me in my life."