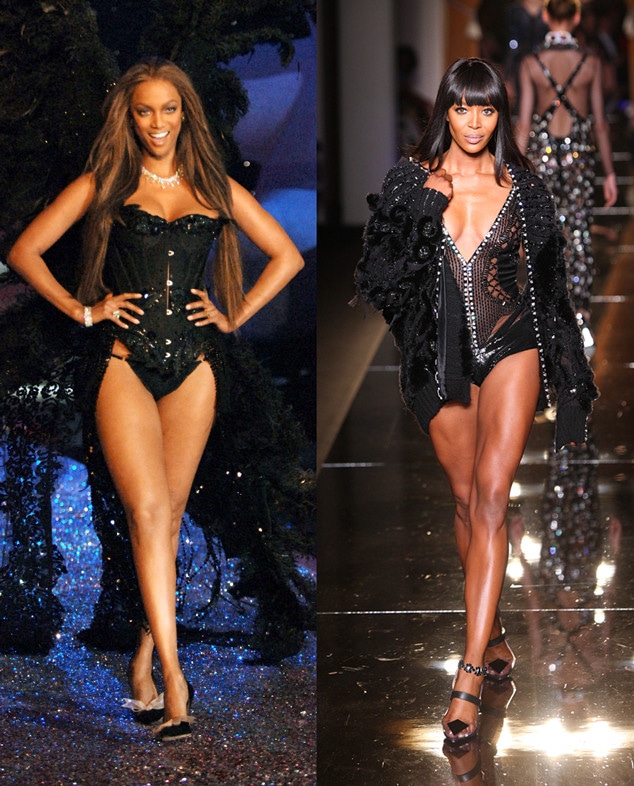 KMazur/WireImage for Full Picture; ZUMAPRESS.com
Tyra Banks just opened up old wounds. 
As a supermodel, mogul and mom, the 42-year-old is a long ways away from her earliest years as an aspiring model in Paris. As she quickly took the international industry by storm on the catwalks of the early '90s, the young Banks was immediately compared to and pitted against Naomi Campbell, one of the most iconic figures in the fashion world to this day and one of the few African American supermodels at the time.
According to Banks, Campbell caused some of the "lowest times" of her life during their following 14-year rivalry, as she described during an interview on the Norwegian-Swedish talk show Skavlan. 
"I got to Paris and it was very difficult. I did very well, very fast," the new mom recalled of her early career. "But then the industry was saying, 'Look out Naomi Campbell, here comes Tyra Banks, Naomi Campbell sit your butt down, this younger one is coming to take your place.'"
Banks later accused Campbell of bullying her, saying nasty things to her in the wings of runway shows and having her fired from jobs, though Campbell later could not recall many moments when Banks asked her about them during a face-to-face sit down in the early 2000s.
Still, the media fueled the behind-the-scenes conflict between the two women for years, likening Banks to Campbell and claiming the former would soon overtake the latter. 
VIRGILE/Gamma-Rapho; Michel Arnaud/CORBIS/Corbis via Getty Images
However, Banks can empathize with how her former foe might have been feeling during that tumultuous time. 
"It was really unfair to her because the other models that weren't black, like Kate Moss came up, we were the same generation, they weren't saying, 'Look out Christy Turlington, this cheek bone girl got cheekbones higher than yours! Get back!' You know, so they weren't saying that. So, you know, it wasn't fair to Naomi, but her response to this day I'm very scared of her."
After all this time, Banks does not excuse her colleagues behavior. 
"It was very difficult...some of the lowest times of my life dealing with that, so I don't condone her actions or her response, but I understand where it comes from because the world is saying you're not going to have you're spot, we're going to take your money, we're going to take your fame, go sit down, there's somebody else, so that's pretty serious. She reacted strongly but I kind of understand where that was coming from inside of her."
Ultimately, they rehashed years of public speculation and painful private encounters for television on Tyra's former talk show. Without a live audience, the two women sat on the set of Tyra in 2005 and revisited many of the moments that Banks could not forget from her early years, including the fact that when Banks decided to get more involved with Sports Illustrated Swimsuit and Victoria's Secret, it was partly to get away from Campbell. After nearly an hour episode, Banks declared that she had finally found closure after more than a decade of feuding. 
"One of the biggest wishes that I've ever had has come true. I had a conversation with Naomi Campbell," she told the audience. "I got a lot of answers and it has started my healing from all of the devastating rumors and gossip and rivalry and pain that I've experience. I've started to heal and I think Naomi has, too."
Still, the rumors would not rest. Over a decade after in the interview, claims began sprouting of a reignited rivalry between the women over their competing reality shows. Banks had created and hosted America's Next Top Model, while Campbell served as a coach on The Face. Both shows wear geared at discovering new aspiring models, but the similarities in the shows sparked questions of potential new drama. However, Campbell shot down the allegations when she sat down with Andy Cohen for an interview on Watch What Happens Live.
"It does irk me that two women of color have to be pitted against each other," Campbell said. "You can have more than one woman of color in a fashion show. Unfortunately, back then, you could only have one so the other felt ... put out."
"I'm very proud of Tyra and what she's done with America's Next Top Model," she concluded. "I'm proud to know her."