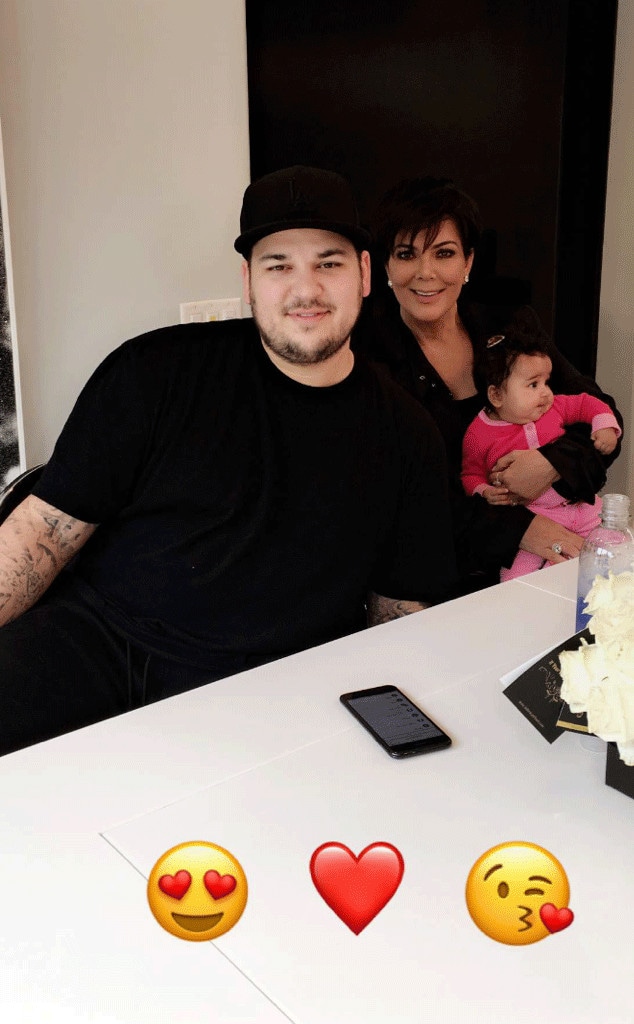 Snapchat
Keeping Up With... Rob Kardashian.
Unlike his famous family, the star is known for shying away from the cameras and from social media. However, the often-private 33-year-old recently returned to the spotlight to celebrate his sister Kim Kardashian's 40th birthday in October.
As if that weren't special enough, Rob made a rare appearance on an episode of Keeping Up With the Kardashians last month. And while the reality TV personality is slowly easing back into the limelight, one thing is certain: He's living his best life, at least, according to mom Kris Jenner.
In a candid interview with Cheryl Burke and AJ McLean, the self-proclaimed momager shared an update on her son. "He's so good. He is so good," Kris gushed on the latest podcast episode of iHeartRadio's Pretty Messed Up. "He's really great."
The Kardashian-Jenner matriarch added that Rob has been enjoying his dad duties with 3-year-old Dream Kardashian, who he shares with his ex Blac Chyna.
"His daughter Dream is great and he's so in love with that kid," Kris continued. "He's such a great dad and you never know—you have kids, they grow up, they have their kids—and you just don't know how somebody is going to be as a parent but he's just... wow."
As she raved, "He really is amazing."
Cheryl agreed with Kris' statements about the Arthur George founder, and recalled working with him on season 13 of Dancing With the Stars in 2011. The dancing pro, who is currently partnered up with the AJ on the ABC competition series, said, "He's always been a caretaker."
Watch:
Rob Kardashian Is Back and Stuns Fans With New Pics
"I was his teacher but he always made sure I was OK," Cheryl added. "He's a very sweet soul that guy."
Kris mentioned that her son's performance of Frank Sinatra's "Fly Me to the Moon" still brings her to tears. At the time, he dedicated the song to his late father, Robert Kardashian Sr.
"Every time I hear the Frank Sinatra song, I cry," Kris shared. "Every time it comes up on the radio, it takes me back to that moment in the ballroom when you guys were dancing to that song and I'll never forget the joy that I felt. Here's my kid, out there dancing and nailing it in front of what—20 million people?" 
Watch:
Kris Jenner's Reaction to Robert Kardashian Sr. Hologram
It was just last month Kris was moved to tears by another thoughtful tribute to her ex-husband. For Kim's 40th birthday, Kanye West surprised the fashion mogul and her family with a life-like hologram of the late attorney. After seeing the one-of-a-kind gift, Kris told Andy Cohen on Sirius XM's Andy Cohen Live that everyone was overcome with emotions.
"It started and we just all started to cry. It was just so intense," she explained. "I must have watched it 20 times. It was really good. He is the king of gifts and he worked on that for a really long time. So it was definitely one of the most incredible things I have ever seen. It was really wild."
"All you could hear was each other crying," she added. "It was really, really emotional. It was really emotional... It was intense, and it was a beautiful, beautiful moment, so I just wanted to kind of enjoy that."