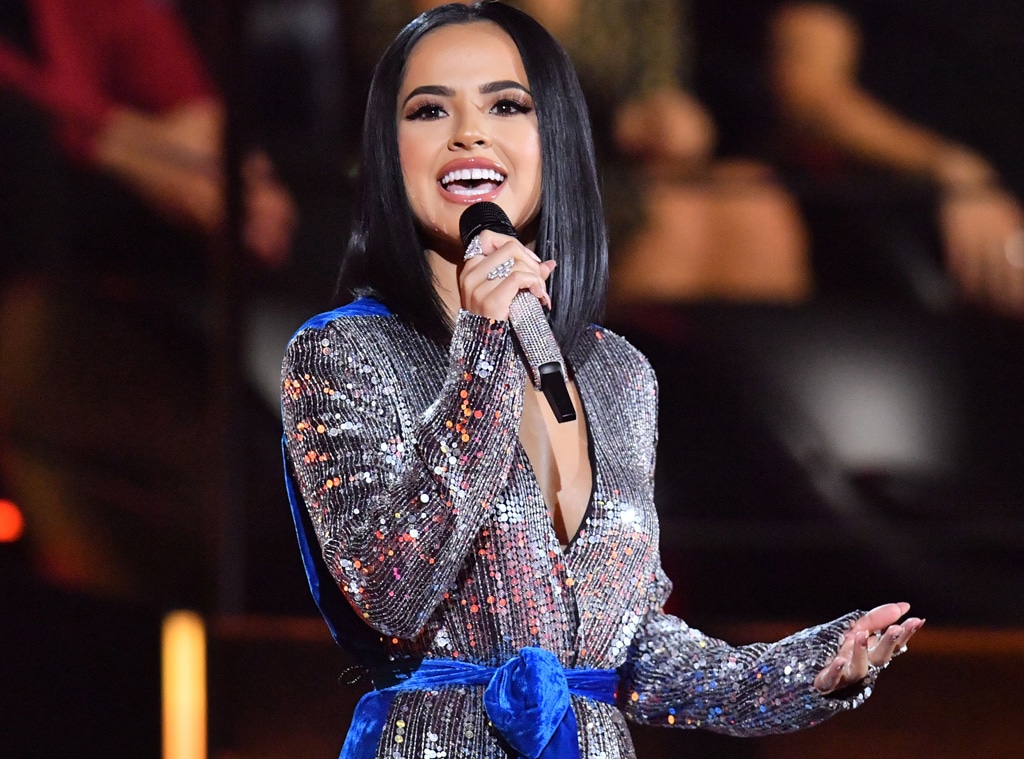 Anthony Harvey/Shutterstock
Becky G isn't your average pop star.
The 23-year-old singer continues to release hit after hit and knows how turn heads with her fun and fabulous style, but she's so much more than an entertainer. Case in point? The Mala Santa star teamed up with Secret Deodorant to bring much-needed attention to Latina Equal Pay Day (Oct. 29) through the brand's Raise It Up initiative. 
Speaking exclusively to E! News, Becky explains why this collaboration was a no-brainer.
"In these unprecedented times that we're all living in right now, I'm all about women empowerment," she shares. "I come from a home of very strong Latinas, my grandmother, my own mother, my tias, my primas... You know, the industry that I work in is male-dominated, and showing the boys what's up, all that stuff has me written all over it."
"With this initiative, it felt very personal. And as an artist, you want to make sure that you are in alliance with things that actually mean something to you," she continues. "Representation is so important... and I wouldn't be where I am today if it wasn't for the community that supports me."
The "Dollar" singer not only touched on the wage gap between the Latinx community and other demographics. 
Becky spilled details on her upcoming music plans, which she described as an "all-female project" featuring all Latinas. Plus, the "Mayores" singer opened up about her relationship with soccer star Sebastian Lletget, and the reason she finally felt ready to let fans into their private life.
Read our interview with the global superstar below!
Watch:
Becky G Tells How She Spends All Her Money
E! News: The Raise It Up initiative is helping to spread awareness on Latina Equal Pay Day. While it's disheartening to know this is still a topic, how does it feel to use your voice and your massive platform to shed a light on this issue? 
Becky G: "I think we've made a lot of progress but we have a long way to go. It's crazy that we're still having these conversations today, and that these things are a very real thing. Our white male counterparts... it's a 45 percent difference in what we get paid. And when you put it in the perspective of 2020 alone, who are the individuals carrying the burden during this pandemic? We are the frontline workers, especially our Latina women, who are being underrepresented and completely getting dismissed when it comes to getting the respect that we deserve."
"Money is one thing and I've never been one to put my value into a dollar amount because I come from nothing, I'm good with nothing. My value isn't based off what is in my bank account, but it's the only physical proof of our hard work. And we bust our asses and... we don't do anything unless our heart is in it. I think that speaks volumes in these times, especially because this isn't anything new. I think to really recognize that and have people look at the facts, the numbers, it's important."
Theo Wargo/Getty Images for TIDAL
E! News: Sometimes it can be hard to fight for equal pay or feel worthy to speak up when you're the only Latina in the room. Have you ever experienced this and in what ways did you overcome those challenges?
BG: "It's interesting because I'm used to being the only woman in the room. I'm used to being the only brown girl in the room, and on top of that, I'm used to being the youngest person in the room. So when you talk about things like imposter syndrome, especially women of color, are prone to feeling they don't belong in these spaces—because we're constantly told that we are not worthy of these opportunities."
"There's crazy statistics out there that Latinas typically earn, I think it's 45 cents for every dollar earned by a white or non-Hispanic man. Those are the kinds of things that go without having to be said, so when you're in a room, you already feel like, 'I gotta work extra hard to make sure that I make up for the fact that I'm the brown girl in the room.' These are things that are subconsciously embedded in our brains. It's sad that that's what it is. But I can't wait for future generations to understand that this is what makes us unique. It's OK to have your own spark, to have your own ideas because you are just as worthy of these opportunities. But it really hits home, it's personal to me because of where I come from."
Courtesy of Los Angeles Dodgers
E! News: Fighting for equal pay goes hand-in-in hand with fighting for other social justice issues. You were vocal about your support of the Black Lives Matter movement. Why was it so important for you to speak up?
BG: "Because that involves our community. It's something very deeply rooted in our culture. There's a lot that we celebrate in our Latin culture, which, of course, makes me proud. We celebrate our music, we celebrate our families, but there's a lot of not-so-pretty things embedded in our culture, like our anti-Blackness. These are conversations that have been very taboo for quite some time and I think that it's very ignorant of us to pretend that Black Latinas don't exist. I grew up in Inglewood, Calif. I'm Mexican-American and very proud of it, but I grew up in a very brown and Black community. That's just what it was, and so to me, those alliances are so important. They say that we are the minorities, but when we come together, we become the majority. And that's what they don't want. It's challenging the system and questioning things that we know don't serve us anymore."
E! News: It's been a year since you released your debut album, Mala Santa. Is there a new album on the way and if so, how will it differ from your first?
BG: "It's crazy to think that was my first album, which was a huge milestone for me. I had been signed since I was 14, so it was a long time coming. I'm glad I waited because I really found myself in my Spanish music, and not because Spanish music is the popular thing to do, it's because I'm really proud of where I come from. I'm really proud of the story that began before I was born. My abuelitos came from Mexico to live and accomplish their version of the American Dream, and I'm just an extension of that."
"And there's definitely another project in the works. I'm actually putting together an all-female project and all of them are Latina. It's gonna be very special and I'm sure some magic is bound to happen. We'll see what comes from it. If it's an album, cool. If it's three albums, even better [laughs]."
E! News: You've been hard at work releasing songs during quarantine. However, "My Man" gave fans more insight into your relationship and personal life. What made you want to share that side of yourself?
BG: "Sebastian is with me, he's actually blushing. But I look at that video and it's gonna be something that I always smile at when looking back at it. Obviously, COVID-19 has affected so many people in so many different ways. I've never been one to shy away from speaking about my mental health and times like this can be very triggering. And I shut off—I was a daughter first, a sister first, I was a partner first, I was a human being first. It was so overwhelming and Sebas was really that little bit of light."
"It was really hard to think about music, but when I felt I was ready… I wanted to share this song that I've had in my music archive and do a vlog-style, fly-on-the-wall day in quarantine with me and my man. Although we are very open about our relationship, we're also still very private at the same time. Fans haven't been able to see that side to our relationship. They see Seb as the professional athlete that he is and they see me as the professional artist that I am, but at the end of the day, we are each other's best friends. We were going through it as well during quarantine, and to share that little bit of light with my fans, I think was really special."
E! News: In the video, you both dressed up in similar styles and were matching in some clips. Do you find that you both influence each other's fashion?
BG: "For sure. I'm always asking him to come into a fitting, asking, 'What do you think about this dress?' He'll be honest with me, too, like, 'Yeah, babe! You look good,' or 'That's not my favorite.' And it's the other way around when he's getting ready for events. We always keep it real with each other. Sometimes, he'll even steal my Secret Deodorant. I'm serious, this is a real thing. He'll be stealing my deodorant, he'll be stealing my skincare. He's like, 'Ooh, you have a face mask on? Can you put it on me, too?' ... Let's teach our men that good, healthy skin maintenance. I'm all about it!"
E! News: Seeing that you've been busy throughout this time, what has been your favorite thing to do to relax and de-stress?
BG: "I don't shy away from the mental health conversation. I've been in therapy for about two years now and it changed my life. Even during quarantine, I've been keeping up with FaceTime chats with my therapists. She gives me homework to do sometimes. And I love anything self-care."
This interview has been condensed and edited for clarity.