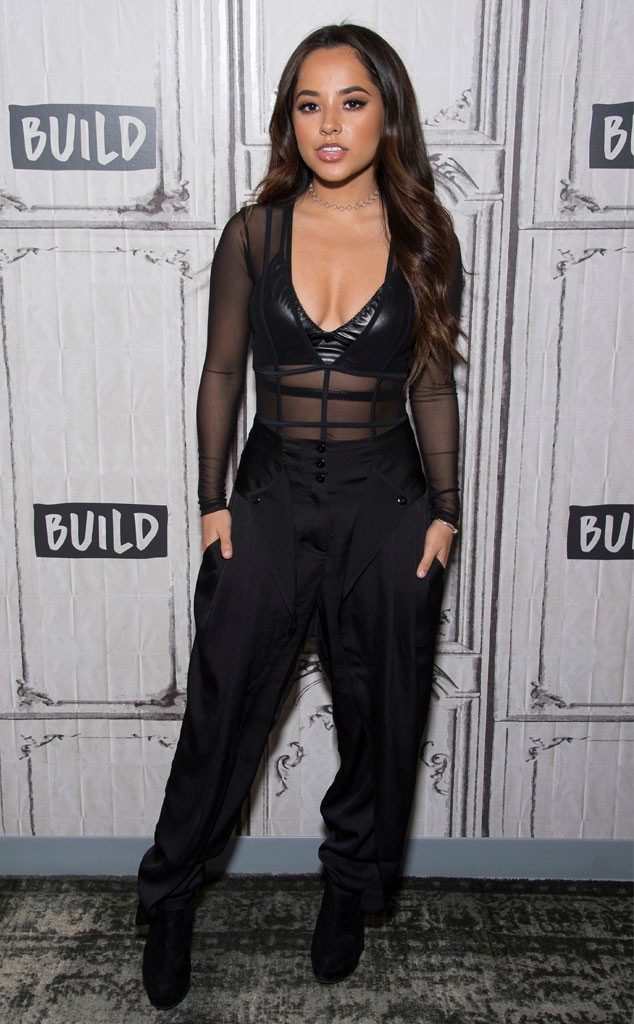 Invision/AP/Shutterstock
Becky G is finally blessing us with her first studio album — so get ready to start dancing in the mirror and singing in the shower. 
After teasing us with hit single after hit single throughout the last couple of years, the Mexican songstress is finally releasing her 16-track "Mala Santa" debut album on Thursday, Oct. 17.
The 22-year-old singer caught up with E! News ahead of her album release to talk about her personal and professional inspirations, the struggles and challenges she faces within the music industry, her dream collaborations (spoiler alert: Shakira and Bruno Mars) and her E! People's Choice nomination for Latin Artist of 2019. 
"I have worked so hard and am 100% proud to be Latina," Becky G said of her E! People's Choice nomination. "The recognition itself is such a beautiful feeling to be side by side to artists that I love very dearly and to be recognized by people in general — whether we take the award or not — is just awesome." 
Similar to the likes of Rihanna's Navy, Becky G's fans, who refer to themselves as Beasters, have been waiting for an album since her "Shower" days. 
"Oh my god, it has been an ongoing meme with my fans saying 'when is the album coming?' It's been like 8 years," Becky G tells E! News. "I am so excited and I feel really blessed that things have happened the way that they happened. I have so many years of being in this industry and to have had a career solely based on my singles all this time — it just feels like it's finally the moment to release the album."
And the fact that it's Spanish "makes it full circle" for Becky G. 
The "Mayores" singer also shared with us the meaning behind her album title — which roughly translates to "bad saint." 
"Mala Santa is basically like the little angel that can be bad sometimes. I feel like I became the industry's Mala Santa because I grew up in front of the cameras [and went] through that transition of being the young girl to young woman, [it] wasn't very easy at times," the Inglewood native said. 
The 22-year-old singer and actress first gained recognition in 2011 when she began posting videos of herself covering popular songs on YouTube. Then one day, producer Dr. Luke reached out to her about a record deal.
Since then, she's collaborated with artists including will.i.am, Cody Simpson, Cher Lloyd, Pitbull, French Montana, among others. 
Becky G, who went from stealing the hearts of everyone with her pop bops like "Becky from the Block" and "Play It Again," also stressed how she never wants to feel as if she has to choose between one way or another when it comes to her artistry or her womanhood. 
The older she's gotten, the "sexier" and "more out there" her music projects became, she added — and to some, it was unexpected. 
"As women, we are so multi-faceted and I felt like [Mala Santa] is a great representation of who I am as a woman and an artist," Becky G said. "I do not want to be in a box. If you're this, you can't be that and if you're that, you can't be this. I just felt like you know, since I was younger I have always had these two sides to me. I was that girl from Inglewood, who loved urban music who started as a rapper and then you have that other side of me that has become a woman and a little more musical and has dabbled into different genres and became more sexy."
Bottom line, Becky G thrives off of tapping into both sides of who she feels she is and "shouldn't have to choose" between either. 
Frazer Harrison/Getty Images
As someone who grew up while simultaneously navigating changes in the Latin music industry — while trying to find her footing within it — Becky G admits that it can be "easy to be influenced by what you think people are going to accept or what you think people are going to love or what you think is going to be successful." 
"I've been doing this long enough, even though I am still very young, I think the most important thing is that its best to do what makes me happy at the end of the day because that's what fans really deserve is authenticity and genuineness," she adds. "I've always tried to be an open book." 
Aside from opening up to her fans about obstacles she's had to face, Becky G has also always been vocal about what drives her to be the best version of herself she can be. 
"I would say my family has always been a huge inspiration for me. For the simple reason that they, my grandparents came from Mexico to the U.S., and that was their version of the American dream [...] It's such a selfless thing to come to another country with absolutely nothing. To make something out of nothing is not easy," Becky G said. "For me, it's one of those things that inspires me and fuels me every day. Nothing is a guarantee or a given. You have to remember what is important and for me, it is my family." 
At such a young age, the singer and songwriter has achieved a great deal.
From catapulting herself into the mainstream with nothing but hit singles and conquering Billboard's Latin Airplay chart with "Mayores" (featuring Bad Bunny) and "Sin Pijama" (featuring Natti Natasha), becoming one of only five women to achieve that milestone in 2017, Becky G is only getting started. 
Now, she's ushering a new era with "Mala Santa."