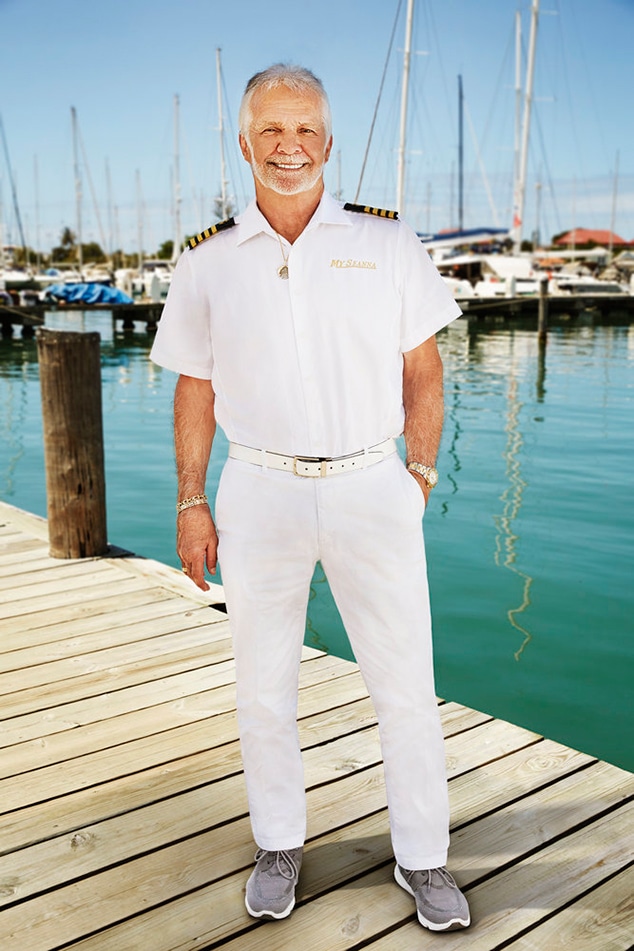 Laurent Bassett/Bravo
A first for Captain Lee Rosbach.
Below Deck season eight, which premieres Monday, Nov. 2 at 9 p.m. on Bravo, promises to be chock-full of drama. And, for an exclusive chat with E! News, Captain Lee teased what's to come for the highly anticipated season.
Not only will the new season showcase the start of the coronavirus pandemic, but a trailer showed the captain threatening to end someone's charter.
"Get your goddamn ass back to this boat, now," Captain Lee demanded of one unidentified person. "Your charter just ended."
Was it an unruly guest? A rogue crew member?
"Now, how do you know it was a guest?" the coy captain teased to E!. "I could've been talking to a crew member, but I'm not gonna spoil anything."
While Captain Lee refused to give us any spoilers during our exclusive chat, he did express that it was a first for his career.
"I will tell you this, it is something I have never, ever done in 35 years of yachting," he added. "Until now. It's never, ever happened to me before. That is a first."
Without giving away specifics, Captain Lee categorized the drama as "extremely intense."
Of course, this wasn't the only drama teased as a firing and crew hookups were promised in the previous trailer. Not to mention, this will be the first time in several years that Kate Chastain is not the Below Deck Chief Stewardess.
Per Captain Lee, Kate was certainly missed heading into filming season eight.
"Kate was such a presence and to say that she wasn't going to be missed would be a misstatement," Captain Lee said of his former co-star. "I'm very happy for what she's doing now, and it was time for her to move on…Whatever makes her happy, we were all in for."
Yet, Captain Lee made sure to sing the praises of Kate's replacement, Francesca Rubi. Although the new Below Deck Chief Stewardess had "big shoes to fill," Captain Lee called her "a hard-working girl," who "knew her stuff."
He further shared, "I was very pleased with her."
That's some high praise from Captain Lee!
Thankfully, Captain Lee did have one familiar face among the crew, original cast member and bosun Eddie Lucas. And, as the captain explained it, Eddie has changed quite a bit since he was last on the show.
Watch:
Andy Cohen's Heartwarming Reunion With Son Ben
"His maturation level has increased exponentially to where he's right up there," Captain Lee relayed. "I think he's come leaps and bounds from the last time he and I worked together and I'm just very proud of him."
For a closer look at the season eight cast, scroll through the images below.
Below Deck season eight premieres Monday, Nov. 2 at 9 p.m. on Bravo.
Binge past episodes of Below Deck on Peacock.
(E!, Bravo and Peacock are all part of the NBCUniversal family.)