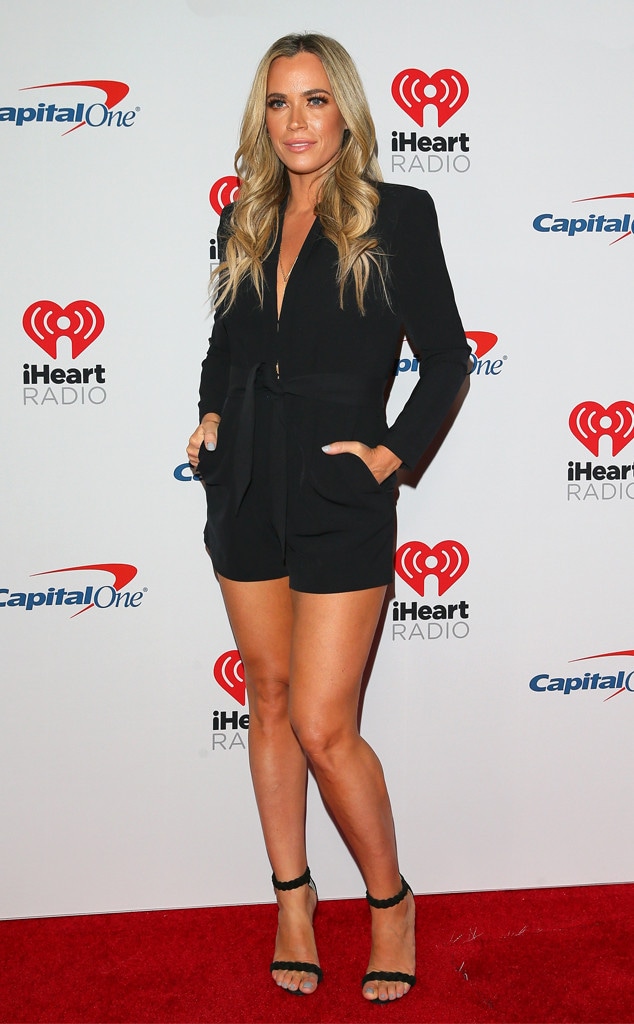 JB Lacroix/WireImage
Teddi Mellencamp is defending All In by Teddi.
On the Sept. 18 episode of iHeartRadio's Teddi Tea Pod podcast, the Real Housewives of Beverly Hills star responded to critics who have been sharing their negative experiences with the accountability program.  
"The reason I started All In With Teddi had nothing to do with the business," Teddi began. "I had no big plans about creating a business. I wanted to change my own life. I wanted to grow. I wanted to feel good in my own skin. I wanted to know that I was worth it and I hadn't felt that way for quite a long time."
"I created my own happiness by taking care of myself and I used Instagram as a tool to hold me accountable," she continued. "I would post my workouts, I would post healthy, clean eating and I used my followers to help hold me accountable to what I was doing and the lifestyle changes I was making."
Ultimately, Teddi claimed that started All In because she received supportive messages from other women hoping to make a healthy change in their own life. She said they just wanted some tools and a support system. 
"I realized that my calling, my purpose, was not just to change my life, it was to help others feel good in their own skin, feel confident, feel comfortable, reach their goals, to know they're not alone," Teddi explained on her podcast. "And that has been something that lights me up every single day. It makes me feel proud, I am excited about it and I love every second of what I do. I know that so many lives have been changed. I love the community that's been formed."
Teddi's program came under fire earlier this week after influencer Emily Gellis Lande shared anonymous messages from social media users who claimed to be former All In by Teddi clients.
According to Today, many of the messages featured clients alleging the program allows for the consumption of up to 1,000 calories a day. Others claimed the coaches demand 60 minutes of cardio daily or they are kicked out of the program. The total cost of the initial two-week "Jumpstart" program is reportedly $599. After that, a monthly membership is $399.
Watch:
Teddi Mellencamp's Secret to Sex-cess
"Teddi's diet is starvation with cardio," Emily alleged to Today. "I want to prevent other people from falling for this scam." In her latest podcast episode, however, Teddi set the record straight on many of the online accusations.
"We would never encourage anyone to starve," Teddi shared. "Every person has different needs, different goals and we focus on clean eating."
As for the fitness requirements, Teddi admitted that some physical activity is encouraged every day. However, there are exceptions.
"When you sign up to the program, you are signing up to be active every single day. It could mean playing tennis with your kids, going for a walk, doing restorative yoga, doing a dance class, doing whatever it may be," she explained. "But if there's a repeated situation where somebody has signed up for the program and they're not being active in some capacity, we aren't doing the job that they're paying us to do. So yes. But if there's an emergency where someone's like, 'I'm not feeling well,' or there's a family emergency, of course they're not being kicked out."
And although Teddi said she initially didn't want to address the criticism, she wanted to stand up for her team.
"If you know your why and you know your purpose is good, then you're going to be OK," she shared. "That's how I feel. I am sad. I am emotional. I hate to see hate... Thank God that I went All In on me, because I have the ability to know this is going to be OK. I am going to be OK." 
Listen to Teddi address more accusations about the All In program by listening to her podcast in full.