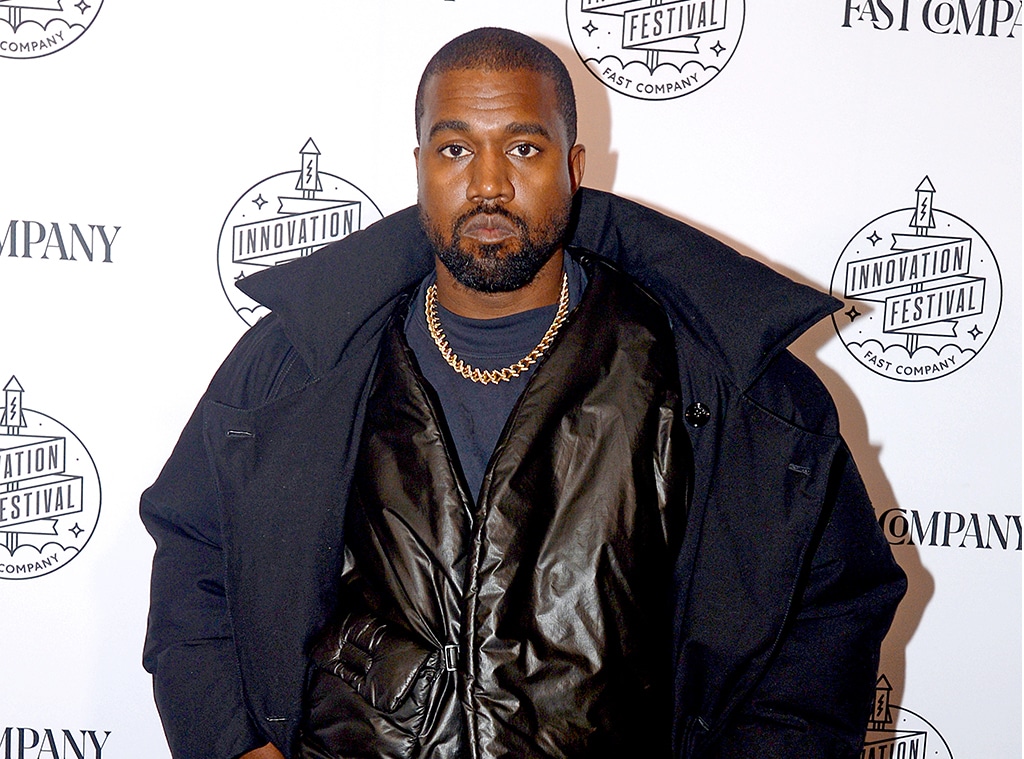 Brad Barket/Getty Images for Fast Company
Kanye West isn't happy with the music industry.
On Wednesday, Sept. 16, the 43-year-old rapper shared numerous tweets about music ownership and recording contracts before posting a video that appeared to show himself peeing on one of his 21 Grammys.
"Trust me ... I WONT STOP," West wrote alongside the clip.
Over the past few days, West has shared several posts criticizing the music industry—which he referred to, along with the NBA, as "modern day slave ships." He also tweeted about artists needing to own their work, noting that "in the streaming world, master ownership is everything" and that it is "the bulk of the income." He claimed this was "more important than ever," especially amid the global coronavirus pandemic.
"The artist deserve to own our masters," West wrote in one of his posts. "Artists are starving without tours. Ima go get our masters … for all artist … pray for me."
West also addressed contracts and the roles they play in music ownership. 
"When you sign a music deal you sign away your rights," he wrote in another tweet. "Without the masters you can't do anything with your own music. Someone else controls where it's played and when it's played. Artists have nothing accept [sic] the fame, touring and merch." 
He later added, "We've gotten comfortable with not having what we deserve ... they allow us to have a little money from touring get some gold chains some alcohol some girls and fake numbers that feed our egos ... but we don't own our masters. We our [sic] supporting other people's kids ... we could spend our whole life in the music industry but our kids gotta go work for another company when they grow up."
West then claimed he's "the only person who can speak on this because" he "made multi billions outside of music" and "no musicians make billions inside of music." He promised he's "going to change this."
"I know a lot of musicians are not allowed to say anything but I can't be muted or cancelled so I'm going to say everything as always," he tweeted, later adding, "We sat back and watched Nick Cannon get canceled and we go to play ball with Black Lives Matter on our backs … brothers let's stand together for real … there is no NBA or music industry without Black people … fair contracts matter … ownership matters."
In addition, he alleged that Universal Music Group won't tell him how much his masters cost.
"Everyone please cover me in prayer ..." he continued. "I AM ONE OF THE MOST FAMOUS PEOPLE ON THE PLANET AND UNIVERSAL WONT TELL ME WHAT MY MASTERS COST BECAUSE THEY KNOW I CAN AFFORD THEM ... BLACK MASTERS MATTER." 
Referring to the four children he shares with Kim Kardashian, West then tweeted, "MY CHILDREN WILL OWN MY MASTERS … NOT YOUR CHILDREN ... MY CHILDREN … MY CHILDREN … MY CHILDREN."
The "Stronger" star vowed to do "everything" in his "legal power" and to use his voice "UNTIL ALL ARTIST CONTRACTS ARE CHANGED STARTING WITH GETTING MY MASTERS FOR MY CHILDREN." At one point, he also addressed his own deals.
"OK GUYS CHECK THIS OUT ... I DONT HAVE A CONTRACT WITH UNIVERSAL ... I HAVE TEN," he wrote. "THEY TRY TO BURRY [sic] US ALIVE." 
He then tweeted what he claimed were the pages from these contracts and wrote he needed "every lawyer in the world to look at these." He wrote that this is what the "Kanye West deal looks like today" and that "I PRAY IN THE NAME OF JESUS THAT IT DONT LOOK LIKE THIS TOMORROW."
"THIS MOMENT IS GOING TO CHANGE THE MUSIC INDUSTRY FOR GOOD ... I FEEL SO HUMBLED AND BLESSED THAT GOD HAS PUT ME IN A STRONG ENOUGH POSITION TO DO THIS ..." he also tweeted. "EVERYONE KEEP PRAYING ... ITS WORKING ... I AM ON MY KNEES THIS MORNING."
In addition, he called on other artists—including Drake and Taylor Swift, with whom he's had a long-running feud—to show their support. West also wrote in a since-deleted tweet on Monday that he's "not putting no more music out until I'm done with my contract with Sony and Universal." E! News has reached out to Universal and Sony for comment but has not heard back.
Watch:
Kanye West Is In a "Great Place" After Kim Kardashian Reunion
This isn't the first time West has gone on a Twitter spree. In fact, he's done so a few times over the years. From tweeting about his famous family to his political aspirations, West reserves only his most candid takes for his Twitter followers. He's also opened up to his fans via other channels. For instance, he recently talked about everything from his mental health— West has bipolar disorder—to fatherhood during an episode of Cannon's Class.
"With my children, I have to be in front. I have to be there," West said at one point during the interview. "I have to be present—not just the dad that comes with the cool presents, I have to be present...and I have to speak up...I've had to raise my voice certain times on things that I stood for morally."