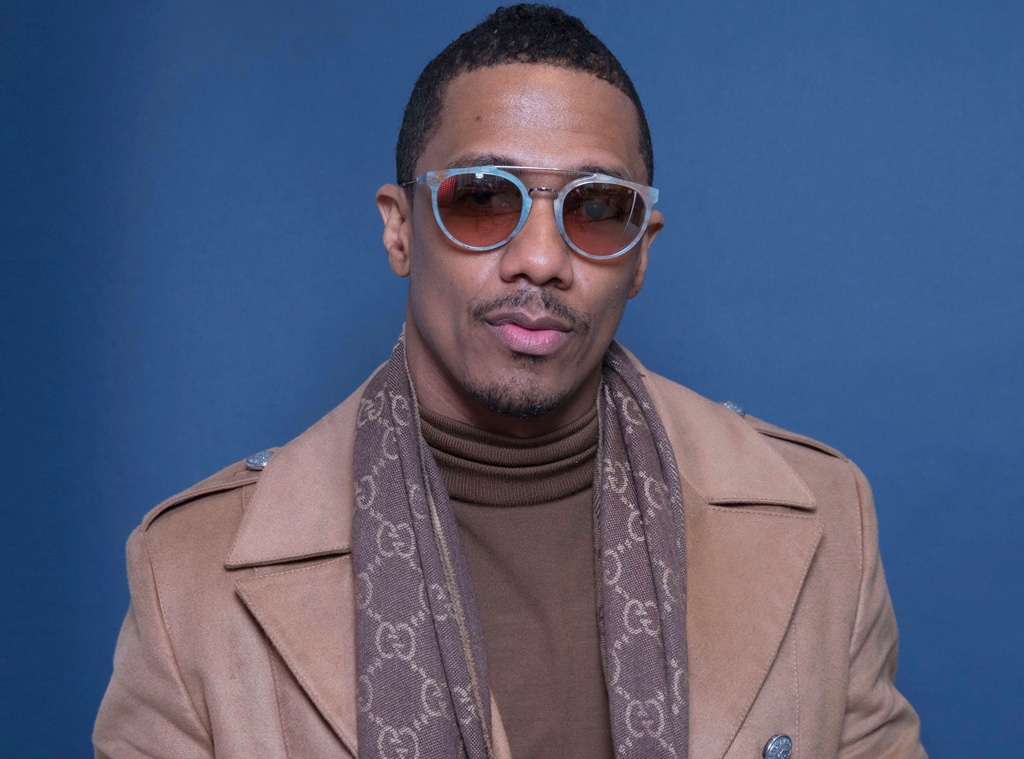 Amy Sussman/Invision/AP/Shutterstock
UPDATE: Nick Cannon spoke out again on Wednesday evening, this time with an apology to his "Jewish sisters and brothers."
"First and foremost I extend my deepest and most sincere apologies to my Jewish sisters and brothers for the hurtful and divisive words that came out of my mouth during my interview with Richard Griffin," he tweeted. "They reinforced the worst stereotypes of a proud and magnificent people and I feel ashamed of the uninformed and naïve place that these words came from. The video of this interview has since been removed."
"While the Jewish experience encompasses more than 5,000 years and there is so much I have yet to learn," he wrote, "I have had at least a minor history lesson over the past few days and to say that it is eye-opening would be a vast understatement."
Cannon continued, "I want to express my gratitude to the Rabbis, community leaders and institutions who reached out to me to help enlighten me, instead of chastising me. I want to assure my Jewish friends, new and old, that this is only the beginning of my education—I am committed to deeper connections, more profound learning and strengthening the bond between our two cultures today and every day going forward."
Fox, which airs The Masked Singer, also released a statement reaffirming their partnership with the show's host. 
The network stated in part, "He is clear and remorseful that his words were wrong and lacked both understanding and context, and inadvertently promoted hate. This was important for us to observe. Nick has sincerely apologized, and quickly taken steps to educate himself and make amends. On that basis and given a belief that this moment calls for dialogue, we will move forward with Nick and help him advance this important conversation, broadly. FOX condemns all forms of hate directed toward any community and we will combat bigotry of any kind."
Get caught up on the controversy below. 
______
Nick Cannon has addressed ViacomCBS' decision to cut ties over his recent comments that the network claims "promoted hateful speech and spread anti-Semitic conspiracy theories."
In a statement shared to his Facebook account on Tuesday, July 14, the former Wild N' Out host addressed the company's announcement and demanded ownership rights of the shows he worked on with them throughout his career. "I am deeply saddened in a moment so close to reconciliation that the powers that be, misused an important moment for us to all grow closer together and learn more about one another," he said. "Instead the moment was stolen and highjacked to make an example of an outspoken Black man. I will not be bullied, silenced, or continuously oppressed by any organization, group, or corporation. I am disappointed that Viacom does not understand or respect the power of the Black community."
He went on to recount his 20-year career as a member of the "Viacom 'Family'" and the work he accomplished during that time. 
"My time at Viacom also birthed one of my other greatest creative accomplishments; their longest running comedy series and the most successful Hip Hop programming in Television History Wild 'N Out. An idea in which I self-financed out my own pocket and presented to MTV. I created a billion-dollar brand that expanded across a multitiered empire that is still Viacom's biggest digital brand, touring business, talent discovery and incubation system and successful restaurant franchise," Cannon said.
He claimed, "Based on trust and empty promises, my ownership was swindled away from me."
The 39-year-old also alleged that ViacomCBS purposefully "chose to recently ban all advertisement that supported George Floyd and Breonna Taylor," two Black people who were killed in incidents involving police officers. Cannon was seemingly referencing a Wall Street Journal article that highlighted Target, ViacomCBS and other major companies' decision to not run their ads in news articles discussing political matters like the Black Lives Matter movement, a move that an MTV spokesperson said was done to avoid appearing "tone-deaf or disrespectful."
Cannon added that he was dismayed when ViacomCBS stated he "didn't attempt to reconcile the situation when on two separate occasions I specifically acknowledged and openly requested a forum." 
"My hope and original goal was to use this moment to show healing and acceptance and prayed that Viacom would use their powers for good. Instead I am now receiving death threats, hate messages calling me an ungrateful N----r and beyond," he claimed. "Viacom's goal to keep me from providing for my family and lineage will be foiled. They can try to kick me while I'm down or force me to kiss the master's feet in public for shame and ridicule, but instead I stand firm on my square with my fist in the air repeating my mantra, 'You can't fire a Boss!'"
Cannon then shared that he will be traveling to Israel to learn about Jewish history, after receiving an invitation from a Jewish scholar, one of the many "Jewish Brothers and and Sisters," who he claims to have spoken to since his inflammatory podcast aired.  
"As for Viacom, who is now on the wrong side of history, I will continue to pray for you. I don't blame any individual, I blame the oppressive and racist infrastructure. Systemic racism is what this world was built on and was the subject in which I was attempting to highlight in the recent clips that have been circulating from my podcast. If I have furthered the hate speech, I wholeheartedly apologize," he shared. "But now I am the one making demands. I demand full ownership of my billion dollar Wild 'N Out brand that I created, and they will continue to misuse and destroy without my leadership! I demand that the hate and back door bullying cease and while we are at it, now that the truth is out, I demand the Apology!"
ViacomCBS severed ties with Cannon in the following statement on Tues., July 14: "ViacomCBS condemns bigotry of any kind and we categorically denounce all forms of anti-Semitism. We have spoken with Nick Cannon about an episode of his podcast Cannon's Class on YouTube, which promoted hateful speech and spread anti-Semitic conspiracy theories. While we support ongoing education and dialogue in the fight against bigotry, we are deeply troubled that Nick has failed to acknowledge or apologize for perpetuating anti-Semitism, and we are terminating our relationship with him. We are committed to doing better in our response to incidents of anti-Semitism, racism, and bigotry. ViacomCBS will have further announcements on our efforts to combat hate of all kinds."
Watch:
Nick Cannon Teases the "Masked Singer" Secret Identities
According to Variety, on his podcast Cannon's Class, Cannon made the remarks during a discussion with Professor Griff, a rapper who previously came under fire for making anti-Semitic statements in the past. At one point, Cannon shared his belief that Black people are the "true Hebrews" and therefore can't be accused of being anti-Semitic. 
On Monday, he tweeted that he didn't have the "intention" of causing harm and took "full responsibility" for his actions. 
Cannon currently stars as the host of the Fox series The Masked Singer and is an executive producer for the new E! show Celebrity Call Center. In addition, this fall he will star and produce an eponymous syndicated daytime show with Lionsgate, and aired by Fox stations.