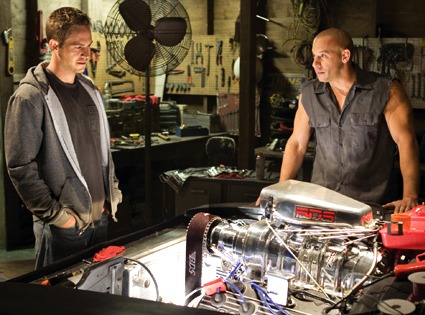 Universal Studios
If it still runs, why leave it out to rust?
In light of the green dust left swirling when Fast & Furious came roaring out of the gate with a record $72.5 million last weekend, Universal has confirmed to E! News that a sequel (or, technically, a fifthquel) is in the works.
The studio weighed in after Paul Walker, aka FBI Agent Brian O'Conner of F&Fs 1 and 2, said during a Friday-morning interview with MYfm's Valentine that, "without question," he and Vin Diesel are coming back for more.
"This was supposed to be it," he said of their latest go-round. "There wasn't supposed to be the open-ended closing like there was. When I first read the screenplay, I was like, 'Man, look what they're doing.' But without question, with the way things opened up, Vin and I will be coming back, we're making a fifth one, and we're going to Brazil, that's it."
When asked how he ended up signing on for Fast & Furious, Walker basically said he owed it to the fans.
"Vin didn't do the second one, and fans would always ask me, 'Why didn't Vin do the second one?' I didn't really have an answer for them," he said. "And then I didn't do the third one. And guys would come up to me on the street and be like, 'Hey, why weren't you in the third one?' And when they ask the question, it's kinda like they got that look…saying, 'Don't tell us you're too good for us now.'
"When they started talking about making the fourth one, I was like, man, I don't really have a choice now, because if I don't do it I know I'm gonna be pissing people off, because this is the opportunity to come back and make the first true sequel."
Valentine suggested the producers follow up The Fast and the Furious, 2 Fast 2 Furious, The Fast and the Furious: Tokyo Drift and Fast & Furious with "Fast and Furious: Car Pool Lane."
Surely he brings up a good point: The overall plot possibilities are endless...but how to further manipulate the original title?
(Originally published April 10, 2009, at 3:26 p.m. PT)
Name the Fast & Furious Sequel Poll