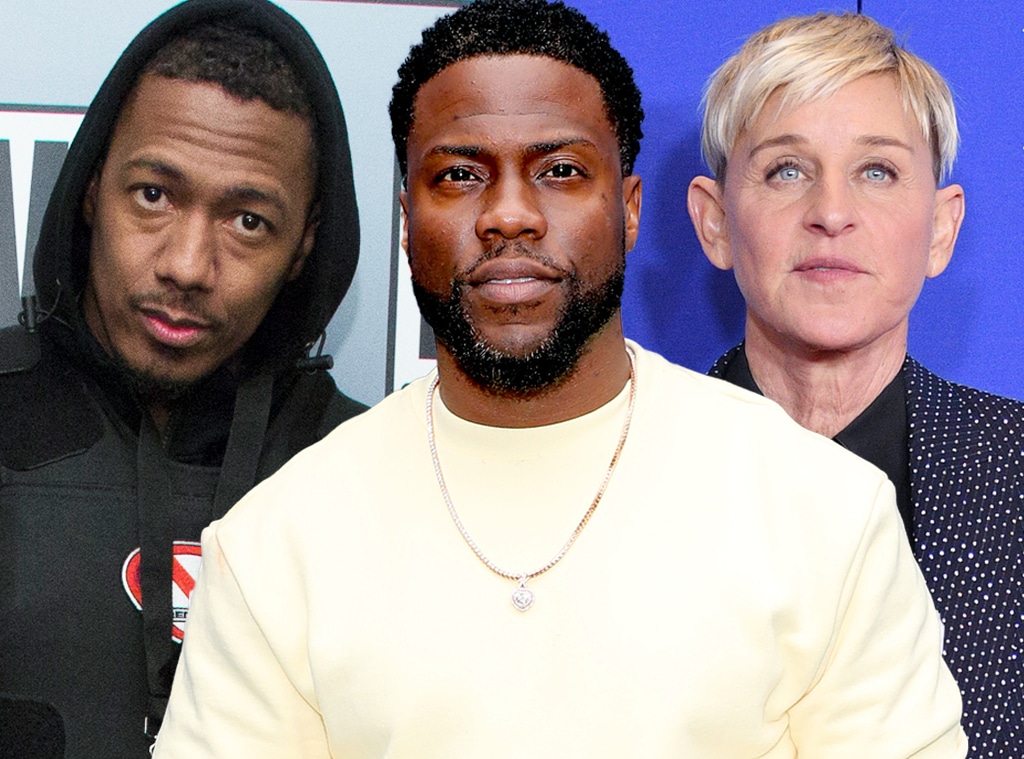 Kevin Hart is continuing to stick by Ellen DeGeneres and Nick Cannon.
In a new interview with Deadline, the 41-year-old actor and comedian explained why he defended both stars after they each came under fire.
"Well, I don't lose sight of the definition of friendship, and in our business, it's one thing that people don't really hold on to," Hart began. "There's a lot of relationships that are fake, and there's some that are real. In my case, the ones that are real are the ones that I'm always going to be adamant about speaking on behalf of. I know the people that both of them are, and knowing the people, all I can say is my experiences with those people. That's not to take away from what other people are saying that they have had, and that they have done. It's just to highlight what I'm saying I know, and what I can speak on behalf of."
Hart, who received his own backlash and stepped down from hosting the 2019 Oscars after homophobic tweets from his past resurfaced, said he knows "how dark it gets" in times like this.
"I know how lonely it gets, because I know that these are times when people just turn their back on you," the Night School star, who received support from DeGeneres and Cannon after his offensive tweets came to light, continued. "So for the ones that you love, that are close to your heart, you just want them to have some support, when it seems that there is none out there, and that's just who I am as a person."
He also told Deadline this "goes for anybody, across the board," that he considers a friend, noting "that's not a big group of people."
"Everybody doesn't get that conversation and that feeling from me, but the ones that do, I'm serious about it," he concluded. "I'm true to it, and it doesn't mean that you have to speak on behalf of the problem. It doesn't mean that you have to disregard the things that others are saying. It means that I can just speak on my relationship with my friends. When it comes to Nick, and it comes Ellen, I know who they are, and I know who they've been for the years that I've been around them, and I can only speak to that. Those are two of the most amazing people that I know."
Hart's comments came one month after allegations of a "toxic" work environment at The Ellen DeGeneres Show made headlines. In July, BuzzFeed News published a report in which one current and 10 former employees came forward anonymously with accusations about the treatment of the show's staff. While no claims were made against DeGeneres specifically, the 62-year-old host addressed the allegations and issued an apology in a letter to her staff. An internal investigation was also launched and Warner Bros. stated that WarnerMedia interviewed "dozens of current and former employees about the environment at The Ellen DeGeneres Show." 
"The Ellen DeGeneres Show is, and has always strived to be, a place that brings positivity to the world," part of the company's statement read. "And though not all of the allegations were corroborated, we are disappointed that the primary findings of the investigation indicated some deficiencies related to the show's day-to-day management. We have identified several staffing changes, along with appropriate measures to address the issues that have been raised and are taking the first steps to implement them. Warner Bros. and Ellen DeGeneres are all committed to ensuring a workplace based on respect and inclusion. We are confident this course of action will lead us to the right way forward for the show."
Later that month, BuzzFeed News published a separate report in which "dozens" of former employees accused executive producers of sexual misconduct or harassment. E! News did not name these producers. One of the producers denied "any kind of sexual impropriety," and another is "100 percent categorically denying these allegations." A third producer did not respond to comment.
Watch:
Katy Perry Supports Ellen DeGeneres Amid Show Controversy
Shortly after the reports spread, Hart took to Instagram to defend DeGeneres.
"It's crazy to see my friend go thru what she's going thru publicly," he wrote on Instagram in early August. "I have known Ellen for years and I can honestly say that she's one of the dopest people on the f--king planet. She has treated my family and my team with love and respect from day 1. The internet has become a crazy world of negativity....we are falling in love with people's downfall. It's honestly sad...When did we get here? I stand by the ones that I know and that I love. Looking forward to the future where we get back to loving one another....this hate s--t has to stop. Hopefully it goes out of style soon....This post is not meant to disregard the feelings of others and their experiences....It's simply to show what my experiences have been with my friend. Love you for life Ellen…"
A source who used to work on The Ellen DeGeneres Show also shared a different perspective on the work environment. "There were definitely inappropriate things said. I wasn't ever offended. I never felt any malice," the insider told E! News. "I don't really have anything dramatic or outstanding in my time there. Having to stay after all the EPs left for the day, often times they were just shooting the s--t until after 8pm. People getting yelled at because white boards weren't done properly. That kind of stuff but not abusive. Inappropriate things were said that in this climate you can't say now."
On Monday, Warner Bros. confirmed that executive producer Ed Glavin and Kevin Leman and co-executive producer Jonathan Norman had "parted ways with The Ellen DeGeneres Show." According to Variety, which broke the news, executive producers Mary Connelly and Andy Lassner also addressed the results of the internal investigation during a meeting. Per the publication, more than 100 people connected to the show were interviewed, and the investigation found there was no evidence of "systemic" racism on the show; however, according to Variety, it was determined that more needed to be done when it came to diversity and inclusion. Warner Bros. declined to comment on the investigation's specifics.
As for Cannon, he received backlash for the comments he made during a June episode of his podcast Cannon's Class. ViacomCBS, which cut ties with the 39-year-old actor and TV host, said the episode "promoted hateful speech and spread anti-Semitic conspiracy theories." Cannon later issued an apology on Twitter.
"First and foremost I extend my deepest and most sincere apologies to my Jewish sisters and brothers for the hurtful and divisive words that came out of my mouth during my interview with Richard Griffin," he tweeted at the time. "They reinforced the worst stereotypes of a proud and magnificent people and I feel ashamed of the uninformed and naïve place that these words came from. The video of this interview has since been removed."
He then added, "While the Jewish experience encompasses more than 5,000 years and there is so much I have yet to learn, I have had at least a minor history lesson over the past few days and to say that it is eye-opening would be a vast understatement. I want to express my gratitude to the Rabbis, community leaders and institutions who reached out to me to help enlighten me, instead of chastising me. I want to assure my Jewish friends, new and old, that this is only the beginning of my education—I am committed to deeper connections, more profound learning and strengthening the bond between our two cultures today and every day going forward."
Watch:
Portia de Rossi Supports Wife Ellen DeGeneres Amid Talk Show Turmoil
In a video posted to Instagram, Hart told his fans Cannon was over at his house every day "when he went through his s--t."
"Nick and myself talked," he said. "We vetted out the situation as friends because I was there for my friend, just like I'm going to try my best to be there for all of them."
To read Hart's full interview, head on over to Deadline.