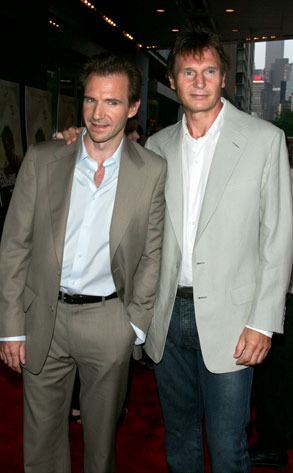 Jim Spellman/Getty Images
Liam Neeson is continuing to seek solace in his work.
The Irish actor has signed on for his first role since the death of wife Natasha Richardson three weeks ago, joining longtime pal Ralph Fiennes in a remake of Clash of the Titans.
According to the Hollywood Reporter, the duo will play warring deities in the epic F/X-heavy flick, with Neeson taking on the role of Zeus, the ill-tempered king of the Greek gods, while Fiennes will play underworld ruler, and would-be Olympian usurper, Hades.
Louis Leterrier will direct a cast that also includes Bond baddie Mads Mikkelsen, Bond babe Gemma Arterton and Alexa Davalos, who, as yet, has no discernible connection to 007. Shooting begins later this month in the U.K.
In the rest of the day's casting coups, Zac Efron finally lands a nonmusical role, Brittany Murphy doesn't, and Freddy Krueger gets a new victim...
• Zac Efron is following through on his vow to avoid more song-and-dance roles, signing on to star in the animated action adaptation of Jonny Quest. According to the Los Angeles Times, Dwayne Johnson is in talks to join the boy wonder as man-of-action Race Bannon. The franchise-ready role may be a departure for Efron, but it's not exactly a more mature role: In the original Quest cartoon series, Jonny was an 11-year-old boy.
• Brittany Murphy is tuning up for The Expendables. Per the Hollywood Reporter, the actress will join Sylvester Stallone, Jason Statham, Mickey Rourke, Jet Li, Dolph Lundgren and Randy Couture in the Sly-directed action flick centering on a team of mercenaries who head to South America to overthrow a dictator. Murphy will play Rourke's singer girlfriend.
• Virginia Madsen is going elemental in Fighting Gravity. Per Variety, the Sideways thesp will produce the documentary, following 15 women ski jumpers as they train and fight to be able to compete in the 2010 Vancouver Olympic Games. Ski jumping is currently the only Olympic sport open only to men.
• David O. Russell is apparently ready for his (second) YouTube close-up. The tempestuous director will helm the John Hughes-like romantic comedy Aaron and Sarah, per Variety, following a nerdy guy and popular girl who meet as high school freshman and, four years later, fall in love.
• Kyle Gallner is ready to be victimized. The Haunting in Connecticut star has signed on as one of the terrorized teens and potential victims of Freddy Krueger in A Nightmare on Elm Street, according to Variety. Jackie Earle Haley stars as the iconic villain.