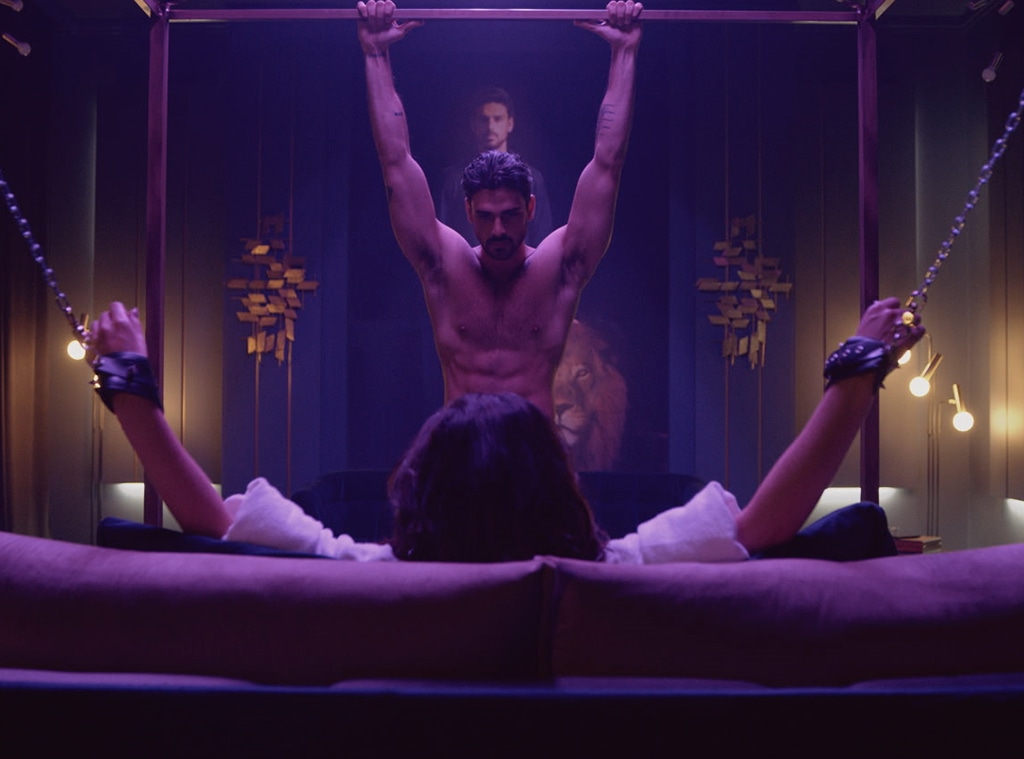 Next Film
If there's one thing everyone involved in the film 365 Days wants you remember, it's this: Nothing happening onscreen is real.
Since its arrival to Netflix in June, the racy Polish film has left viewers breathless thanks to its boundary-pushing sex scenes and controversial central romance. And we're talking a lot of viewers. It's become the first movie on the streaming service to have two multi-day periods as the No. 1 film in the U.S. since the chart was introduced in February with virtually zero promotion and, well, less-than-stellar reviews. Not only that, but it's made it into the top three most-viewed projects in 26 other countries.
Clearly, its tapped into something that quarantined audiences have been craving, whether they even knew it or not.
Earning it comparisons to 50 Shades of Grey for more than just its soft-core porn approach, 365 Days is based on the first book in a trilogy written by Blanka Lipińska. The film tells the story of Laura Biel, a Polish woman kidnapped by Sicilian mafia Don Massimo Torricelli and given a year to fall in love with him before he'll set her free. It also frequently features its stars Anna-Maria Sieklucka and Michele Morrone naked, engaged in sex scenes with chemistry so real it's hard to distinguish if they're even acting.
"I wrote that book for myself, with no intention of showing it to the world. But I know myself and I know that sometimes I change my decisions on a whim. So when I thought about it, I was sure I'd be able to cobble up a screen adaptation," Lipińska, who also co-wrote the screenplay, told E! News via e-mail. "I could visualise each scene in my head. Is there any other way to write a book, by the way? You have to describe images with words. Are there scenes in the movie as racy as I imagined them? No, but censorship didn't allow me to do everything I wanted. Still, I think they're the best sex scenes I've seen in commercial cinematography to date."
It's those very scenes that have turned the film's stars into internet sensations practically overnight. 365 Days was originally released in Poland in February, where its success was nothing compared to the global frenzy it would generate once it landed on Netflix. Neither Sieklucka nor Morrone seem especially fazed by the attention being paid to their impossibly beautiful bodies. 
As the Italian actor and father of two, who'd all but given up on the craft when the role of Massimo came his way, said, "It makes me feel good because maybe it means I am a good actor." 
Via e-mail, his co-star concurred. "It means that we are great actors," Sieklucka said, "because most people think that everything was really happening."
Though Morrone admitted that, in the beginning, filming the erotic moments was "kind of weird" because he and Sieklucka had just become "such good friends," they eventually had fun with it. "For me, it wasn't hard to do that because, as an actor, I always wanted to be real in everything I do. So normal sex scene, I just want it to be real because I want to have done my work in the most pure way ever."
The intimate scenes were filmed last, Sieklucka shared, meaning she was able to spend a lot of time with Morrone "getting to know each other privately, trusting each other and feeling good." And though she was at first "afraid of nudity," she said she "felt taken care of."
"During these scenes on the set, we were accompanied by very few people, just a trusted group," she added. "So I felt [safe.]"
While the actors felt well taken care of during filming, a contingency of viewers have walked away from 365 Days concerned with what the very popular film has put out into the world. Multiple Change.org petitions have been created, each asking Netflix to remove the film from its library on the basis that it glorifies human trafficking, Stockholm Syndrome and sexual assault. (There have also been petitions created for fans to voice their support, asking the company keeps the film available for viewing.) Welsh singer Duffy, who publicly disclosed her own past experience with kidnapping and rape in April, even condemned the film in early July. In an open letter to the company's CEO Reed Hastings, she argued, "365 Days glamorizes the brutal reality of sex trafficking, kidnapping and rape. This should not be anyone's idea of entertainment, nor should it be described as such, or be commercialized in this manner."
While Netflix has not commented on the film, which it did not produce, those intimately involved with it have come to its defense. When asked his response to the criticisms aimed at the movie, Morrone said, "I think it's important to remember that this film is based on a work of fiction. 365 Days was a very successful book in Poland before it was made into a movie. When an audience watches a film, I think they know what they see on screen is not always real, but my job as an actor is to make it feel real, to make you connect to Massimo even though he is a mob boss.
"I trust the audience to know that this movie is a fantasy," he continued. "Sometimes we watch movies and we cheer for the 'bad guy,' but we still know he's a bad guy who is doing bad things, and, of course, this behavior is completely unacceptable in real life."
On whether he finds the argument put forth by Duffy and many others on the internet, he said, "I understand the controversy, and I am glad we are talking about it. I think we have to be careful not to limit art from being created, so I wouldn't say we shouldn't allow a fictional movie like this to exist, because then what about films that are about war, crimes, murders, and, yes, celebrated mob movies?
"This film is not meant to minimize the reality of sexual violence in the world," he continued. "I do not want people to think this behavior is OK. It is not. I think it's good that the movie is causing people to talk about these issues, so we can create more awareness about them in our society."
As the person responsible for dreaming up this particular tale, Lipińska took a somewhat less nuanced approach in defending her creation. "All those people analyzing the movie and coming up with theories about Stockholm syndrome seem to forget that there has been a similar story in pop culture for years now! Just think about Beauty and the Beast. I can only regret that I haven't come up with anything more innovative," she said. "But I don't have any regrets. My book and the movie are for adults, who can thinks for themselves and distinguish real life from the fantasy of the screen. It is not for children and people who believe everything they see on the big screen."
Regardless of where you happen to stand in this particular argument, the popularity of the film and the existence of two more books in the series means we've got a franchise on our hands. In fact, the sequel is already in the works. Morrone, for one, can't wait. "It's kind of exciting 'cause we still have two other movies to shoot, and the second one we're going to start shooting for sure next year, but we still don't know when because of the COVID situation," he said. "I am excited!"
While he waits, he has a newfound music career to focus on. After four songs of his were used in the film, he was signed by Universal Music Group and is hard at work on a follow-up to his debut album, Dark Room. The music video for his latest single, "Hard for Me," only debuted on YouTube on July 24 and it's already racked up over 11 million views. 
"It's a great feeling 'cause I can feel all the love from the people," he said of the reception to his music. "They just appreciate all that you do and it's just a great feeling."
Sieklucka, meanwhile, has used her coronavirus downtime to begin plotting out her next steps now that she's gained global fame. "I needed this time to calmly organize all my future plans," she said. "Focus primarily on myself and what I really want."
While the two actors grapple with what's next for them, the author who created their breakthrough roles contends that her triumphs were never in doubt. "I planned the whole thing from the get go, both for the movie and the book, so I can't say that success came as a surprise," Lipińska said. "Don't get me wrong—I'm not being cocky. I simply knew how good and unique that story was. There aren't many erotic films with genuinely good sex scenes and such a good-looking main actor. Success was just a matter of time."
365 Days is now available to stream on Netflix.
(E! and Universal Music Group are both part of the NBCUniversal family.)
Watch:
Duffy Reveals She Was Raped, Drugged & Held Against Her Will