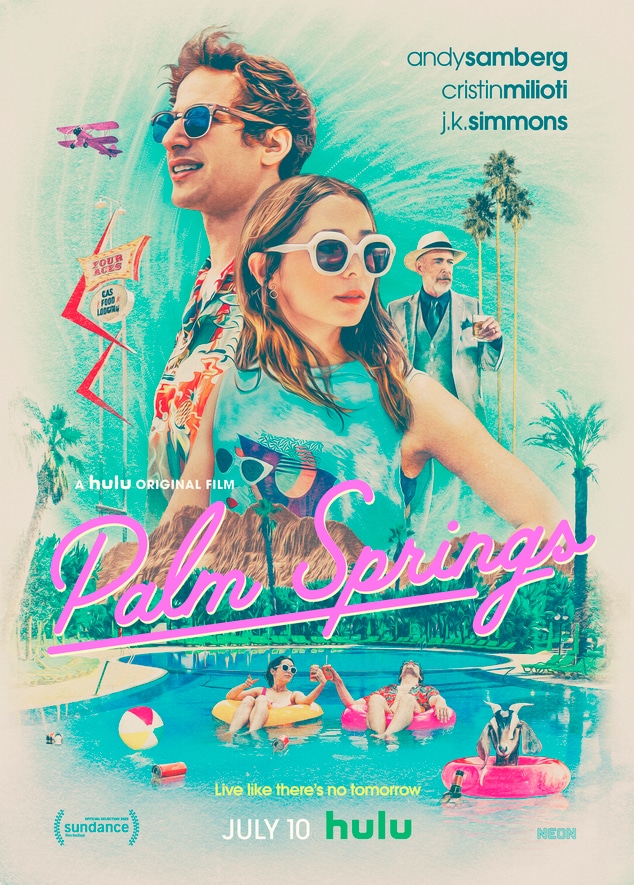 Hulu
How to pick the perfect everyday outfit? Literally?
Such was one of the conundrums built into Palm Springs, the heartwarming and hilarious yet sneakily disturbing film that couldn't have been more timely, premiering on Hulu last month and cannonballing straight into our sparkling blue pool of existential dread.
Luckily Andy Samberg's Nyles and Cristin Milioti's Sarah, aided and abetted by a pitch-perfect supporting cast, keep the R-rated laughs coming as they face the prospect of living forever—if, in fact, they're still alive and not in some demented purgatory—and what to do, or not do, whatever, as they while away the endless day they've been doomed (or blessed?!) to repeat until...
We won't spoil it. (But get thee to the Hulu if you haven't watched yet!)
Meanwhile, the movie itself, a Grand Jury Prize nominee at Sundance in January back when film festivals happened in person, is a veritable confection of wish-you-were-here-postcard color set against the muted desert tones of infamously arid Palm Springs, Calif.—and the pops of brightness start with Sarah and Nyles themselves.
Costume designer Colin Wilkes (Support the Girls, Little Woods) had about four weeks to scour the world for just the right garments to clothe the Palm Springs cast, some as dictated by Andy Siara's script and all of it meant to reflect the essence of the characters, from Nyles and Sarah's "so this is it, huh?" garb to the wedding dress worn by Camila Mendes as Sarah's sister, Tala.
"Max [Barbakow, the director] and Andy [Siara] did such a good job at creating these very complex, emotional beings on paper," Wilkes told E! News in an interview. "And I knew that Cristin and Andy [Samberg] were going to be our two leads so that was a good segue into talking about, "OK, what would make these two who they are?'"
With help from a relatively compact wardrobe team that included one set costumer, three shoppers "and a whole slew of PAs," as well as input from the actors themselves along the way, Wilkes got to work.
"It was a hard shoot for being 21 days and getting all of that in," Wilkes concluded. "Everyone worked really hard and did a great job. We had a huge team of just really professional people that knew what they were doing, so that made the difference."
And if you think Nyles and Sarah would make for excellent his and hers Halloween costumes this fall, how about getting married in a Hawaiian shirt and aqua tank? Wilkes said that she's been getting calls about couples who want to tie the knot in character.
The vow to stay together forever never felt so apropos.
Palm Springs is streaming on Hulu.