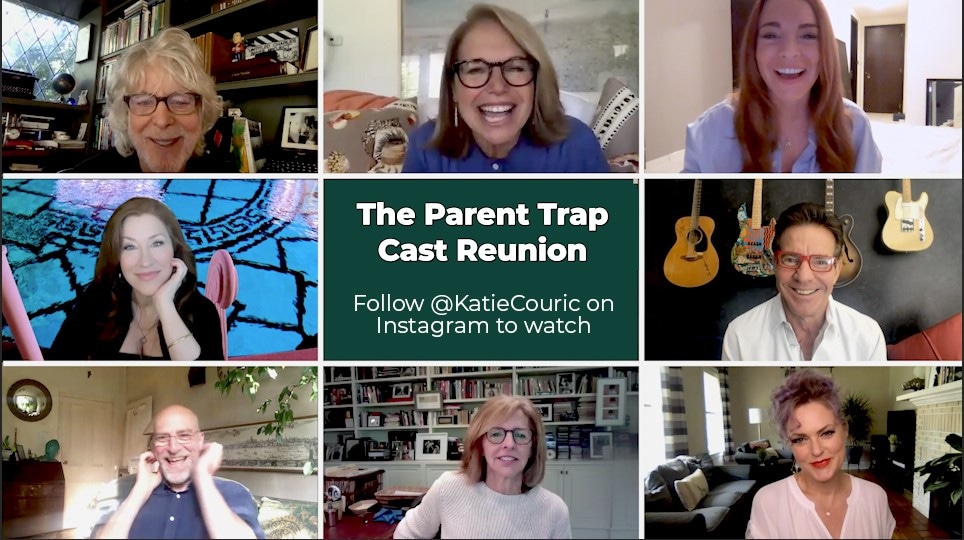 Courtesy of Katie Couric Media
Reunited and it feels so good!
Lindsay Lohan, Dennis Quaid, Elaine Hendrix and more stars of The Parent Trap have virtually reunited in honor of the beloved film's 22nd anniversary. That's right, the Nancy Meyers-directed movie, a remake of the 1961 film, was released in theaters over 20 years ago in July 2020.
On Monday, July 20, Katie Couric reunited the cast for the first time in a 14-minute video posted to Instagram. During their virtual reunion, Lohan, Quaid, Hendrix and fellow stars Lisa Ann Walter and Simon Kunz shared their favorite memories from filming and also honored their late co-star, Natasha Richardson, who passed away in 2009.
"Natasha had such an elegance and grace and she was so maternal to me," Lohan said of her on-screen mom. While Quaid shared that the actress was, "Just somebody so giving and so glad to be there and transmitted that joy of being able to do what we do. It just made everything that much better."
Hendrix said that Richardson would come into the hair and makeup trailer and would "literally swoon" over husband Liam Neeson and their kids.
"She would call him, 'My Liam,'" Hendrix, who portrayed Meredith Blake in the film, recalled. "[She] truly seemed to have it all, which to me, made what happened even more heartbreaking."
This reunion special, in addition to delighting fans, is also set to help raise funds for José Andrés' World Central Kitchen. As Couric explained in her Instagram post, "With COVID-19 continuing to ravage the globe, we all decided to use this reunion as an opportunity to raise awareness and funds for @wckitchen - @chefjoseandres organization that is helping feed those in need all across the world."
Watch:
Elaine Hendrix Clears the Air About "Parent Trap" Character
Take a look at the video above to see the cast reunite and to see Lohan and Quaid reenact a scene from the movie!