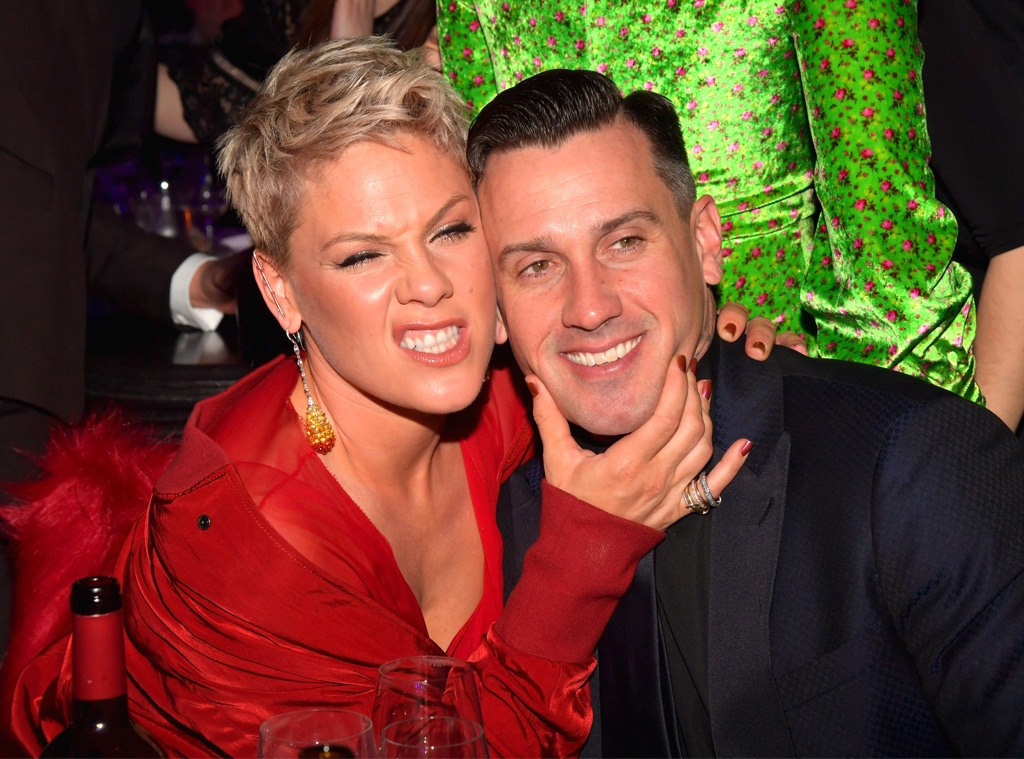 Lester Cohen/Getty Images for NARAS
Cancer season is still going strong, and Pink is celebrating her fave water sign!
The 40-year-old songstress took to Instagram on Saturday morning to share a sweet and heartwarming birthday tribute to her husband, Carey Hart. The former professional motocross racer is ringing in his 45th year, and he definitely felt showered with love from his wife. 
"Happy birthday @hartluck I still remember your 27th birthday. You're so much cooler now. I hope this year is your happiest," Pink captioned her post, alongside a black-and-white photo of her and Carey.
She added, "#youdeservethebest your kids worship you and I am grateful for you every single day almost."
Taking to his own page, Carey revealed that he got some fresh air and enjoyed a bike ride along the coast.
"Hit the road bike the morning of my 45th birthday. This @giantbicyclesusa TCR is the best road bike I have ever had. It was really nice being solo out on the road. Gives you time to think and sweat," he wrote.
"Sorry for the lag, had a quiet day w/ the family. Guess that's what happens when you get old," he quipped. "And thanks to everyone for the birthday wishes. Crazy times people, enjoy your day and be thankful."
Watch:
Pink Inspires While Accepting E! People's Champion Award
Pink and Carey tied the knot in 2006, and have since been relationship goals. The longtime couple share two kids: Willow Sage (9) and Jameson Moon (3).
Just last month, the "Raise Your Glass" singer opened up about her marriage in a refreshingly honest conversation with her therapist Vanessa Inn on an Instagram Live. Pink revealed how she and the retired athlete have kept their love alive after so many years together.
"I got a lot of s--t for telling people that Carey and I have been in couples counseling with Vanessa," the singer expressed. "So I talk to Vanessa on my own and I also talk to Vanessa with Carey and for Carey and I. It's the only reason that we're still together because you know, I think partners after a long time, we just speak—I can't say it's a man and woman thing, I think it's a partner thing, a spouse thing—that you just speak two different languages."
"...Without Vanessa translating for me for the last 18 years, I mean, we would not be together," Pink explained. "We just wouldn't, because we are not taught as kids how to have relationships, how to get along with people."
She added, "I mean, what's happening in our country right now is a perfect example of that. We don't know how to love each other, we don't know how to get along, we don't know how to communicate."
In early January, Carey shared a special tribute to his wife to celebrate their relationship milestone. 
"14 years married to this amazing woman," he began. "I'm so proud of the life that we have built together. Both of us came from broken homes, yet we made the choice to work hard at our relationship. And look at us now! Two misfits when we met, we have grown together and now have an amazing family. Thank you for being my best friend (I know you don't like that), and amazing mother to our wild kids. I love you so much."
"We've been at this thing a long time, babe. It isn't perfect, but I'm grateful it's ours," Pink wrote on her Instagram page. "I love our family. Thank you for walking in front of me, beside me, and right behind me at times. You're a real man, Carey Hart."