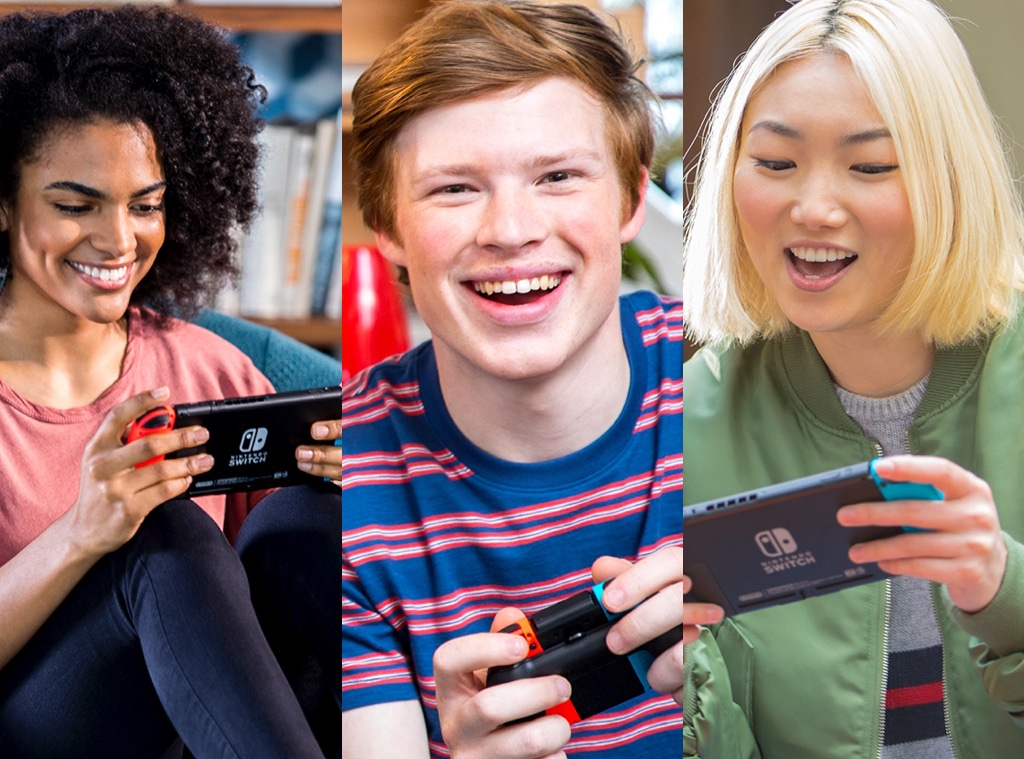 We love these products, and we hope you do too. E! has affiliate relationships, so we may get a small share of the revenue from your purchases. Items are sold by the retailer, not E!. Nintendo sent over their new Clubhouse Games: 51 Worldwide Classics game along with a meal gift card for two for a fun game night in.
Happy National Video Game Day! If you're like us, video games have become a godsend while sheltering at home. And we're not alone: Chrissy Teigen, Brie Larson and Rep. Alexandria Ocasio-Cortez are just some of Nintendo Switch's famous fans.
In addition to games that keep your brains busy, Nintendo has all sorts of fun finds to keep you fit too. Below are some of the ones we're playing obsessively these days. Bonus? GameStop is offering up to 50% off select games now thru July 11. Play on, players!
Ring Fit Adventure
Ring Fit Adventure has replaced our old-school workouts these days. Exercise is just more fun when you're using a Pilates ring to defeat a dragon! For a more straightforward workout, you can also create customizable routines, mixing exercises to target specific muscle groups. 
Just Dance 2020
Just Dance takes us back to the days of playing Dance Dance Revolution in our basement as a kid. Another great cardio workout, this is an excellent way to tire out your kiddos while sheltering at home.
Animal Crossing: New Horizons
In case you were wondering, yes, Animal Crossing lives up to all the hype. There's really no end to the game, so this is a worthy investment. Plus, anyone with an online membership can visit their friend's islands, which makes us feel like we're still being social.
Luigi's Mansion 3
As a kid, we used to play Luigi's Mansion on our GameCube, so we jumped at the opportunity to play again. Much like the first two games in the series, Luigi scrambles to free Mario, Princess Peach and friends from the evil King Boo. However, this new version has so many cool new features to keep it fresh.
Clubhouse Games: 51 Worldwide Classics
Our summer trips to visit family have been put on hold this year, so Clubhouse Games has helped make our visits virtual with so many board games and table games we can all play together online. From Connect Four to air hockey to Toy Boxing to bowling, there really is something for everybody!
The Legend of Zelda: Breath of the Wild
Upon its release in 2017, this game was a major hit and it's not hard to see why. The game has impressive visuals, complex shrine puzzles and offers endless hours of gameplay. And there's a sequel to look forward to as well, although it's unclear how soon gamers will be able to get their hands on the much-anticipated follow-up.
Jump Rope Challenge
Jump Rope Challenge was created by a small group of Nintendo developers while working from home in Japan as a simple game to add some quick and fun movement into their daily lives. A honestly, it's become favorite way to get cardio in easily--especially when it's hot as hell outside. Did we mention it's available FREE through Sept. 30? So hop to it and download now!
Nintendo Switch
Still need a gaming console? We love the flexibility of Nintendo Switch's three modes. TV mode or Tabletop mode is a must-have for a game like Ring Fit Adventure Tabletop. And the travel-friendly Handheld mode is also great for when you're curled up on the couch in bed.
Nintendo Switch Lite
Already know that you'll want to play these games in Handheld mode? Then save some dough with the Switch Lite!