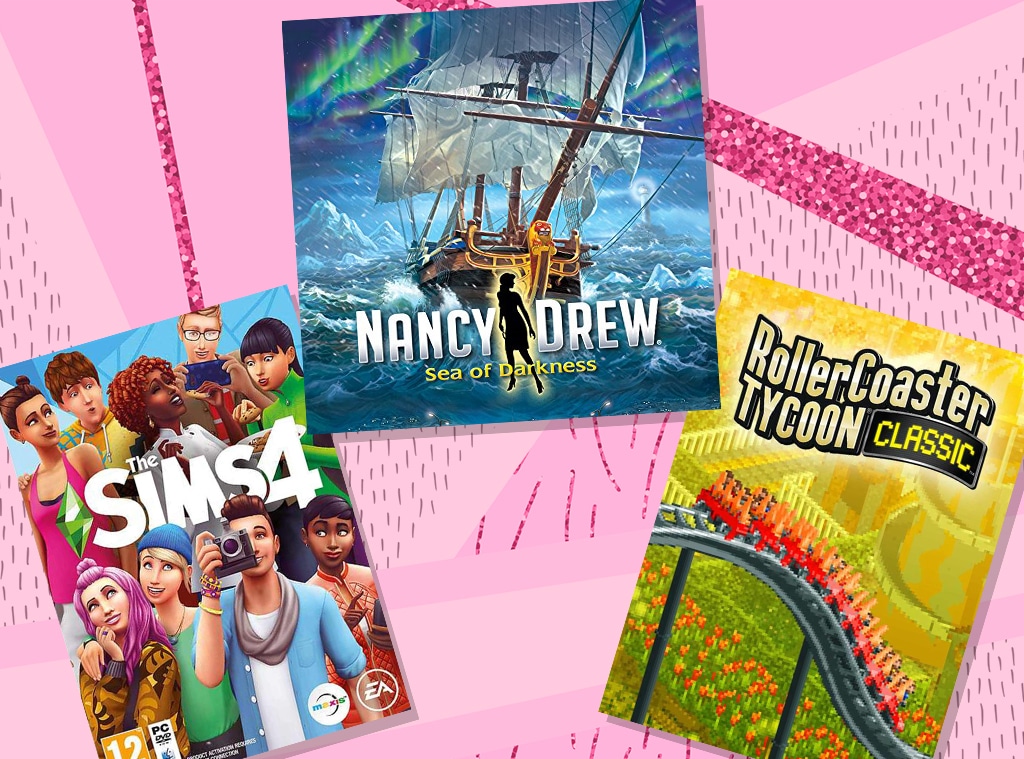 We love these products, and we hope you do too. E! has affiliate relationships, so we may get a small share of the revenue from your purchases. Items are sold by the retailer, not E!.
Looking for something to do while social distancing? Gaming could help level up your at-home experience.
Millions of people are turning to games as sources of entertainment and socialization amid the global coronavirus pandemic. In fact, digital distribution service Steam broke its record earlier this month by accumulating more than 24.5 million concurrent users.
Of course, gaming is hardly a new concept. And while it's always fun to test out the latest and greatest arrivals, there's something nostalgic about returning to the beloved classics. Whether you were a fan of old-school PC games or you spent countless hours glued to your Nintendo 64, there was something for every player and every console.
In fact, many of these time-honored treasures still hold up today. Need proof? Take a break from the binge-watching and check out the following list of eight retro-inspired games you can play right now (no cheat code required).
The Sims
The first version of "The Sims" debuted on PC back in 2000. Fast-forward 20 years later and players are still building their Sims' homes, forming their personalities and relationships and controlling their lives. Fans can play "The Sims 4" by downloading it for their PC or Mac, Xbox One or PlayStation 4.
Nancy Drew
Love a good mystery? Then, these "Nancy Drew" computer games are for you. Whether you're investigating the "ghost dogs" of Moon Lake or uncovering the secrets at Shadow Ranch, "it's up to you as Nancy Drew" to crack the case. Her Interactive released the first game, "Secrets Can Kill," in 1998 and continued to win over young sleuths. But after the release of the 32nd game, "Sea of Darkness," in 2015, it seemed like Nancy was taking a bit of a break. Then, after almost five years of waiting, fans got a new game: "Midnight in Salem." The games can be purchased via physical copy for Windows or via digital download for Mac or PC.
RollerCoaster Tycoon
Who wouldn't want to run their own amusement park? That's exactly the kind of thrill "RollerCoaster Tycoon" provides. From building rides and managing repairs to maintaining guest satisfaction and keeping the park clean, there are a number of items on a player's to-do list. Fans can play the classic version of the game, which originally debuted in 1999, by downloading it from Steam, Google Play, Apple's App Store or Amazon.
Tetris
Players aren't puzzled over how much they love this game. "Tetris" originally debuted in 1984, and it's still providing entertainment over three decades later. For instance, "Tetris Effect" for PlayStation 4 dropped less than two years ago and was named one of the "best video games of 2018" by The New Yorker, The Washington Post and more. A new take on an arcade classic? Sounds like the perfect "fit" for any gamer.
Pac-Man
Fans have been gobbling up this game for 40 years. Players can relive the fun arcade action by downloading "Pac-Man" for free from Apple's App Store or Google Play (as seen in the photo below). They can also purchase other editions, such as "Pac-Man Championship Edition 2" for PS4, Xbox One or Nintendo Switch. 
Disney Classic Games: Aladdin and The Lion King
Disney's "Aladdin" was released for Sega Genesis in 1993 and quickly became a hit. According to The Hollywood Reporter, it actually delivered the third-best sales of any Sega Genesis game with four million units sold. "The Lion King" was then released in 1994 and reportedly sold more than one million units worldwide. Both games follow the storylines of the beloved Disney movies. For instance, players can fly a magic carpet to escape the fiery Cave of Wonders in "Aladdin" and battle Scar for Pride Rock in "The Lion King." Fans can now play both games via Nintendo Switch, PS4, Xbox One and Steam. 
Mario
Mario is one of the most iconic characters in the gaming world. Over the years, there have been hundreds of games centered around him, his brother Luigi and their friends and foes. The famous plumber first appeared in the 1981 game "Donkey Kong" and went on to star in hits like "Mario Bros." and "Vs. Super Mario Bros." throughout the decade. In fact, fans can still play the latter two '80s games via the Arcade Archives series for Nintendo Switch. But if they want a more modern take with the same classic characters, they can try games like "Super Mario Odyssey" or "Super Mario Bros. U Deluxe." The first has a few Easter eggs (see here and here) for a little nostalgia and the second has a side-scrolling experience that will remind players of the good old days.
Animal Crossing
It seems like everyone nowadays is talking about "Animal Crossing." The game was first released for Nintendo 64 in 2001. While its iterations have since evolved, the love for the game has remained the same. In fact, Famitsu recently announced that the latest version, "Animal Crossing: New Horizons" for Nintendo Switch, sold 1.88 million copies in three days alone. Want to create your own customized paradise? Fans can buy the newest edition, which just dropped last month, through Nintendo's Game Store.