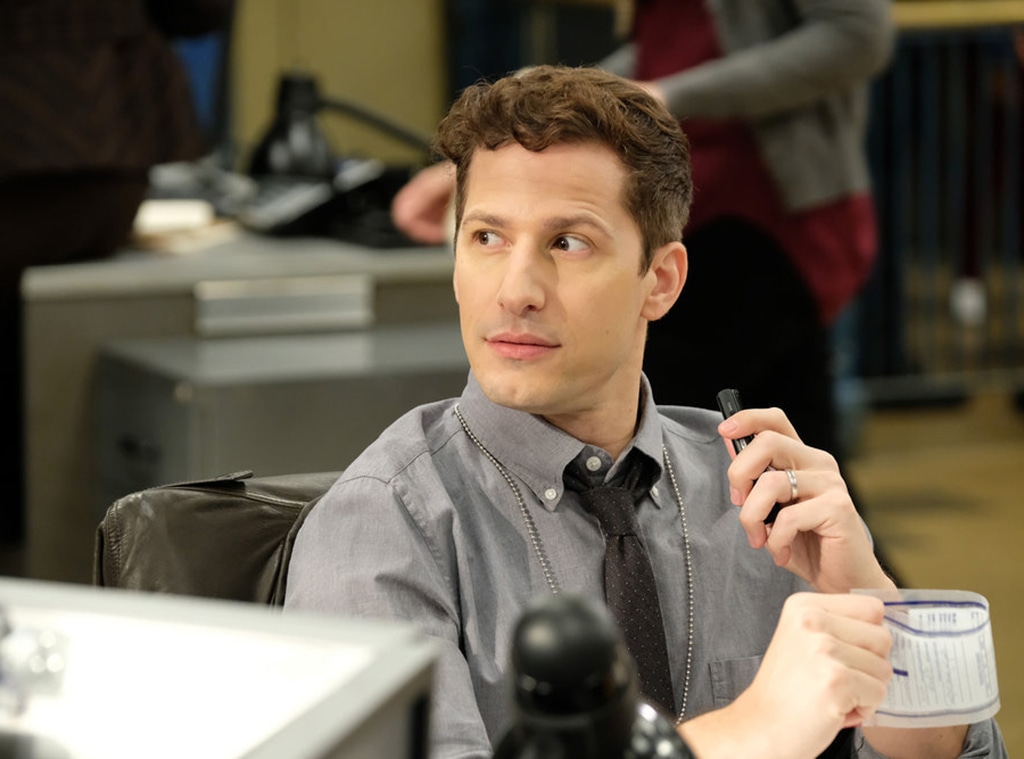 NBC
Brooklyn Nine-Nine already had its work cut out for it next season, with the pandemic essentially closing down New York City. 
Then, George Floyd was killed at the hands of police, and the country changed even more, in an even more irreversible way as protests against police brutality and calls for police reform popped up in every single state and even in other countries. The world in which the season seven finale was written no longer exists, and the things that have changed will affect the way we watch Brooklyn Nine-Nine probably more than any other show on TV, because there aren't many other shows centered on goofy, lovable cops. Dramatic, angsty cops, sure, but not goofy and lovable.  
The show hasn't shied away from tackling real issues in the past. Much of Raymond Holt's (Andre Braugher) story is about how difficult it was to be a Black, gay cop—and he's married to a man who automatically disliked his coworkers because of that. In one episode, Terry Jeffords (Terry Crews) was racially profiled by another officer when he didn't have his badge on him. The whole squad has also come up against its fair share of bad cops, often other NYPD officers who are corrupt or who simply are really not great at their job, and who show up in stark contrast to the "good" 9-9.
Even the show's NYPD police commissioner got caught wiretapping, and it was the 9-9 who brought him down. 
But the 9-9 has never had to deal with large protests against police brutality while a pandemic has the city on lockdown. They've never had to deal with a nationwide anti-cop sentiment. They've never encountered a campaign to defund the police, as some people are currently calling for.
All of this means that it's unlikely the show could or should come back as the same show it's always been.
In a new interview with Access, Terry Crews said that the writers have started over on season eight completely.
"We've had a lot of somber talks about it and deep conversations and we hope through this we're going to make something that will be truly groundbreaking this year," he said. "We have an opportunity and we plan to use it in the best way possible. Our showrunner Dan Goor, they had four episodes all ready to go and they just threw them in the trash. We have to start over. Right now we don't know which direction it's going to go in." 
In an interview with People, Andy Samberg also weighed in on the show's future. 
"We're taking a step back, and the writers are all rethinking how we're going to move forward, as well as the cast," he said. "We're all in touch and kind of discussing how you make a comedy show about police right now, and if we can find a way of doing that that we all feel morally okay about...I know that we'll figure it out, but it's definitely a challenge, so we'll see how it goes." 
Brooklyn Nine-Nine is currently slated for NBC's fall schedule, though it usually premieres midseason. Fall could end up meaning spring, since no primetime programming has gone back into production yet and might not for at least a few months. Either way, that's not a ton of time for a complete retool of the show. But can the show responsibly come back without a retool? At this point, it feels like it can't, so throwing out any previously written episodes and going in a new direction sounds like a start. 
A Google search of "NYPD" at the time of this writing, the headline at the top of the search is about an officer arrested for use of an illegal chokehold. There's a story about Brooklyn residents taking back a playground from the police who are using it as a parking lot. NYPD officers are also currently embroiled in a story where they claimed Shake Shack poisoned their milkshakes, which did not happen and might have been a police union hoax. 
To say it plainly, the public image of police and specifically the NYPD isn't good right now. Brooklyn Nine-Nine is all about a group of very good NYPD cops, usually led by one lovable white man (Andy Samberg) who can't figure out how to pay his bills or buy a mattress but somehow he can solve any murder put in front of him. It's not fair to Brooklyn Nine-Nine to have to be the leading positive image of police officers, and it's not fair to all the police reform work being done right now to show viewers a group of cops who are fun and goofy but who also carry and occasionally use guns. 
Police brutality is undeniable in reality, but easily deniable on a show like Brooklyn Nine-Nine. 
Jake Peralta's (Andy Samberg) favorite movie is Die Hard, which came out in 1988, and that seems to be where he got his idea of what a cop does. That's the idea of an awesome cop that the show mostly leans on, too—badasses who occasionally swing through windows and save the day while saying really cool one-liners. They're tough, and if they get hurt, they work through the pain, while taking down the foreign bad guys and getting the girl. 
But that's not the kind of policing most people need on a daily basis (or ever), and when Brooklyn Nine-Nine's cops have to deal with something more mundane, they're often passing the time with an elaborate game, or a complicated heist that has become a signature of the show. The violent stuff is the cool stuff, and the stuff that Jake often longs for. Everyday policing is seemingly boring, and has to be made more exciting somehow. 
Season seven ended with Jake and Amy (Melissa Fumero), a sergeant who oversees uniformed officers, having a baby. They named the baby Mac, after John McLane, the character Bruce Willis played in Die Hard. But Brooklyn Nine-Nine is set in present day New York, more than 30 years since that fateful holiday party where Alan Rickman's Hans Gruber was taken down. Now, it seems hard to imagine Jake or Amy looking at what's happened in the world while still feeling comfortable about their jobs, especially with a new baby. It's hard to imagine that Holt or Terry, two Black police officers, or Rosa (Stephanie Beatriz) and Amy, two Latina police officers, would be able to ignore what's happening in the world and continue with their jobs as usual. 
There are solutions to this. Make season eight the last and have the squad quit and join the movement while figuring out what to do with the rest of their lives. Or as some have suggested on Twitter, just move the whole thing to a post office or a library and don't even acknowledge it, allowing the show to continue to be the escape many have used it as. 
"One of the things I'm very conscious of is that people are watching the show and saying it's a nice escape, and I'm not unaware of that, and I don't think there's a world where the next season is like a dark meditation about how affected they've been by coronavirus," showrunner Dan Goor told E! News back when season seven ended, when the pandemic was the main concern. "But at the same time, I don't know that we can or should fully ignore that it has impacted the city that they're in, and the people that they know because of their jobs, and they can't escape it."  
Watch:
"Brooklyn Nine-Nine" Cast Teases Evolution & Romance in New Season
Brooklyn Nine-Nine is already no longer the escape it was just a few months ago, even for me, as I would often call it my favorite show. But most of the people who love it don't love it because it's about a bunch of cops. We love it because it's a funny show about funny, wonderful people, starring funny, wonderful people. Those people can all still be funny in a different context. Reality's not funny right now, but if Brooklyn Nine-Nine finds a way to acknowledge and realistically react to that reality, maybe we can all enjoy it again when it returns for season eight.
Brooklyn Nine-Nine airs on NBC, set for Thursdays in the new season.
(E! and NBC are both part of the NBC Universal family.) 
Originally published Friday, June 26.