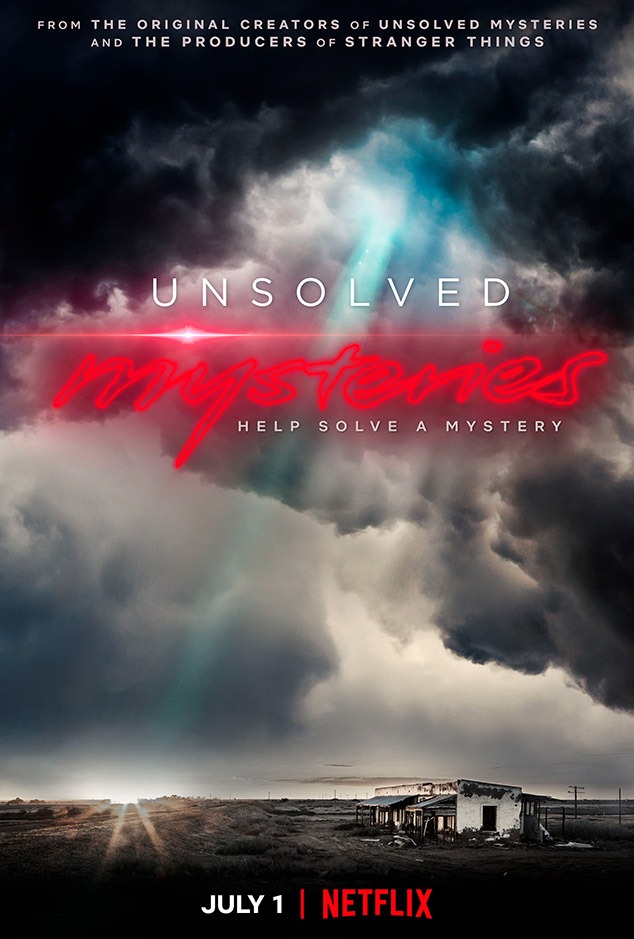 Netflix
Netflix has mysteries that need to be solved. The streamer is bringing back Unsolved Mysteries, the iconic docuseries returns with six new episodes on July 1 with six additional to drop at a later date. The original series creators John Cosgrove and Terry Dunn Meurer are on board with Stranger Things executive producer Shawn Levy.
"We regarded Unsolved Mysteries as a 'mystery' show, not a 'true crime' show. When choosing cases, we've always looked for diversity in races, ages, locations and eras. We've covered such classic mysteries as Bigfoot, and high-profile, historic crimes ranging from the Black Dahlia murder to the Kennedy assassinations," Cosgrove and Meurer said in a statement released to press.
At the end of each new installment, viewers will be directed to unsolved.com, or if applicable to a law enforcement agency to share any leads.
Get a taste of the new version in the trailer below.
Topics covered in the revived series include the death of Rey Rivera, a newlywed found eight days after going missing in Baltimore; the disappearance of a mother, Patrice Endres; and a 1969 report of a UFO in Berkshire County, Massachusetts.
Watch:
Nancy Grace Gives Rapid Fire Answers on True Crime Cases
Originally premiering in 1987, the documentary series blends interviews with reenactments of real events. The original show bounced around networks from NBC to CBS, Lifetime to Spike, before ending in 2010. Netflix announced its revival plans in 2019.
Hosts over the years include Raymond Burr, Dennis Farina and Virginia Madsen, but Robert Stack hosted the longest from 1987-2002. The new series is host-less.
"We know our loyal audience will miss host Robert Stack (1919 –2003) as much as we do, but we hope mystery lovers old and new will embrace this next chapter, knowing that no one could fill Bob's shoes," Cosgrove and Meurer said.
The first six episodes of Unsolved Mysteries premiere Wednesday, July 1 on Netflix.