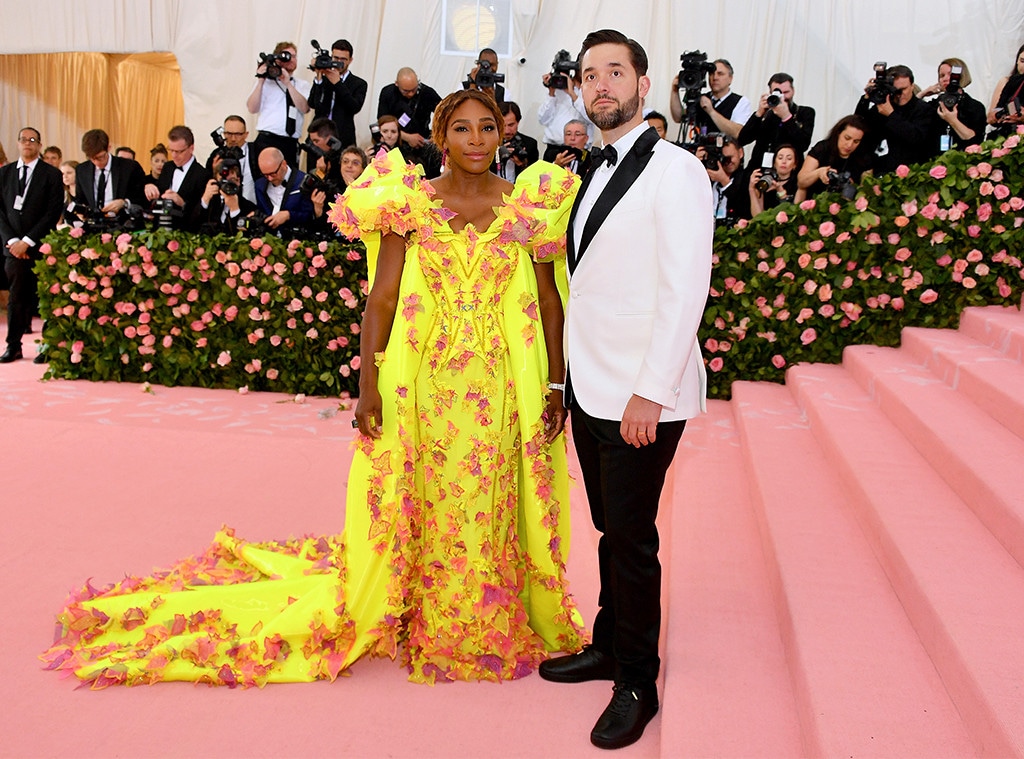 Dia Dipasupil/FilmMagic
Serena Williams and Alexis Ohanian had a refreshingly honest conversation.
The couple took to Instagram Live on Saturday evening to candidly discuss Alexis' recent resignation from Reddit, the inequality Serena has faced and more.
"When I thought about what Reddit needs, what business needed now more than ever was someone that had a position of power to say, 'There are too many white faces around the table, there have been for too long...," the Reddit co-creator said on his wife's weekly Serena Saturday's IG Live sessions. "What are the things that I can do beyond donations.'"
He continued, "I have been so heartened by messages I have received from total strangers in business, in particular a number of Black men and women who found my email, or through a friend sent me a note, saying how much they appreciated the gesture simply because of all the rooms, all the board rooms, all the executive rooms they have walked into, where they have realized they have had to prove themselves."
Alexis further explained his recent decision to step back from the company he co-founded in 2005.
"I really meant it when I said I think resignation can be an act of leadership and I know this puts Reddit in the best position possible," he shared. "I think if every company took a look around their board rooms on Monday and really had the honest, hard conversations, and said, 'Are we doing the best by our customers, by our team and by our shareholders with this board makeup?' I think we'd see more change."
Serena expressed how proud she was of her husband, and noted that he resigned from the company all on his own. If anything, she pointed out that Alexis' decision to step down was "definitely shocking to me."
Watch:
Ariana Grande & More Protest Over George Floyd's Death
"This is all Alexis, which is really cool," the tennis icon said. "A lot of people may think that I told you to do something, or that I forced you, or that I was in your ear... he doesn't listen to me ever! So that's not the case."
Serena also noted the "many different challenges" she's had to face in her life as a Black woman.
"A lot of people don't know, my whole life I've had to deal with so many different challenges. I've had to deal with a lot of inequality, I've had to deal with racism," she said. "Honestly, sadly, it has become... somewhat of a norm for me."
"It's sad that someone on my level has had to accept being paid less [and] accept so many different things because of the color of my skin," she added. "I think I'd be very angry, very spiteful, very jealous if I didn't have this spiritual background."
The Reddit co-founder also discussed the conversations he and Serena will eventually have with their 2-year-old daughter, Alexis Olympia Ohanian Jr.
"One of the things that really broke me at some point in the last week, was looking at Olympia and she is such a pure blank canvas. She only knows love," Alexis said. "There is not an ounce of hate in her body."
"You know that at some point, Olympia is gonna have a talk with you, a talk with us, but especially a talk with you about how she's gonna have to work that much harder, how she's gonna have to deal with this much more...," he told Serena. "That pisses me off."
When announcing his resignation on June, he also spoke of his daughter and wanting to set a good example for her.
"I'm saying this as a father who needs to be able to answer his black daughter when she asks, 'What did you do?'" he stated. "So, I have resigned as a member of the Reddit board. I have urged them to fill my seat with a Black candidate, and I will use future gains on my Reddit stock to serve the Black community, chiefly to curb racial hate."
Watch the IG Live with Serena and Alexis in the video above.