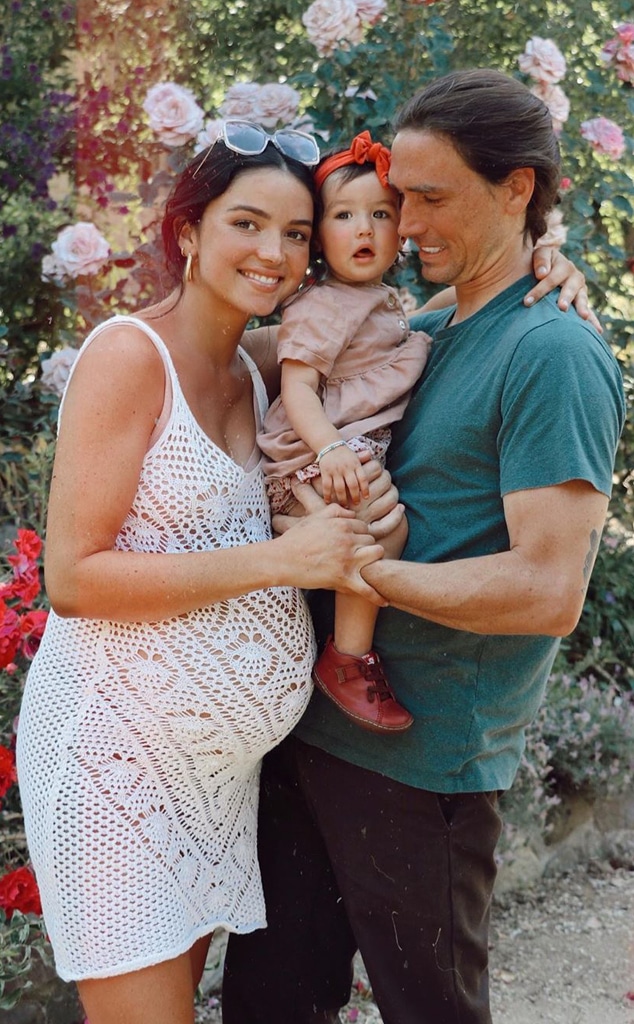 Bekah Martinez / Instagram
Bekah Martinez is officially a mother-of-two!
The former Bachelor contestant and partner Grayston Leonard welcomed their baby boy on Friday, June 19, which comes less than two years after giving birth to daughter Ruth Ray De La Luz Leonard. 
Bekah announced her little one's arrival on Instagram, alongside a collage of photos of her homebirth. 
"He's. HERE," Bekah's Instagram caption read on Saturday morning. "Born blissfully in our living room at 2:52 a.m., June 19th. 7lbs, 8oz."
The reality TV personality revealed that she and her boyfriend have yet to name their newborn, but told her fans that "suggestions welcome."
In the weeks leading up to her bundle of joy's arrival, the mom candidly discussed the discomfort and joy she's experienced throughout her pregnancy. "These are strange times, but also wonderful times. I have a feeling I'll look back at these months of stillness as some of my favorite," the 25-year-old wrote. "Nowhere important to be; nothing to do but soak up these in-between moments before a new little person makes us a family of four."
In another Instagram post, the Chatty Broads star also said she was "feeling some type of way," when she thought about her plans to birth without pain meds for the second time. But, she also told one user that she desired to speak honestly about her experiences as to "end the stigma that birth without medication or medical intervention is scary, unsafe & excruciating." 
Watch:
How Bachelor Nation Turned Stagecoach Into an Unofficial Reunion
When she welcomed her first child, Ruth, the mom was open about the entire process, going so far as to share a video of the birth. And though she received criticism for her decision to share the recording, Bekah said she offers it for any pregnant women who are unsure of what to expect. "You may not need to see 'every single detail', but some people do in preparation for birth, including myself. Watching raw, real births, showing real, vulnerable bodies helped me know what I was going into and mentally prepare myself," she responded to one critic in February. 
This time around though, Bekah said she didn't feel the same nerves she once did. When she first got pregnant, she said she felt "ashamed" that she "barely" knew her partner, but time and having Ruth "changed" everything. She shared, "Now, with this baby, we can give ourselves permission to be joyful. We're not fearful. We're delighted. I can see it on Gray's face when he touches my belly and tell the baby he loves it."
Congratulations to the new family of four!