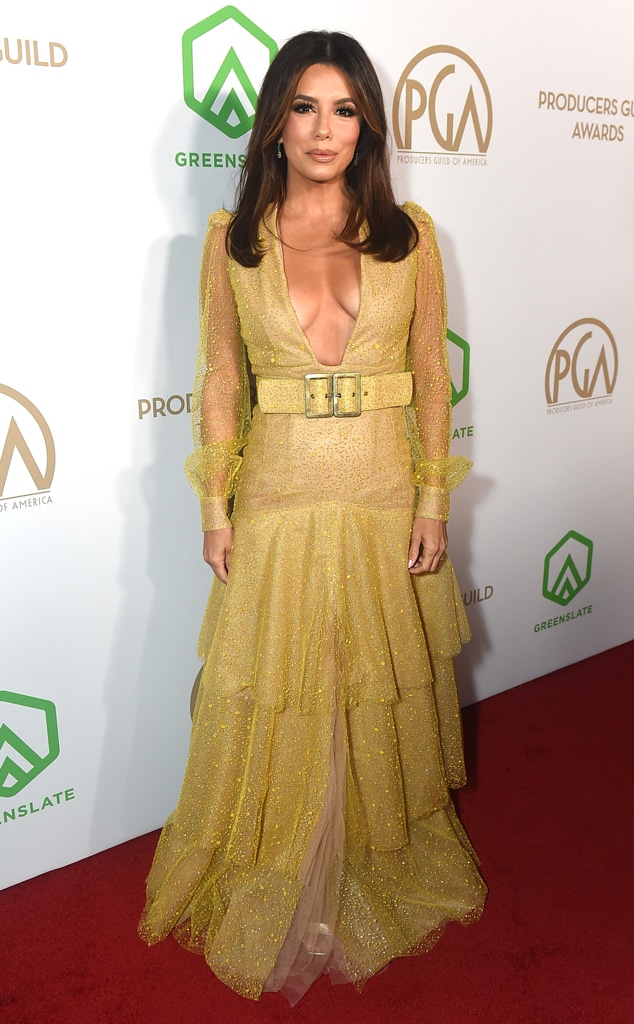 Jordan Strauss/Invision for the Producers Guild of America/AP Images
Eva Longoria continues to be a force to be reckoned with.
The Desperate Housewives alum has been in the Hollywood game for years—with a career that ranges from actress, producer, director, activist and so many other titles.
For her latest gig, Longoria is directing the upcoming biopic, Flamin' Hot. The film centers on Richard Montanez, who worked as a Frito-Lay janitor and created the beloved Flamin' Hot Cheetos snack for the company.
While there's no release date yet, the 45-year-old star is excited to bring Montanez's story to the big screen.
In a recent interview with The Sun, she said: "I wanted to make a movie about a man who had an amazing life, who happened to invent the number one snack in the world. I gravitate to real life."
"There's so many characters that you couldn't write, like you couldn't have written Tiger King," she continued. "You couldn't have written a character [Joe Exotic] that crazy. People would go, 'Oh, that guy doesn't exist.'"
"To find them in real life is much more interesting to me," she explained. 
Even the Hollywood star's own story behind landing her director role for Flamin' Hot is one to talk about.
Watch:
Eva Longoria "Proud" of Women Coming Forward
With advice from Desperate Housewives producer Brian Tanen, Eva told the publication that she walked in the room with a completely different mindset compared to her other jobs. She thought like a "white man."
Longoria recalled, "I was practicing pitching [for the job] with him and he said, 'Stop right there. Put on your male privilege pants and stop asking to do this movie. Walk in the room as if that movie's yours and you're directing it and tell them this is how you're going to cast it, this is how you're going to shoot it.'"
"And I thought, 'Oh my gosh, yeah! I'm not a man and I'm not white, so I wouldn't think to do that,'" she shared. "It was a change in approach to every sentence that came out of my mouth."
Eva pointed out the ways most women think when they walk into a job interview.
"Because as a woman, we want to be amenable. We want to be seen as cooperative," she noted.
Gregory Pace/REX/Shutterstock
The actress and director has definitely come a long way, and remembers what it was like to go on those auditions early in her career.
"You don't have a choice when you're starting out. You need experience. You need to show people what you can do," she explained of how the process was for her in the beginning.
"I had nine auditions and I was changing in my car, driving from audition to audition—as a nurse, then a hooker...," she added. "I was changing, changing, changing, not thinking, 'I don't want to play a hooker!'"
For her it was: "'I have to get a job, I'll play the hooker!'"
Fast forward to 2020, and the acting roles come to her.
Moreover, she has a jam-packed schedule for Hollywood standards. Eva is not only set to direct Flamin' Hot, but Universal's 24/7 film as well. In fact, it's a project that she'll also produce and star in with Kerry Washington.
As if that's not inspiring enough, she's also producing My Daughter's Quinceañera.