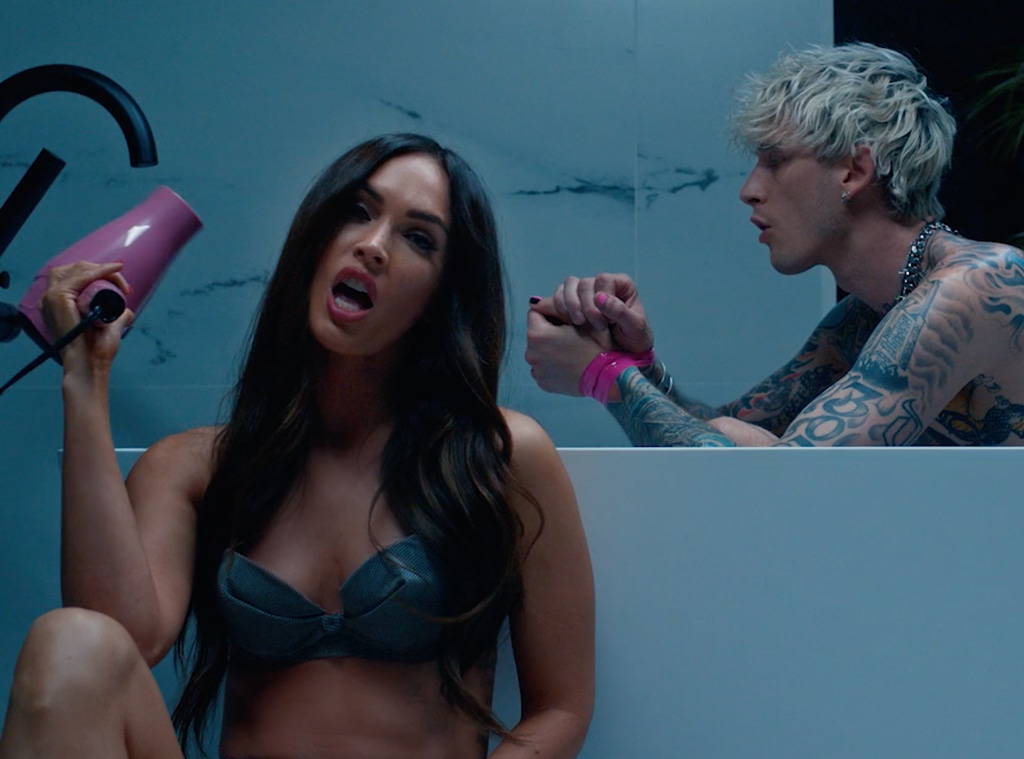 MICHAEL GARCIA / Machine Gun Kelly
First comes love, then comes a music video cameo. 
Megan Fox is the star of her rumored new boo Machine Gun Kelly's visual for "Bloody Valentine," which dropped Wednesday. In between shots of the bombshell actress dancing in her underwear and singing along to the pop-rock track, Megan takes MGK hostage by binding his mouth, legs and arms with hot pink duct tape.
She goes on to tease him in bed, with a plate of donuts and in a sauna before electrocuting with a hair dryer him in a bathtub. Sparks were flying—literally and figuratively. 
The flirty music video comes in the midst of ongoing romance buzz swirling between Megan, 34, and 30-year-old MGK, whose real name is Colson Baker. 
"Megan has been working on a movie with Machine Gun Kelly and gotten close to him," a source recently told E! News exclusively. "They are hooking up and have been for a little while."
The mom-of-three is clearly well on her way to moving on from Brian Austin Green, who confirmed the end of their 10-year marriage just this week. As the Beverly Hills, 90210 star revealed on his podcast, Megan asked if they could take some time apart after she returned home from shooting a movie last fall. 
"Neither one of us did anything to each other," he explained. "She's always been honest with me and I've always been honest with her. And I know she will always love me and I know as far as a family, what we have built is really cool and really special. So we decided let's make sure we don't lose that. That no matter what we're always friends with each other and we're a united front with the kids."
Brian also denied Machine Gun Kelly having a role in their separation, instead defending the performer for being a "good friend" to Megan as she navigates this new chapter in her life. 
"I don't want her to be looked at in a negative way or him to be looked at it a negative way for doing that. That's what good people do. Good people step up and help people that need help, and that's what he is doing," he said. 
As for just how quickly Megan and MGK's friendship is progressing, we'll let you be the judge of that by watching the music video for "Bloody Valentine" above.