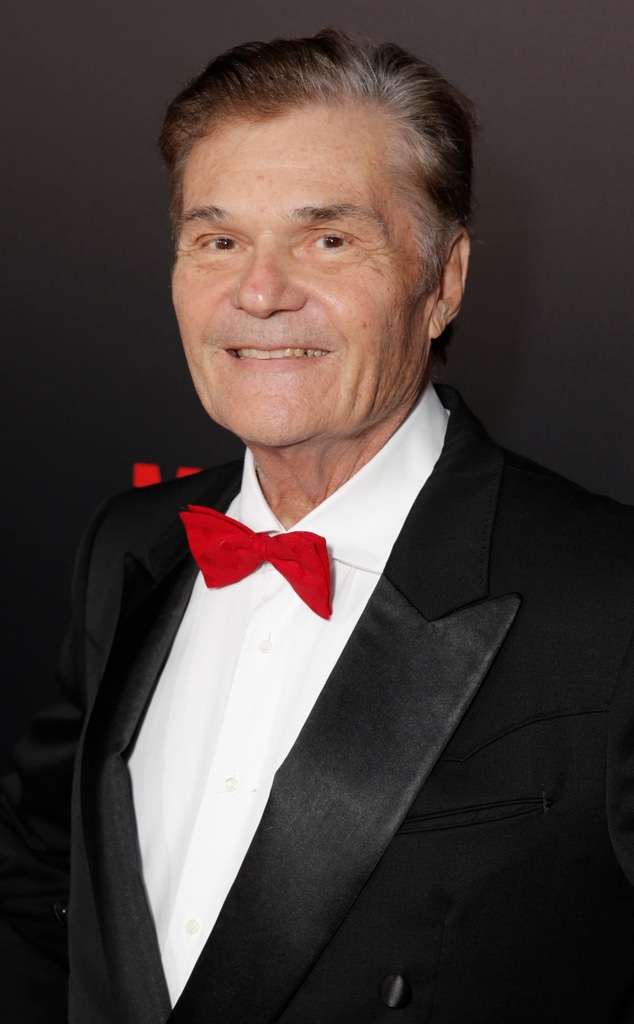 Todd Williamson/Invision/AP/Shutterstock
It's a sad day for Hollywood fans around the world.
E! News can confirm that Fred Willard has passed away. He was 86 years old.
According to the late actor's rep, he died of natural causes on May 15.
"My father passed away very peacefully last night at the fantastic age of 86 years old. He kept moving, working and making us happy until the very end," Willard's daughter Hope said in a statement shared with us.
She added, "We loved him so very much. We will miss him forever."
The legendary comic actor was best known for his roles in Anchorman, This Is Spinal Tap, Modern Family and his various appearances in Christopher Guest's movies, which include: Best in Show, Waiting for Guffman, A Mighty Wind and others.
Upon hearing the news of Willard's death, his fellow colleagues and former co-stars shared their heartache.
"Just learned of Fred Willard's passing. Just about the funniest human ever to walk the planet," Harry Shearer expressed on Twitter. "An amazing talent, in telekinetic contact with the very wellspring of comedy."
Jamie Lee Curtis, who is married to Christopher Guest, wrote a touching tribute to the late actor.
"A fond farewell to Mr. Fred Willard. How lucky we all are that we got to witness his great gifts," her caption read on Instagram. "Thanks for the deep belly laughs. You are now with Mary. Home safe."
Jack Black responded to her post with a blue heart emoji.
"Fred Willard could not have been funnier. He was pure joy," Judd Apatow shared. "And the sweetest person you could ever meet."
Watch:
Legendary Comic Actor Fred Willard Dead at 86
Jimmy Kimmel wrote, "There was no man sweeter or funnier. We were so lucky to know Fred Willard and will miss his many visits."
"Fred Willard was the funniest person that I've ever worked with. He was a sweet, wonderful man," Steve Carell said on Twitter.
Modern Family star Jesse Tyler Ferguson expressed his heartache.
"Rest In Peace sweet @Fred_Willard. You will always be a true original and I am so honored that our lives intersected," he shared. "No one will ever come close to replacing your genius."
Christina Applegate said, "Gutted. His immense talent and kindness will never be forgotten. We love you Fred Willard. Thank you for the decades of laughter."
Willard's passing comes less than two years after his wife Mary died at 71. He is survived by his daughter and grandson.