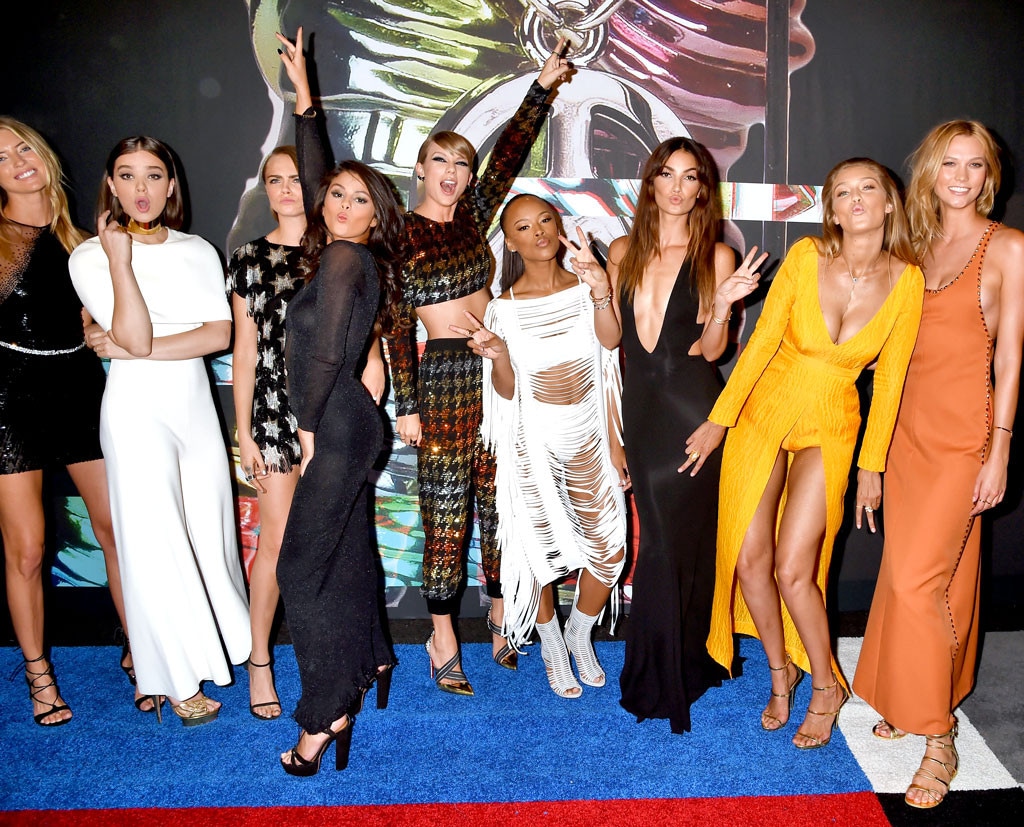 Jeff Kravitz/FilmMagic
2015.
It was the best of times, it was the worst of times. It was the time of individuals, when Kanye West declared he'd run for president in 2020, which seemed so far away. It was also the time of #squadgoals, when a dozen famous friends huddled together on the red carpet before going into an arena full of people to be honored for their transfixing badassery. 
It was the year of "Bad Blood." Whether the iconic single off of Taylor Swift's 1989 album feels to you as though it came out five years ago or 50 years ago, it bubbled up on May 17, 2015, along with its instantly iconic music video starring some of the singer's closest friends, as well as some more surprising faces who wouldn't have missed out on being in the revenge anthem of the decade for anything and were happy to do Swift a solid.
Swift has certainly had some adventures between then and now, releasing two more albums, mending fences with some and while burning a few bridges down, and welcoming new love into her life in the form of boyfriend Joe Alwyn, whom she's happily squared away with in London amid the COVID-19 pandemic.
But in 2015, which included "Bad Blood's" win for Video of the Year at the MTV Video Music Awards, where almost everyone from the production was right by her side, it was a simpler time of telling Katy Perry just what you thought of her in song (without ever saying the song was about her).
Here's how it all came together for Team Taylor:
"I think we're all just playing characters, our alter-girl that we would love to be... just [an] amazing strong type of woman that can do kicks and stunts and things like that," Serayah mused to Billboard about the bevy of butt-kickers that turned out for "Bad Blood." "I think it was just a character we were all fascinated with."
The production also won the Grammy for Best Music Video in 2016, the year that saw Swift standing tall at the end of the night as she won Album of the Year for the second time in her career— and called out an unnamed person for trying to steal away a slice of credit for her success. Ensuing events that year would provide inspiration for 2017's reputation, after which events would conspire to feed the red-hot flame of 2019's Lover. 
So here we are.
Watch:
Katy Perry Addresses Taylor Swift Collaboration Rumors
No one—the squad was polled, they all demurred—ever confirmed that "Bad Blood" was about Katy Perry, but she and Swift have since buried the hatchet (not in each other's backs, happily) and life changes have abounded for the members (onetime and ongoing) of Taylor's squad.
"Something about 'We're in our young twenties!' hurls people together into groups that can feel like your chosen family," Swift herself wrote for Elle last year, as she approached her 30th birthday. "And maybe they will be for the rest of your life. Or maybe they'll just be your comrades for an important phase, but not forever. It's sad but sometimes when you grow, you outgrow relationships.
"You may leave behind friendships along the way, but you'll always keep the memories."