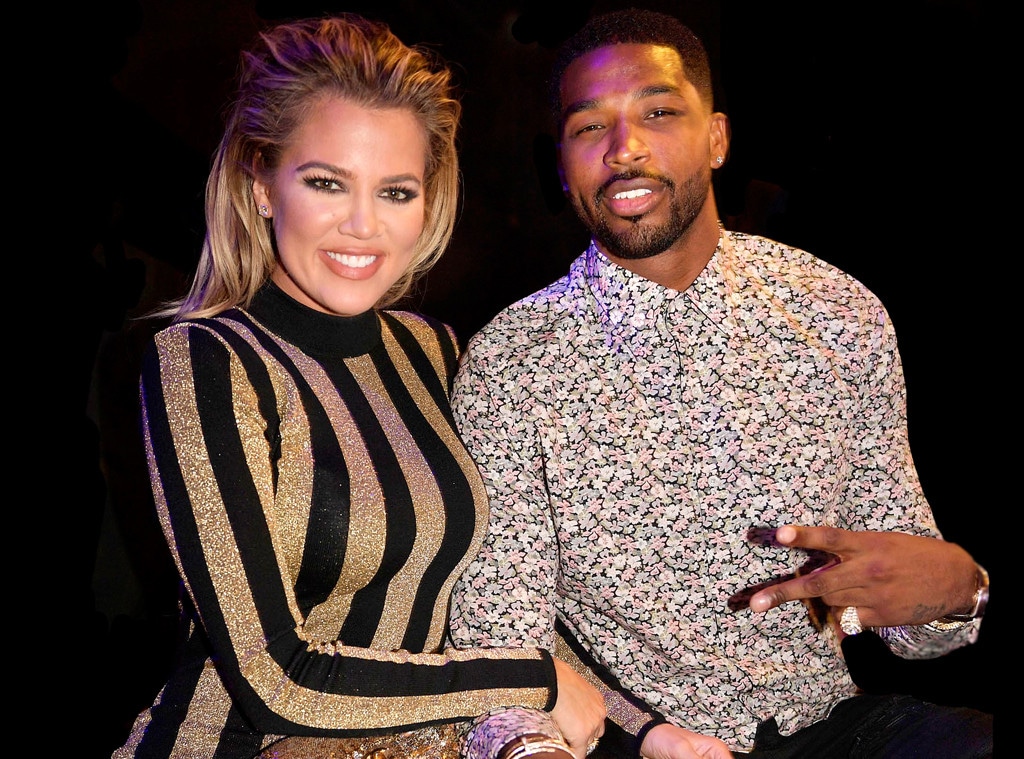 Seth Browarnik/startraksphoto.com
Khloe Kardashian is standing by her ex Tristan Thompson.
However, a source told E! News the 35-year-old Keeping Up With the Kardashians star and the 29-year-old Cleveland Cavaliers player "are not back together and aren't 'acting like a couple'" amid social distancing. 
"They have a great co-parenting relationship right now and that's it," the insider said. "They have been spending extra time together but have both agreed they aren't getting back together."
The source said the basketball pro has been spending time at the Good American head's house to help with their 2-year-old daughter True Thompson and to "give some normalcy with both parents being around."
"Khloe and Tristan have finally gotten to a good place where they can have conversations...Everything's running smoothly right now and Khloe wants it to stay like that," the insider continued.
While the source said Thompson "would love to get back with" Kardashian, the insider also claimed she "is not in that headspace right now."
"Khloe will always have Tristan's back," the insider continued. "He's been a great dad to True and she respects him in that way."
Kardashian and Thompson dated for over two years but broke up in 2019 after his cheating scandals. They welcomed their daughter in 2018. Thompson also has a 3-year-old son named Prince, whom he welcomed with ex-girlfriend Jordan Craig in 2016.
Since welcoming their daughter, Kardashian and Thompson have continued to put their child first and co-parent. Fans saw another example of how Kardashian has been there for Thompson this week.
Watch:
Khloe Kardashian Talks Co-Parenting Dilemma
On Thursday, E! News exclusively revealed Kardashian and Thompson sent a cease and desist letter to a woman named Kimberly Alexander, who claims Thompson is the father of her child.
The former couple's attorney, Marty Singer, sent the letter to Alexander on May 13. The letter, which was obtained by E! News, asks Alexander to "immediately stop defaming them with malicious defamatory lies and specious fabrications" about a paternity claim that spread online.
Earlier this week, Gossip of the City published copies of alleged documents from LB Genetics—a facility specializing in paternity and family relationship DNA testing services. The pictured paperwork suggested Thompson took a paternity test in January 2020. The tabloid site also featured screenshots of text messages allegedly exchanged between Thompson and Alexander, as well as copies of emails Alexander purportedly received from The Bloom Firm—the law firm that reportedly used to represent her.
Singer confirmed in the cease and desist letter that Thompson did take a paternity test and that it came back negative. Alexander then requested that Thompson take a second test, which Singer claimed the basketball pro agreed to do on the condition that an AABB-accredited lab perform the test.
"After it was indisputably established by a paternity test performed by one of the most reputable labs that Mr. Thompson is not your child's father, we thought that would be the end of this," Singer wrote in the letter. "Instead, you have continued to spread outrageous lies about my clients, including ridiculous fictional conspiracy theories that you conjured up claiming that my clients supposedly somehow falsified the paternity test results since members of the Kardashian family had previously used the same trustworthy lab."
Watch:
Kim Kardashian Invites Khloe's Ex Tristan Thompson to Dinner?!
Near the end of the letter, Singer demanded that Alexander "immediately cease and desist from defaming my clients on social media (irrespective of whether or not the accounts are public or designated as 'private') and elsewhere." He also demanded that she "immediately take down any and all of your outrageous damaging posts about my clients."
"This is an extremely serious matter," he wrote. "If you disregard this letter's demands, you do so at your peril since you will soon find yourself in court facing multi-million-dollar claims while attempting to defend your indefensible misconduct."
Alexander issued the following response to E! News.
"I feel like the whole issue originally stemmed from Tristan not wanting to choose a neutral setting for the DNA testing and using a Kardashian associated DNA Testing facility," she wrote in a statement. "I feel as if you really have nothing to hide then why not just go to a neutral."