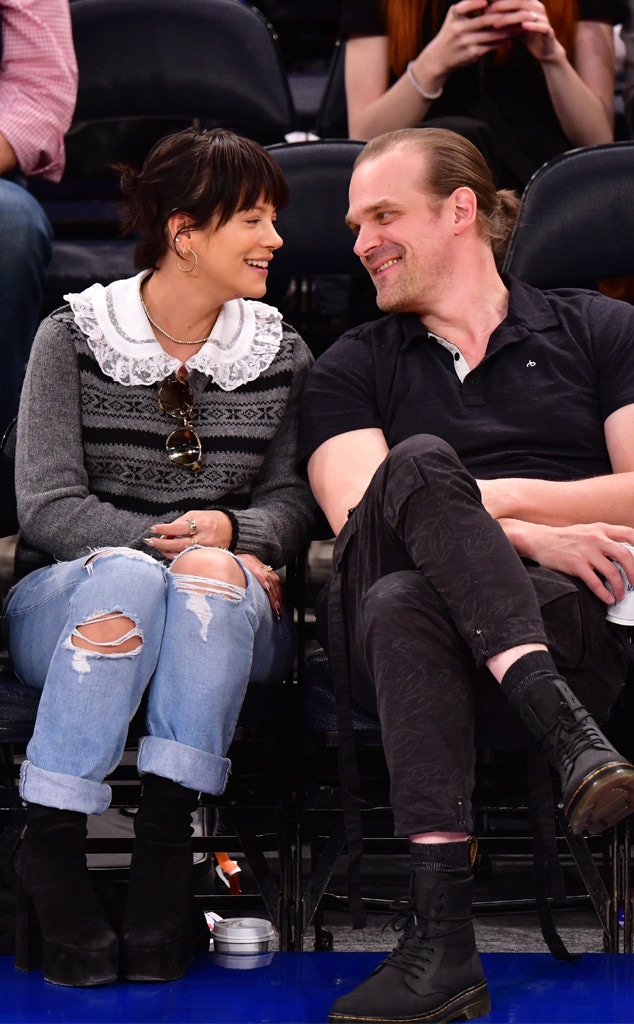 James Devaney/Getty Images
The daughter of an actor and a film producer who split up when she was 4, Lily Allen found success at a young age as a singer in her native Britain and that soon translated into international fame. Her first album, 2006's Alright, Still, sold almost 3 million copies and was nominated for a Grammy. Four of her tracks have been named BMI Pop Song of the Year.
She also got married in 2011 and had two daughters, whom she adores.
But for a time, Allen could only sing about her smile.
As she talked about in her 2018 memoir, My Thoughts Exactly, the singer—who just married Stranger Things star David Harbour—wasn't always sure that she was going to be able to bounce back from what haunted her, some of it the result of tragic luck (being sexually assaulted; giving birth prematurely to a still-born son), while some she attributed to her own "self-destructive" behavior.
"Like most women I know, I juggle a lot—work, children, family, money, running a household, steering my own ship," Allen wrote. "But I haven't always managed. I've f--ked up a good deal. I can be a f--k-up. You'll see."
Sounds painfully normal, if she puts it that way, but the f--king up in her case involved self-medicating with substances (she doesn't consider herself an alcoholic or recovering addict, but acknowledges she suffers from depression) and trying to fill a void with paid female escorts while she was on tour—and still married.
The breakup of her four-year marriage to Sam Cooper was painful but they ultimately ended up as friends, with the two of them sharing custody of their girls, Ethel May and Marnie Rose. It was other trauma in her life—experiencing sexual harassment in the music business, being bullied and humiliated by the press, dealing with a stalker for seven years—that broke her heart.
Meanwhile, the stillbirth of her son, George, after she contracted a viral infection when she was 6 months pregnant, left her with PTSD. 
"It was horrendous and something I would not wish on my worst enemy," she told The Sun on Sunday in 2014. "It's something that I still haven't dealt with...But it's not something that you get over."
But instead of deal with it, she continued to run from it, leading to much of the self-destructive behavior she referenced in her book.
Watch:
Lily Allen Discusses Divorce, New Album and Book
"I am writing this so that if I died today, my daughters can learn from my mistakes, and so that whatever information they may stumble upon about me...there will be a version in black and white that will not alter in the retelling. F--k, I'm writing this so I can learn from my mistakes."
Ultimately, she felt that she couldn't truly move forward without chronicling her experiences as she saw fit, if not necessarily linearly or in true journalistic fashion. Working out the stuff in her head and putting it on paper left her more open to future possibilities than she'd been in awhile.
"I felt like in order to move into this new period of my life I needed to just let everyone know what's up," she explained to E! News' Melanie Bromley in 2018. "….I wrote the book in a period of time where my marriage had fallen apart. Most of the friends I had were [Sam's] friends and so I became isolated. I didn't really have that many people to talk to. The book sort of became my friend."
Stephen Lovekin/WWD/Shutterstock
Asked if she felt more confident in the wake of finishing the book, Allen replied, "I don't know if I feel more confident. I just have a better sense of myself. I'm a little bit clearer on what my job is and who I am."
"Fame is great," she continued, "but if that is what you want then try to find out more about yourself before you get there—because if you don't have a strong sense of self when suddenly everybody else has opinions of you, that can be a struggle."
At the time she was dating Dan London—MC Meridian Dan—and said she was in "a good place," but that relationship fizzled by the end of 2018 after about three years together. The second relationship, her marriage to Sam being the other, to fall apart while she was touring.
She hadn't been messing around with escorts, as she had some years prior, Allen noted. "But I think that people deal with touring and stuff differently," she said on Elizabeth Day's How to Fail podcast. "And I'm a real home person—I love home comforts and I love my children and I love routine and so to be taken out of that and to be on the tour bus in the middle of nowhere without that sounding board and that person to talk to every day, I just became very lost."
There was a silver lining, though.
"I'm single, for the first time since I was about 15," she told Day. 'We've been broken up for about three weeks. It's just been bad news after bad news after bad news, and I think that fact that I haven't called him and been like, 'Hey, wanna come around for a cuddle?' means that it's big for me, because ordinarily, when things get difficult, I do need to have somebody around to share those problems. So the fact that I'm dealing with it all on my own, I'm growing up."
As it turned out, she wasn't on her own for long.
In August 2019, she caught a performance of The Lehman Trilogy at Piccadilly Theater in London with David Harbour—a bit out of the way for the native New Yorker.
A few more sightings, as well as her attendance at the Saturday Night Live after-party when the actor hosted that October, basically confirmed that they were dating, and Harbour put the icing on that cake by posting a screenshot on Instagram of a tabloid story that claimed Allen looked "downcast" making "a rare appearance" without her boyfriend (just the sort of headlines she loves) and quipping in the caption, "Looks like SOMEONE had to take a walk around the block alone because she sucks at mortal kombat. #crybaby."
They made their red carpet debut as a couple at the SAG Awards in January and, naturally, they socially distanced together this spring along with Marnie and Edith.
Allen threw Harbour a 45th birthday party at home in April with cake and cupcakes that had dinosaur-topped toothpicks popping out. He then started the celebration of her 35th birthday in May a couple days early with a Venus by Fleur box of red roses, with an L made out of white roses in the middle of the arrangement.
But a birthday wasn't the only thing Allen was celebrating.
"9 months sober today !," she shared on April 28. "And the beginning of an ab is appearing. Very pleased. Still can't make my bed though."
Self-deprecation: intact. Everything else: better than ever.
She and Harbour eventually emerged from their self-isolation and made the most of this summer, taking the kids on a family vacation to Europe ("trip of a lifetime") that included stops in Italy and Croatia.
But all roads were leading to Las Vegas.
E! News confirmed through public records that she and Harbour tied the knot on Sept. 7, and the bride has since posted photographic evidence of their Vegas vow swap, complete with an Elvis impersonator serenading the newlyweds.
They celebrated with In-N-Out (more Out than In, these days), and though Allen really appeared to be enjoying her burger, we're guessing the heart emojis were still mainly directed at her husband.
(Originally published May 2, 2020, at 3 a.m. PT)