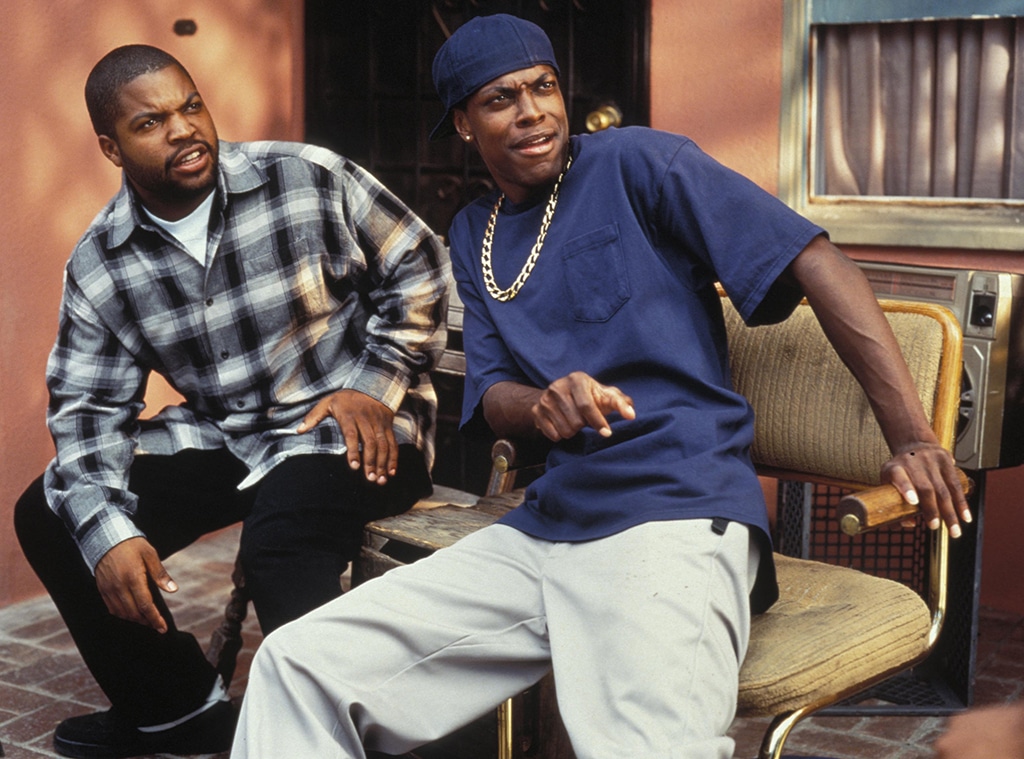 Nicola Goode/New Line/Kobal/Shutterstock
Ready to be knocked the f--k out?!
It's been 25 years since Friday wafted into theaters, featuring a breakout performance by Chris Tucker and turning Ice Cube and his serious-guy vibe into the perfect straight man amid an ensemble of outrageous personalities. 
The comedy was a sleeper hit, earning $28 million at the box office and spawning two sequels. But as watchable as the franchise is, nothing was as funny as the original, a premium blend of R-rated humor and cultural satire—some of it admittedly very '90s, but plenty of it evergreen.
"For one thing, everybody can be Craig and Smokey," Ice Cube told Billboard in 2015, in honor of the movie's 20th anniversary re-release on, naturally, 4/20. "You can always kick it with Craig, the homeboy or homegirl, just kick it all day and trip off your neighborhood. That's what people do every day. It strikes a chord there."
He continued, "But also, it's the day the bully gets his ass whooped. Everyone remembers the day the bully gets his ass whopped. Everybody loved that day. It was like ding-dong, the witch is dead. It's a thing everybody loves and remembers—so everybody can be Friday. Everybody's life can be Friday."
The film also provided a breath of fresh air for a community that, if portrayed onscreen at all, was often painted in the most dire of ways.
"It's really a slice of life that's fun," Ice Cube also said, "but it takes things that are pretty tragic in a lot of ways. You got the ice cream man selling dope, the crackhead dude running up and down the street. You got all these crazy things—you take a gun or you fight with your hands—it lets us laugh at them and takes the pressure off a little bit. I think those are some of the reasons people always gonna love that movie."
So in honor of the good things like "bye, Felisha" that stick with you, here's a look at the Friday cast then and now:
But Gray can't help it if he launched his film career with a cult classic.
"I didn't think it was any good," he shared with Deadline years later. "Chris Tucker and Faizon Love watched it, and they didn't like it. I was so discouraged."
But seriously, what did they know?
"We tested it and it got a 95," Gray recalled. "People were laughing in the aisles. Laughing so much that they would laugh over other jokes. Then we knew we had something, but I was so green I got pissed that we were only the No. 2 film at the box office opening weekend. Mind you, it was only in 800 theaters. I called the head of marketing, Chris Pula, and I say, 'Why are we only on 800 theaters' and 'What about this poster?' and 'This movie could make $100 million.' And he cursed me out and basically told me to go f--k myself and he hung up. It's funny now, because it was such a small movie and the LA Times reported that it became the most profitable film of 1995. I was so naïve."