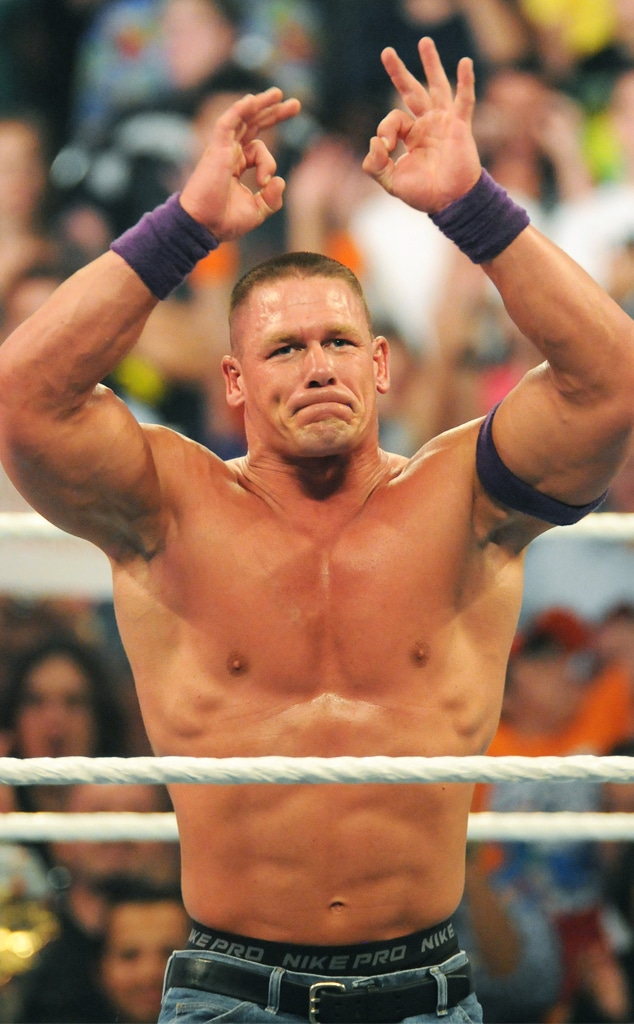 Picture Perfect/Shutterstock
A WrestleMania unlike any other.
After countless events, including the 2020 Summer Olympics in Tokyo and the 2020 Met Gala, were postponed due to the ongoing coronavirus pandemic, many were left wondering what would become of WrestleMania 36.
In typical WWE fashion, the famed organization ruled that they would move forward with wrestling's biggest night. How? By transforming it into a mega, two-night live stream event.
Like in previous years, this event will be chock-full of memorable moments—and we've got all the details you need ahead of the big event on Saturday, Apr. 4 at 7 p.m. ET/4 p.m. PT and Sunday, Apr. 5 at 7 p.m. ET/4 p.m. at the WWE Performance Center in Orlando, FL. The WWE's best and brightest—including John Cena, Goldberg, Becky Lynch, Daniel Bryan and more—will compete as former New England Patriot Rob Gronkowski hosts the "Show of Shows."
Here's your breakdown of all the WrestleMania action you should be prepared for!
1. John Cena Takes on "The Fiend" Bray Wyatt
The WWE Universe has witnessed Cena take on many a wrestling legend, but is he ready to take on the good vs. evil battle at WrestleMania? We're, of course, talking about the 16-time World Champion's upcoming match against the, virtually unstoppable, Fiend.
The Fiend has only been defeated once, by Goldberg at the WWE Super ShowDown. Thus, this could be anyone's match.
2. Fatal Five-Way Elimination Match
It wouldn't be WrestleMania without a good old-fashioned elimination match. The match in question will feature SmackDown Women's Champion Bayley, Sasha Banks, Lacey Evans, Tamina and Total Divas' own Naomi (AKA Trinity Fatu).
We have a feeling that many friendships will crumble as an elimination match is bound to manifest chaos. We're most worried about Bayley and Sasha's BFF bond. Can it survive the "Grandest Stage of Them All"?
3. Goldberg Vs. Roman Reigns Showdown: Is It Still on?
With WrestleMania only days away, it's shocking that the Goldberg vs. Roman Reigns showdown is still listed as one of the show's big matches. Per reports, it's said Reigns, who has become immunocompromised following past battles with leukemia, has walked away from the showdown.
Since he is at-risk during this health crisis, it makes sense that he's taken a step back from the match. But why hasn't the WWE announced anything? We have a feeling there's a bigger surprise in store for Goldberg.
Only time will tell!
4. Becky Lynch Will Fight to Keep Her Title
They call Becky "The Man" for a reason. In case you forgot, the Irish wrestler became the Raw Women's Champion after defeating Ronda Rousey and Charlotte Flair in a historic main event match at WrestleMania 35.
Despite her incredible wrestling skills, no one expected The Man to keep her title for this long. But, alas, she has. Nonetheless, she does face a new threat in the form of deadly Shayna Baszler.
In case you didn't know, in a previous showdown between the two, Shayna stunned WWE Universe by biting the back of Becky's neck.
Does Shayna have what it takes to dethrone The Man? Or is she just another opponent for Becky to conquer?
5. Drew McIntyre's Face-Off With the Beast
Brock Lesnar is easily the most feared fighter in the WWE Universe.
However, 2020 Men's Royal Rumble winner Drew McIntyre was unafraid when he selected the Beast as his opponent for WrestleMania 36. The Scottish Terminator left the WWE back in 2014, only to return in 2017 with one goal in mind: a WrestleMania championship title.
Even though Drew is more determined than ever, Brock isn't going to just give up his title. Thus, we have a feeling this match will be one to remember.
Watch it all go down this weekend on the WWE Network!
Total Bellas returns this fall, only on E!