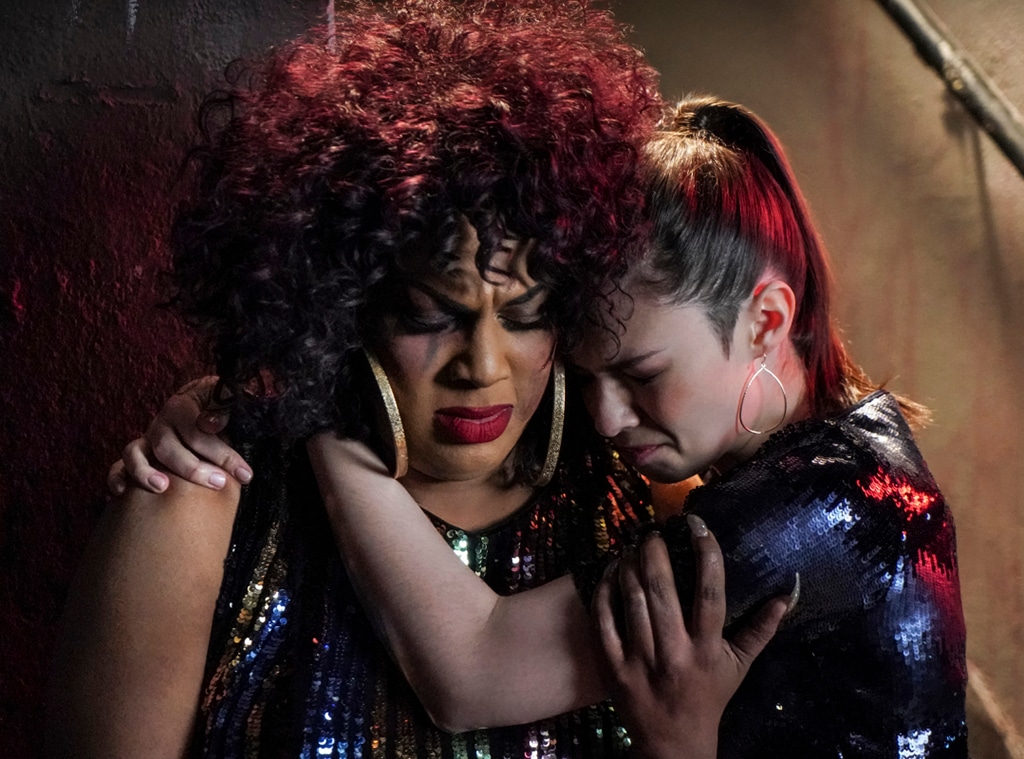 The CW
Supergirl is getting serious tonight. 
While half of the episode "Reality Bytes" is dedicated to crimes committed in a virtual world, the other half is grounded in the real-life issue of violence against trans people—an issue important to both Nia Nal and the actress and activist who plays her, Nicole Maines. 
Nia, also known as Dreamer, is TV's first trans superhero, and in tonight's episode, she comes up against a man who thinks the world doesn't need a superhero like her, and it causes her to spring into action in a way we haven't seen her do before. As Maines told us, it's a whole new side of the character. 
Showrunners Robert Rovner and Jessica Queller told Maines about the episode early in the season. 
"Something happens to Nia's roommate, and she sets out for revenge," Maines said of the original pitch. "It's an episode to show Dreamer as a guardian for the trans community." 
We're about to see Dreamer "dipping her toes into the vigilante waters." 
Maines describes Dreamer as a "happy go-lucky kind of hero," one who loves puns and writing on villains' faces in Sharpie. 
"This episode shows Dreamer with none of that. It shows Dreamer and Nia just completely snapped, and over the edge, and off the deep end," Maines says. "She's not that kind of happy-go-lucky, making jokes in the face of danger kind of hero anymore. She's out for blood." 
We haven't seen Nia angry like this before, Maines says, and it was so fun for her getting to play these "bursts of vengeance." 
"This episode is kind of the culmination fo everything Nia has gone through for the past two seasons," she explains. "Losing her mother and her sister, losing her literal universe, and then losing Brainiac also, and then put on all the regular stakes of being a superhero. And then you have someone who attacks your roommate...someone who is telling you, you know, stop doing what you love because of who you are, or I'm going to keep going after, you know, trans people. It is a very immediate oh, someone needs to pay for this." 
Maines was part of the process of putting the episode together, working in the room and via phone with the writers to help figure out what the episode needed to be and convey. There was a particular amount of care put into how to portray both the villain and the victim. 
"What do we want this episode to be?" Maines recalls of the conversations. "Who do we want this villain to be? Do we want to give him a backstory? Does it matter what his backstory is? What lines you want to give to who? Who do we want to be making these points? Do we want Nia to be saying all of this, or what lines we want to give to Yvette, who is the victim here?" 
We haven't gotten to know Yvette too much yet on the show, and one thing Maines and the showrunners and writers didn't want to do was "paint her solely as a victim." 
"We did want to kind of show her as aware of her situation and not you know, just like oh my god, how did this happen?" Maines says. "There's a great scene between her and Nia, and they kind of just talk as two trans women, as two trans women with different experiences. And they connect on that. And you know, it's two women who are both aware of their situation. And so it was really great to try to do that episode and have it done with such integrity and understanding." 
Maines says that scene felt particularly honest, like she and Roxy Wood, who plays Yvette, were just sitting down and having a real conversation in front of the camera. 
The whole situation gives the people around Nia, particularly Kara and Brainy, some new perspective on what the trans community goes through, though they have trouble understanding why Nia reacts the way she does at first. 
"You have Supergirl, she's dealt with villains of all kinds before and she's really saying, hey, listen, we're going to get this guy, just stay with Yvette and make sure she's ok, this is what we do every week," Maines says. "And Nia says no, this is not what we do every week. This is not something that you understand. This is not something that you live with, hanging over your head. This is my community under assault. This is me, as a person, under assault. So she has her support, but really, this is an episode where Nia and where Dreamer really say, I feel just alone in this, and I feel this is something I need to do my way." 
Brainy, who broke up with Nia due to the mission he's been put on by Lex Luthor, desperately wants to help Nia but also can't jeopardize what he's doing. 
"When he finds out what's going on, it's, I can't jeopardize the mission that I'm on, but she's in trouble, what can I do to help her from here? So it's him trying to kind of balance not revealing too much and certainly not revealing how he feels and how much he's worried, but still helping in whatever way that he can." 
Maines hopes people know how excited and proud she and the entire cast and crew are to have made an episode like this.
"It was so such an amazing episode to do because the very first day that I walked on set, people were coming up to me and just saying how excited and happy they were to be able to do this story on Supergirl," she says. "Everyone kind of understood the importance of this episode and everyone was just like, Nicole, I'm so happy to be doing this. I'm so excited for people to see this episode. So it was a feeling not just for me, but for everybody on set of importance surrounding this episode, which was really great to see." 
Watch:
Scarlett Johnasson's Daughter Thinks Mom's a Real-Life Superhero
Supergirl airs Sundays at 9 p.m. on The CW.