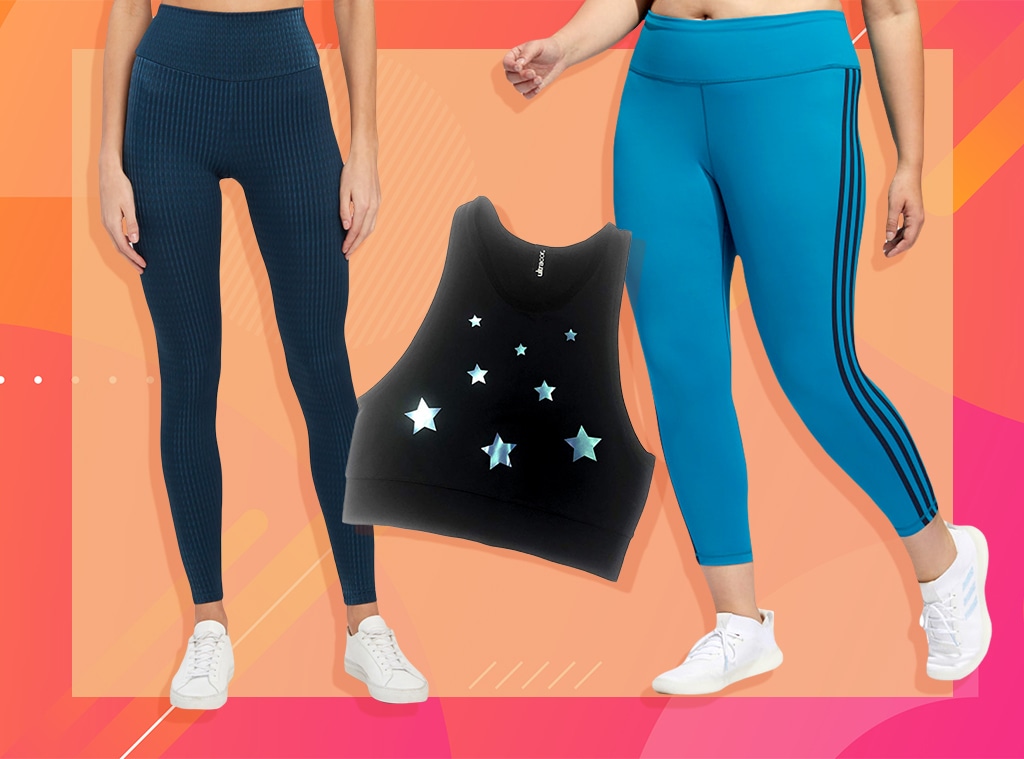 E! Illustration
We love these products, and we hope you do too. E! has affiliate relationships, so we may get a small share of the revenue from your purchases. Items are sold by the retailer, not E!.
As the frost starts to melt and flowers begin to bud, we want to know: have you started tending to your workout wardrobe? We think today's the best day to do so, 'cause it's National Workout Buddy Day!
We're not suggesting you have to overhaul it from its winter style, of course... but as you and your bestie make plans for your tandem sweat sessions, maybe it's time to prune and replenish your fitness gear. After all, the seasons are changing! So lighten up a little with some bright patterned leggings that will make your BFF workouts more fun, try a new track suit to support your outdoor activities, or spring for a super sleek onesie, if you're feeling fancy while doing dual private pilates sessions!
And if you and your bestie aren't on a workout schedule, why not start today? Shop our spring athleisure picks below to inspire your new regimen!
Koral Jet Jumpsuit
This super sleek and chic onesie, made of Koral's signature wet-look Infinity fabric, is exclusive to Bandier... and if you're not familiar with Koral, prepare to get obsessed. With a high-rise fit and seamless construction, you'll have freedom of movement and breathability, no matter if you're sweating it out in pilates or raising your heart rate in HIIT. And we doubt anyone would fault you for wearing it to brunch after gym time is done!
Werkshop Celestial Mosaic Leggings
Stylish and squat-proof in sizes from XS to XXL, Werkshop leggings are handmade in L.A. featuring original artwork and designs. We love this celestial mosaic print, but you really can't go wrong with any of their fabulous prints (hello, Sea Mashup!). And if you're worried about their performance capabilities, don't be: they were originally created for Olympic athletes, so you know they're built to get you through your sweatiest workouts.
Breathe ON V-Back Side-Vent Tank
Time for some tops to go with your bottoms! This one from Old Navy is made from Breathe ON fabric, a four-way stretch knit that moves with you while giving you superior breathability and sweat-wicking to get you through your most intense workouts. There's also a deep V back, 7" side vents, and no tag to scratch against your bod when you're planking with the best of 'em.
Boho Nouveau Legging
We've spoken of our love of K-Deer leggings before, and that love has only intensified with their new spring launches. We think this print in particular is a knockout, but what we love more is how these leggings are made for whichever way you prefer to sweat, with soft and comfortable compression, an anti muffin-top waistband, and an almost seamless construction that gives you a fantastic fit with a second skin feel. Trust us. You won't regret buying these.
The OV Track Jacket & Pants
Speaking of brands we love, Outdoor Voices continues to crush it with their workout wear offerings, and this track suit is no exception. The jacket is lightweight with back ventilation, and features reflective details for nighttime visibility. Meanwhile, the pants are high-rise and tapered, with front side pockets and a zippered phone pocket, plus their patented TeachSweat paneling on calves for a made-for-you fit. Wear it for chillier workout days, or as a slip on over your tights to take you to and from.
Believe This 3-Stripes 7/8 Tights
From sizes 2XS to XL and 1X to 4X, there's a fit to flatter every body in this fab pair of tights. They're best for workouts that demand a lot of movement, like yoga or pilates, with a high-rise waistband that holds you in without holding you back, and squat-proof material that won't show off London and France. But the best part? They're made with ultra breathable fabric that reduce moisture so you stay dry when your workout heats up.
Cor Designed by Ultracor Peregrine Leggings
You'll look like a phoenix rising from the ashes when you crush your workout in these fashionable leggings, made by Ultracor, known for fab activewear that's as stylish as it is functional. Made for super-active workouts from stretchy Italian compression fabric, these feature breathable two-way stretch courtesy of a poly/lycra/nylon blend, and offer UV protection, in case you prefer to sweat outside. 
Lustrous Infinity High Rise Legging
With just the right amount of sheen to give your leggings the look of liquid without being too over-the-top shiny, these are a workout wardrobe must. They're high rise, so they give good hold in the waist and tush, and they're made of supportive compression material to give your body what it needs to get through your workout. And how can you not fall in love with this fresh guava color? These are just destined to become your new fitness faves.
Ultracor Altitude Luster Crop Top Sports Bra
Oh, our stars and garters... this crop top is adorable! How can you deny the delight of metallic holographic stars? (Short answer: you can't.) And when they're plastered across black performance fabric, get ready to stand out and make a statement. But perhaps most important of all, this crop gives your girls medium support with a premium waistband that makes sure nothing goes where it shouldn't, and yet it still stays comfy no matter your workout of choice.
Wolf & Whistle Plus Snake Print Leggings
Get in on the snakeprint trend with a hint of it running down the side of these leggings, made of sustainable fabric build using recycled polyester. Soft and smooth to the touch with just the right amount of stretch, they feature a high-rise and elasticized waistband for a flattering, body-con fit that accents your curves, and moves with you however you do.
Women's 2-Pack Tech Stretch Racerback Tank Top
You can never have enough workout tops, so why not double up with this two-pack? Made of flattering tech stretch fabric, each tank is made to perform in support of your workout thanks to a poly/spandex blend. They're machine washable and offer a printed tag at the neck, so you don't have to worry about cutting anything out before your next sweat sesh.
Lanston Sport Vim High Waisted Legging
Stare into the abyss of these deep blue leggings, and marvel at their beauty. Then, be impressed by their figure-hugging style and dig their super-stretchy feel as they make your workout a breeze. Bonus: they're slick enough to carry you from your workout to whatever your next activity is in style. Consider it athleisurewear at its finest.
High-Waisted Elevate 7/8-Length Mesh-Splice Compression Leggings
Available from sizes XS to XXL in regular, tall and petite, these cute, high-waisted leggings embrace the animal print trend and give it a little room to breathe with some mesh paneling down each leg. But the rest of the fabric is sculpting compression jersey with four-way stretch, ensuring you're fully supported during every sweaty moment of your workout and beyond. 
7/8 Sneaker Length in Flex
Our K-Deer obsession continues! While you can't pull these leggings down over your heel like the longer styles they carry, this sneaker length is the perfect ankle-cut with the same fabulously performing fabric that all K-Deer leggings have. They fit snug, but they also offer soft compression, giving you the best of both worlds. Your workout will feel like a totally different experience in these.
Tatum Hoodie
If you've been crushing on tie-dye but haven't found the perfect piece, may we suggest this hoodie? It has a staggered hem with side-seam vents and a surplice front, and of course, the hoodie sports a drawstring closure in case you want to cocoon yourself away. With a loose fit and long sleeves, it's a great piece to pull on over your gear when you're going to and from, or to wear out on a hike or bike ride in the great wide open.
Puma Plus High Shine Leggings
Sometimes you get sick of sitting on the sidelines and decide today's the day to stand out. Here's the leggings to wear for such an occasion. Made of a smooth stretch jersey with a high-shine finish, these super-slick Puma leggings are exclusive to Asos, so make sure you snatch 'em up fast. They feature a skinny fit and a high rise with a stretchy waistband, so your curves will get the spotlight they deserve, and your workout will be well served with breathable, stretchy fabric.
Snake Print Legging
Talk about making an impression! That's exactly what you'll do in these leggings, with an extra-wide waistband to contour and compress your curves, so you feel supported through your most intense workouts. Plus, it's made of premium, squat-proof performance fabric. But let's be real: that silver metallic snake print is a showstopper. Get it while you can, 'cause it's going fast!