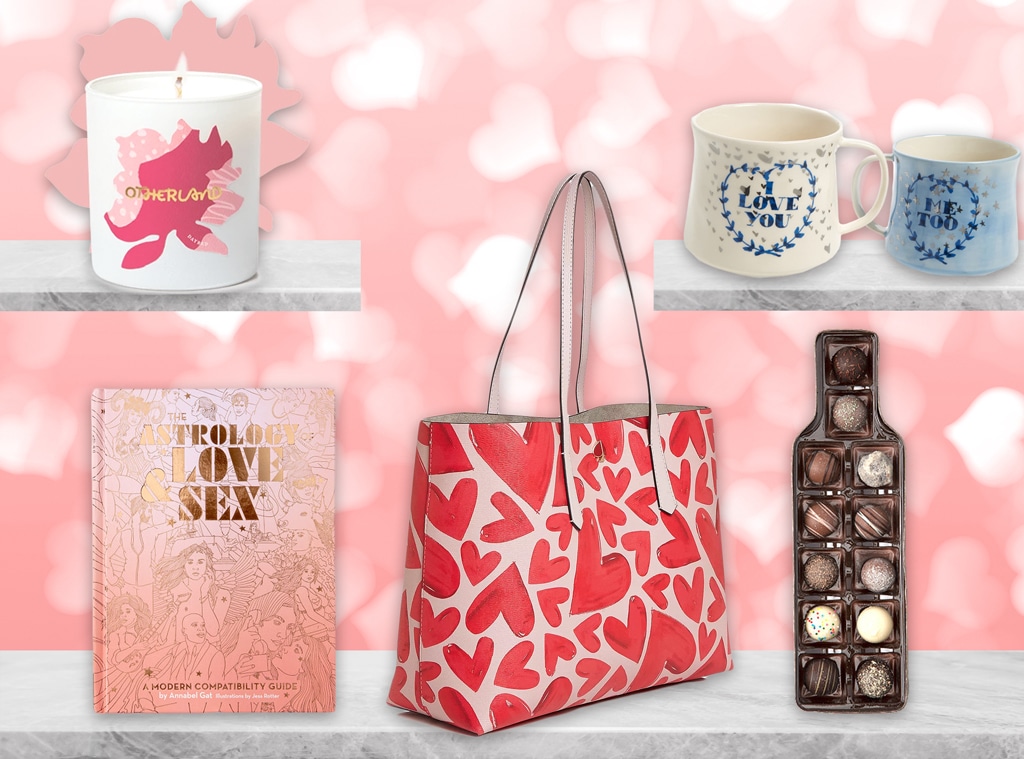 We love these products, and we hope you do too. E! has affiliate relationships, so we may get a small share of the revenue from your purchases. Items are sold by the retailer, not E!.
There are certain categories we all tend to fall into when it comes to Valentine's Day gifts. Flowers, chocolate, lingerie, wine... they're all familiar trappings, and they're classics for a reason. But what if you gifted in these categories with a little bit of a twist?
For example, what if instead of the usual chocolates, you got gourmet truffles in a wine bottle-shaped box? Or if you're angling for flowers and lingerie, why not blend the two genres to get your beloved some incredibly comfy undies with a stunning rose print? Those classic candy conversation hearts? They come in a super squishy form for a little something different.
What we're saying is, embrace the cliche, just do it differently! We've found some goodies to get you started. Shop our selections below, and celebrate the day of love in a whole new (but still classic) way!
Plush Conversation Hearts
While it's true that those little conversation heart candies are an ultra-cute tradition, it's also true that they're kind of expected... and kind of chalky. Say it with a plush conversation heart instead, and give the gift that can be cuddled forever (and doesn't leave a weird aftertaste).
Bottle-of-Wine Chocolate Truffles Box
A bottle of wine is expected. So are chocolates. But a wine bottle-shaped box of exquisite truffles? Delightful. This box offers a mix of white and milk-chocolate truffles with flavors including the classics, decadent crème brûlée and exotic pomegranate. We won't tell if you buy one for your beloved, and one for you.
The Astrology of Love and Sex
Sure, you could go with the Kama Sutra or The Joy of Sex, but dare we say they're a little outdated? Instead, grab this tome on astrological compatibility based on everything from love philosophy to sexual inclinations, covering flirting, dating and fooling around from the perspective of every gender identity and the signs that govern them. 
Women's Thong
You could get some scratchy, uncomfortable lingerie or undies that spend too much time gathering dust in an undie drawer, or you could get some sexy modal ginch in a Roses are Red print that will outlast any lacy thing you can conjure up. Plus, it can match men's undies, bralettes, unisex onesies and more, if you want to be twinning this V Day.
Daybed Candle
Dose your beloved like florals, but allergies put an end to the gift of a full bouquet? Instead, grab her this candle from Otherland (who we're obsessed with, by the way). Now, your heart's desire can enjoy the harmonious blend of rosebud, peony blossom and pear water without a sneezing attack.
Veritable Exky Smart Indoor Garden
Flowers are so yesterday. If you really want to say it with plant life, get the apple of your eye an Exky Smart Indoor Garden to grow herbs, small veggies, greens and more. Its smarty-pants tech helps whatever is planted grow up to three times faster than nature, meaning you'll have fresh basil for pasta night in no time.
Orrefors Large Heart Vase
But if you really do need to go the flower route, make sure you don't just hand over a bouquet wrapped in paper. Put those stems in this vase for that little extra oomph. Sure, it's heart-shaped, but not in an obnoxious way. And it's made of crystal, making for a nice keepsake all year 'round.
Sugarfina x Voluspa Candy Cube + Candle Gift Set
Sweets and candles for Valentines Day? Groundbreaking. That's not sarcasm—it's true with this set, featuring some faves from Sugarfina paired with complementary Voluspa candles. As you nosh on Peach Bellini Gummies, Champagne Bears and Pink Citron Sours, you can tickle your nose with the scents of Pink Citron, Prosecco Bellini and Crisp Champagne for a fabulous sensory experience. Yum.
Bose Noise Canceling 700 Over-Ear Headphones
A trip to the symphony, a raucous rock concert, a lively debate... or complete silence? We'll take the latter, please, and if your beloved is anything like us, they'll relish the quiet. These Bose headphones will help the cause with Bose AR, the first ever augmented reality audio system that uses motion sensors and location data to tailor the experience to the wearer. So whether they're listening to Beyonce at full blast or a babbling brook, that's all they'll hear.
Theragun G3
Remember back in the day when Samantha bought that "personal massager" on Sex and the City? Yeah, this is definitely not that kind of thing. The Theragun really does hammer out the tension from your shoulders, your neck, your back, or wherever else you want to relieve tension. If you really want to experience the body-freeing magic of compression therapy, this is the tool for you and yours.