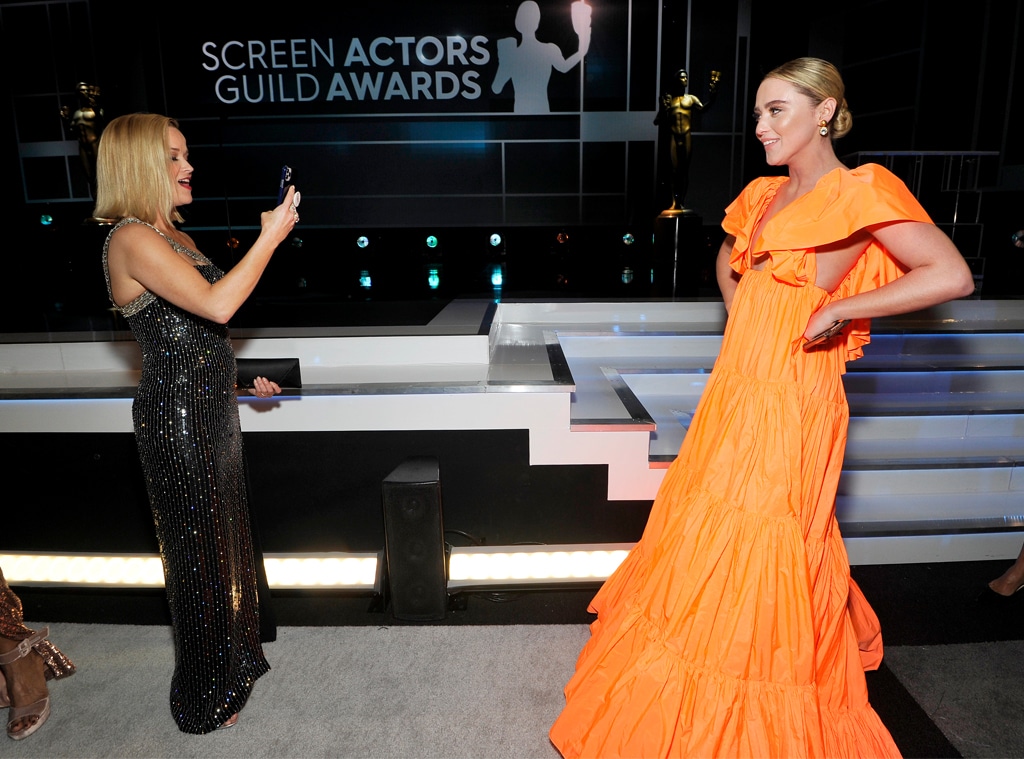 John Sciulli/Getty Images for Turner
A (fictional) mother-daughter moment.
On Sunday, Reese Witherspoon couldn't help but channel her Big Little Lies character, Madeline Martha Mackenzie, while at the 2020 SAG Awards. Why?
Well, because her on-screen daughter Kathryn Newton needed someone to capture a picture of her stunning orange dress while inside the Shrine Auditorium and Expo Hall in Los Angeles. Not only did Witherspoon jump into play photographer for the 22-year-old actress, she also snapped a selfie with the Blockers starlet.
Where's Adam Scott and Darby Camp when you need them? We would've loved to have seen them in one shot.
As E! readers surely know, the cast of Big Little Lies was nominated for Outstanding Performance by an Ensemble in a Drama Series. Nonetheless, it seems the cast is simply focused on enjoying the celeb-filled evening, rather than focusing on an award.
Witherspoon has been nominated for various accolades for her role as Madeline Martha Mackenzie, including an Emmy, Golden Globe and a SAG Award. While it's still uncertain if Big Little Lies will have a third season, the star and producer cherished her time on the show.
Kevork Djansezian/Getty Images for Turner
"I want to say to everyone who worked on #BigLittleLies…every single cast member, location scout, camera operator, teamster, film editor, makeup artist, caterer and prop master on our production who collaborated to give us this opportunity to explore these women's lives for 2 seasons, THANK YOU from my bottom of my heart," Witherspoon wrote on Instagram as season two wrapped. "You have made my whole experience a dream come true."
No wonder Witherspoon was more than happy to play photographer for her on-screen daughter. We'll be sure to keep our eyes peeled to see if these snaps end up on Instagram anytime soon.
In the wise words of Kris Jenner, "You're doing amazing, sweetie!"
For a look at the BTS pics from the 2020 SAG Awards, be sure to click here!