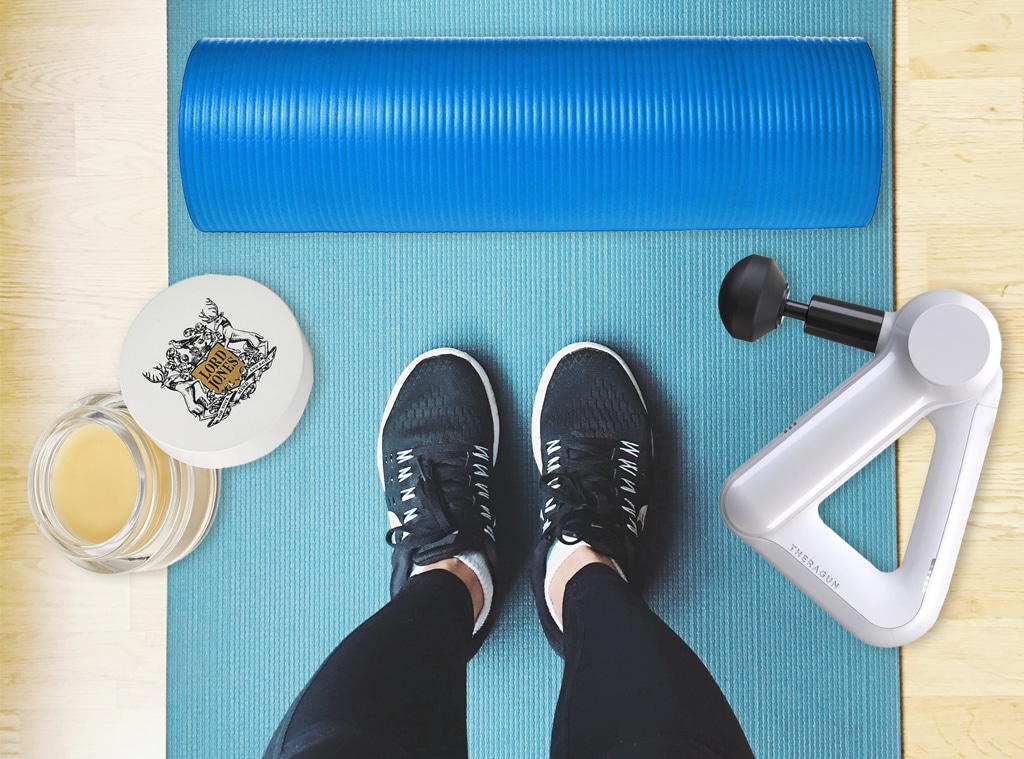 Getty Images/E! Illustration
We love these products, and we hope you do too. E! has affiliate relationships, so we may get a small share of the revenue from your purchases. Items are sold by the retailer, not E!.
So how's your New Year workout plan going? Have you experienced the euphoria of runner's high, or are you so sore it's a challenge to move? They say that's how you know it's working, but by the same token, you also want to be able to make it to your next workout!
We've got you covered on that front. There are tons of ways you can give your body a little added support to get through the soreness, stiffness and tiredness it can experience when adapting to a new fitness regimen. There's tools that act as your own personal masseuse, breaking down muscle tension to give you a better range of motion. There's innovative ice packs and rubs that can help ease muscle inflammation and pain. There's goodies to help you switch up your workout so your body gets a reprieve without losing the benefits of your momentum, and things that will help you decompress when you're done for the day. 
No matter what you need to get you to your next step, chances are there's something on this list that will help you get there. Pick your faves and go for it. You've got this!
Theragun Elite
There's a reason why we keep talking about the Theragun: because it's amazing. Using percussive therapy that delivers up to 40 pounds of force, the G3 helps to relieve tension, assists the body in recovery and healing and enhances overall performance by decreasing pain and increasing your range of motion. It has five built-in speeds so you can vary the intensity of your treatment, and five attachments that will address different muscle groups accordingly. In addition to being a natural stress reliever, the Theragun can accelerate recovery and muscle repair, stimulate blood and lymphatic flow and relieve muscle spasms and stiffness so you're ready for your next workout.
PainCakes Cold Therapy Ice Pack
Forget your bag of frozen peas—this is what you want to ease your sore and inflamed muscles after a hard workout. Just pop one of these in the freezer for 60 minutes, stick it wherever you need your cold therapy, and it stays put until you're ready to remove it. It'll re-stick over 100 times on clean, dry skin, and it'll adhere to everything from your knees and elbows to your toes, ankles and feet, and anywhere on your back and shoulders. Consider this icing made easy.
Udaily Calf Compression Sleeves
You can get compression sleeves for pretty much everything on your body, but if you're running or doing any leg-heavy workouts, calf compression sleeves may become your best friend. They can help improve blood circulation, prevent and relieve leg cramps and shin splints, aid in easing aches, soreness and swelling, and support muscle recovery. They're made of a nylon spandex blend, too, so they're comfortable and breathable while still being durable.
BioFreeze Multi Pack
If you're going to be breaking a major sweat, you may as well have multiple options for recovery on hand. Case in point, this multi-pack of BioFreeze, offering a roll-on, gel and spray that can help ease muscle and joint pain. It applies with ease and sinks into your skin without leaving a residue to lessen your aches and pains, even strains and bruises. Use it pretty much anywhere where you have skin and grumpy muscles (within reason and discretion—you know what we're saying).
Spiky Massage Balls
Get into the nitty gritty of your muscles with these spiky massage balls, which offer a soft and hard version, depending on your pain tolerance and how much you want to break down those tension points. The spiky outer layer helps to increase circulation while it gives you some added oomph to your recovery practice, and can be used wherever you need a little extra help... but the manufacturers recommend using these on your feet.
TheraBand Roller Massager
If you're not down with rolling on a foam roller, why not roll the roller on yourself? Think of this like a rolling pin for your muscles that you can use for self myofascial release and self massage, with a ridged design to grip tissue and work deeper into tight muscles. You can use it before you work out to warm up, or afterwards to ease the tension in your hamstrings, quads, neck or calves. It even has loops to help with stretching, too.
TheraBand Resistance Band with Loops
Resistance bands are a great workout option for those who love a little something different for their strength training routine, but did you know they can assist with recovery too? It's true. You can either use them for an alternative workout to give your muscles a break, or use them for aquatic workouts or hydrotherapy exercises. They're latex-free and come with a library of workouts so you can do your recovery wherever you want.
ProStretch Unilateral Stretching System
If you're a runner, you'll thank your lucky stars that this little gadget exists. It does pretty much exactly what you think it should do, given its shape: it stretches your calves and feet, easing the tension of stressed-out muscles that have had enough of the pavement (or treadmill hills). Just pop your foot on the little platforms, steady yourself, and roll until you feel your lower leg muscles, tendons and ligaments release into a puddle of goo (or something thereabouts).
Kieba Massage Lacrosse Balls
Give yourself the benefit of self myofascial release with one of these super-strong massage balls, and watch as they eliminate muscle knots and tension. Just lean into the ball with the tense body part in question, and voila! Gravity and body weight combine to give you the benefits of trigger-point therapy to help relieve sore muscles. If you're not ready for a foam roller or a Theragun, this is a great place to start.
TriggerPoint Vibrating Foam Roller
Speaking of foam rollers, this one goes the extra mile with the added bonus of soothing vibrations. It features four frequencies designed to relieve pain, encourage relaxation, and aid in recovery. Using a patented multi-density grid surface, this roller aims to channel blood and oxygen through your muscles to increase circulation, while the smaller rolling surface targets deep layers of tissue. Plus, it was one of Serena Williams' Amazon wellness must-haves.
AmazonBasics 1/2-Inch Extra Thick Exercise Mat
When you're in recovery mode, you don't want to be doing your routine on a hard floor. Why not use this exercise mat instead? Made of 100% NBR foam, this mat offers a textured surface and extra cushioning support thanks to its 1/2-inch thickness, but it's still light and durable. Did we mention that Gabrielle Union included it as one of her fave fitness finds on Amazon? 'Cause she did.
Lord Jones High CBD Formula Chill Balm
True, this isn't necessarily one of those balms that will assist with pain management—that would be the High CBD Formula Body Lotion. But think of this balm more like something that nourishes your overall well being, as well as your skin. It transforms from a solid to an oil to restore dry, sensitive skin with only seven ingredients, including 200 mg of broad-spectrum CBD. Pampering is just as necessary to your recovery as hardcore physical therapy, so make sure you indulge!