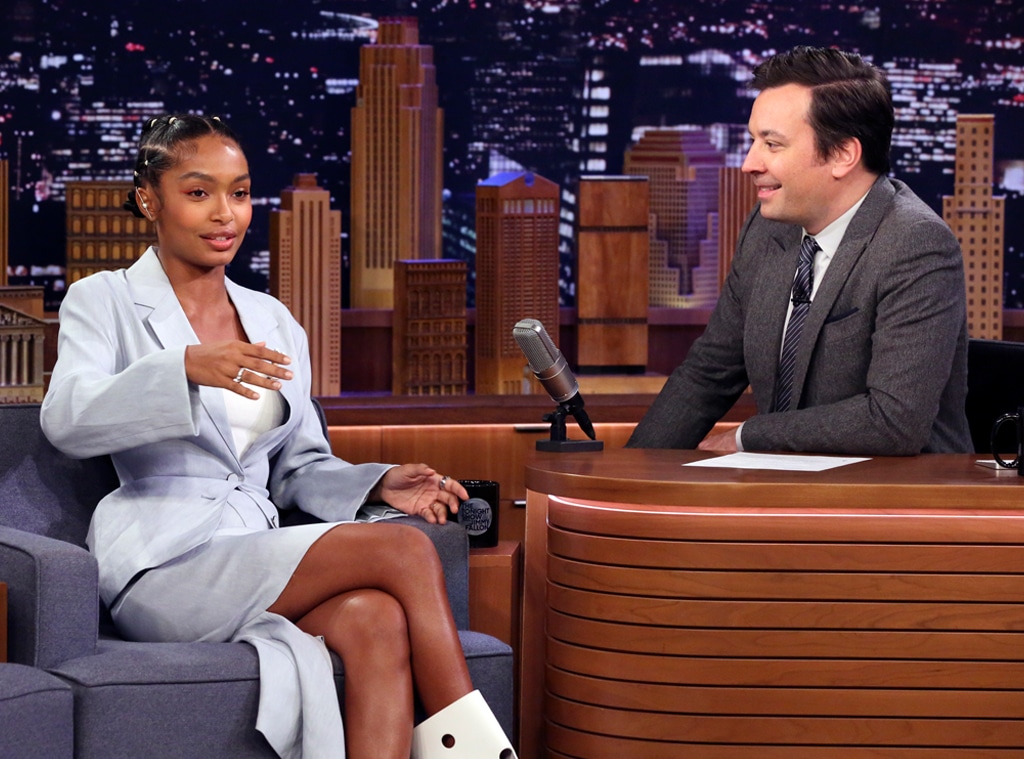 Andrew Lipovsky/NBC
Yara Shahidi's family loves playing pranks on each other.
During an appearance on Tuesday's The Tonight Show Starring Jimmy Fallon, the Grown-ish star detailed the two biggest pranks she and her family have pulled on each other. She started off with a story of the time her mother, Keri Shahidi, spooked her.
"One thing that has really stuck with me all my life is that one time, my mother—I love her—hid under my bed," the Black-ish alum said. "And I was walking from the bathroom, or something, so she must've been under there for a second. She grabbed my ankles. It was terrifying. I mean, I may or may not still check under my bed. But I can be nothing but impressed, 'cause the level of commitment that that took."
In an effort to exhibit her mother's same level of commitment, Shahidi messed with her younger brother, Sayeed Shahidi in an epic way.
As the 19-year-old shared, "I was trying to figure out something that would last long, so one time I was on a walk with my brother and he saw a wood chip that looked like a mouse."
"And I was like, 'Oh, that's a collageon, Sayeed,'" she continued. "I just made up a word. I was like, 'It's something that falls from the sky that looks like an animal.' 'Cause I was like, the more specific you can get, the better."
At that time, her little bro was only in fourth grade and she was in sixth, so he was easy to convince.
As Shahidi then revealed, "For two years, he swore this was like a really fancy art term. And we also went to a decently small school, so I was the cool sixth grader who got all of the fourth graders to believe that this was a word."
"I was well into middle school when they realized," the actress went on. "I was in the car with him and I was like, 'Remember when you believed in the word collageon?' And I didn't realize that he still believed in it to that day, and I gave myself away."
Shahidi then went into further detail about how she pulled off this hilarious prank for two years. And it's easy to see how the word "collageon" stuck.
As she said, "We'd be on walks, I was like, 'See that cloud that looks like a horse? A collageon.' I gave it ancient roots. I gave it a whole history. I was like, 'It's actually an ancient Aztec word.' I made the whole history behind it. I was a history nerd, and so like, half the stuff I told him, 80 percent of the stuff I told him was absolutely true. And so, for this other little percentage, he had no clue."
Honestly, give that acting performance an Oscar.
Watch:
Yara Shahidi Teases Unexpected "Grown-ish" Storylines