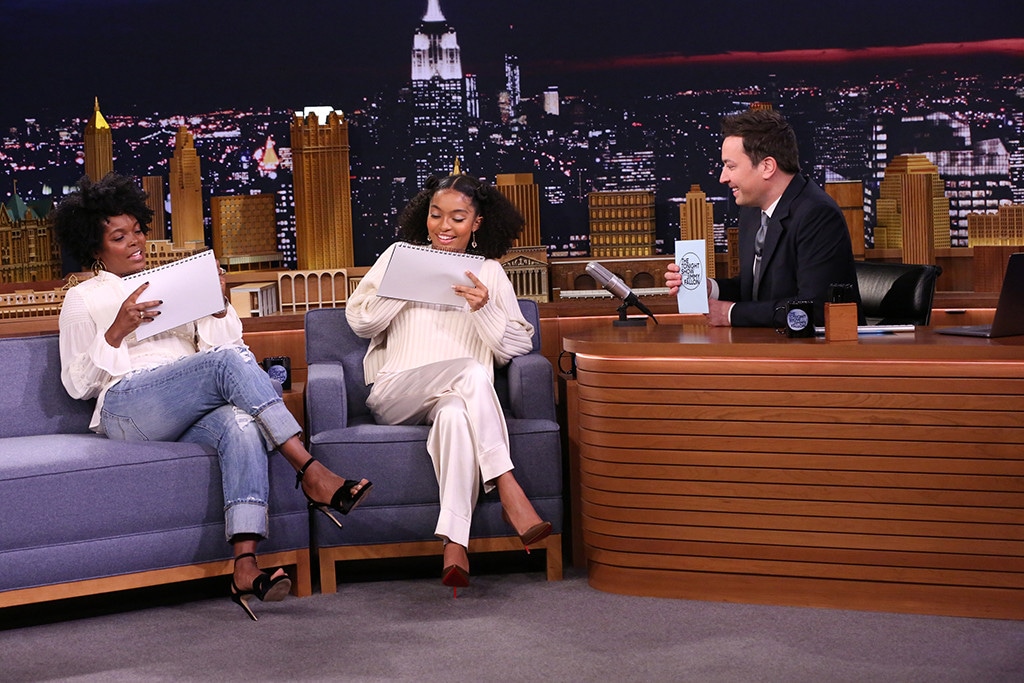 Andrew Lipovsky/NBC
Like mother, like daughter!
Yara Shahidi and her mama Keri Shahidi naturally know a lot about each other, but just how much do they know? Well, Jimmy Fallon put their knowledge to the test for a round of his "Mother Daughter Challenge" on The Tonight Show Monday night. Spoiler alert: they passed with flying colors. 
The game was simple—Fallon read a question and they both had to write their answer secretly on a pad of paper. Then, they simultaneously revealed their answer to the audience to see if they matched up. 
First up: "Yara, what's the one thing your mom says more than anything else?"
"No profanity!" Keri warned her daughter. 
No need for any curse words. Instead, the answer was "homegirl." "I never remember people's names, so I'm like, 'Yo! You know homegirl that you saw...'" Keri explained. 
Next question: what is the one album Yara would bring with her on a desert island? 
In perfect unison, they both wrote Blonde by Frank Ocean. "We spend a lot of time together," Keri quipped. 
For their final prompt, the ladies had to name the celebrity Keri would most want Yara to date. 
Keri's answer was in depth. "Any celebrity concerned about the environment and socio-political climate and loves your mom." Yara's was a bit more straightforward, but applicable. "Could I platonically date James Baldwin?"
Ultimately, we think they tied for first place. Job well done, ladies!