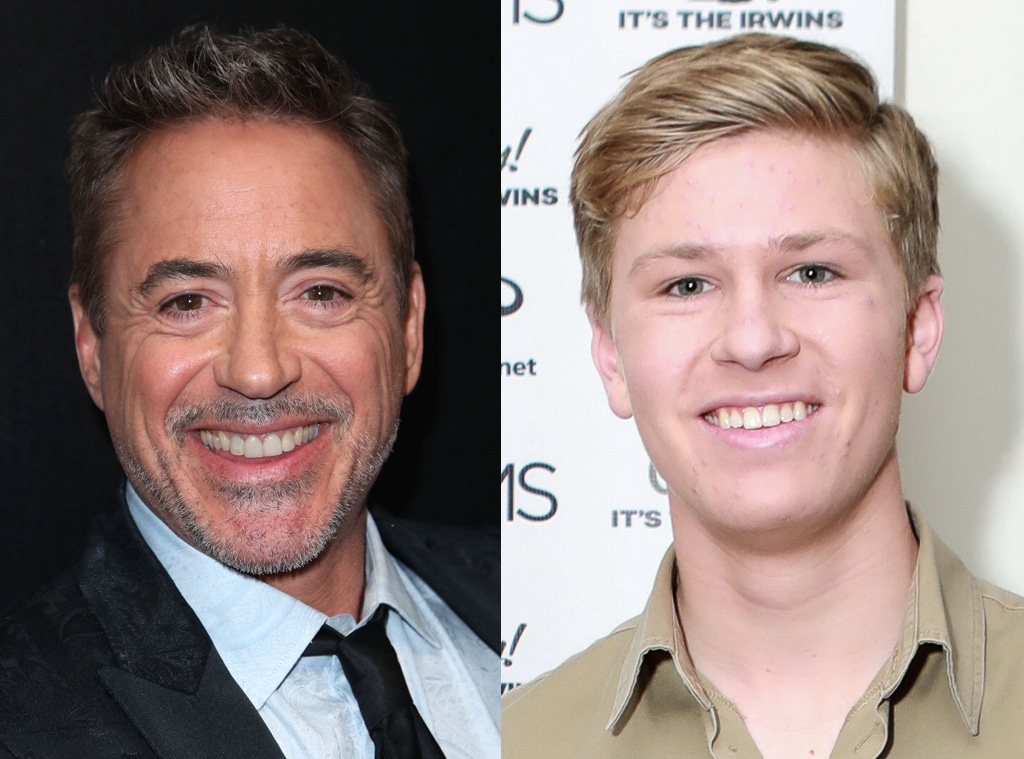 Matt Baron/Shutterstock, Jason Mendez/Getty Images)
Talk about the cutest reunion ever!
Robert Downey Jr. and Robert Irwin had a sweet reunion on TODAY Australia, where the Crikey! It's The Irwins star sat down with Iron Man actor to chat about his upcoming movie Dolittle.
Over a decade ago, Downey met Irwin when he was just a baby when he visited the Irwin family's Australia Zoo with son Indio Falconer Downey, 26, who was just a boy at the time. Feeling nostalgic before their interview, the 16-year-old shared a throwback picture with Downey on Instagram from their first meeting. In it, the Marvel alum can be seen holding a huge snake next to the late Steve Irwin, who is holding baby Irwin.
"I've got to say, the last time I caught up with you, I was teething," Irwin told Downey before conducting his first-ever interview. "So, it was a very long time ago…I know my dad loved touring you around the zoo. That was one of the highlights of his life."
Reflecting on the interview and excited to share it with his fans, Irwin took to Instagram, writing, "The first time I met @robertdowneyjr was when I was just a few months old when he and his family visited @australiazoo - it was awesome getting to catch up again to chat all things #Dolittle ! One of the kindest people you'll meet, and an incredible advocate for our environment!"
During the interview, the young wildlife conservationist and Sherlock Holmes star discussed The Footprint Coalition, which is Downey's new organization that is dedicated to using advanced technologies to help the planet.
After explaining his idea behind the initiative, he said, "All of us should be striving to do something that we can hand off to our capable, younger folk and then they'll wind up doing it correctly at some point."
Switching gears, the Tropic Thunder star opened up about his decision to star in the modern-day re-imaging of Doctor Dolittle, which marked his first film after wrapping The Avengers franchise.
Watch:
Throwback! Robert Downey Jr. Talks Acting Back in 1987
"Well, I mean, I've been pretty busy for the last decade doing a certain genre of film and often times, folks would say, 'Oh, I can't bring my daughter to see that until she's 13, or whatever," Downey shared. "And I realized that when I was a kid-kid, the types of movies, whether it was Fantasia or Chitty Chitty Bang Bang...those were the types of films that were really shaping my idea of storytelling through entertainment."
Dolittle hits theaters January 17.