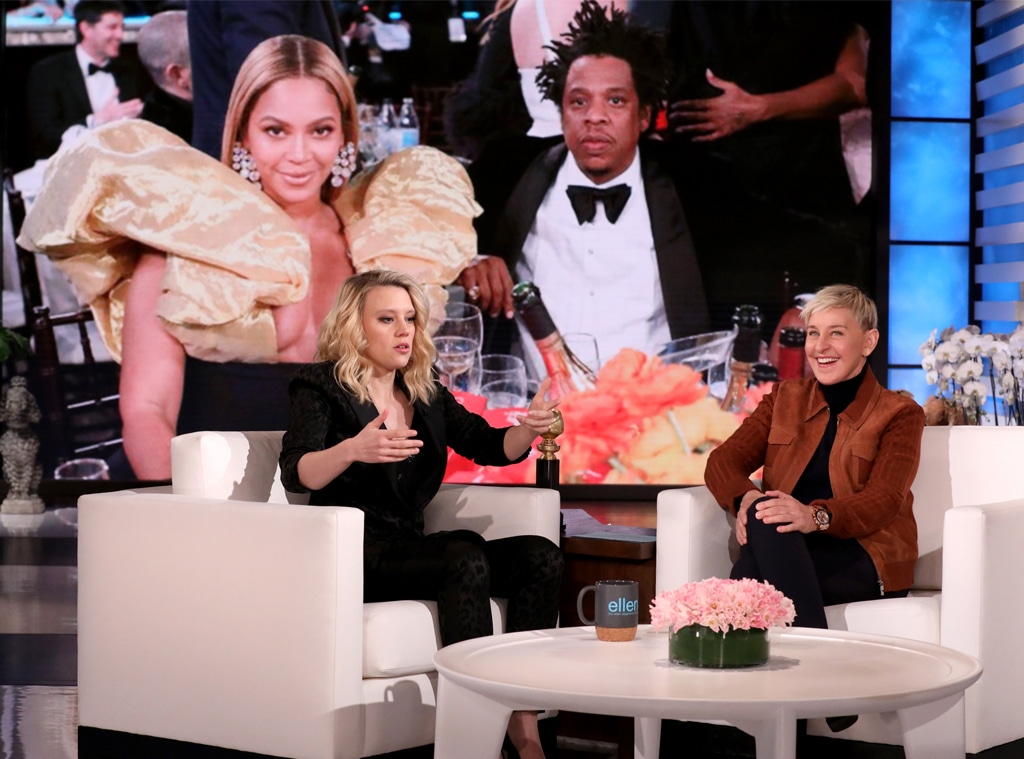 Michael Rozman/Warner Bros.
Kate McKinnon's first-ever Golden Globes was one for the books.
On Tuesday, the Saturday Night Live star recalled her epic night during her visit to The Ellen DeGeneres Show, which she admitted included a not-so graceful conversation with Beyoncé and Jay-Z. No word if she got to enjoy a glass of their champagne. 
"I mean the table that we were at," she told host Ellen DeGeneres. "Well, you're there…And then Portia [de Rossi]…And then, we had Carol Burnett—you know, American legend and everything. And then there was also Beyoncé and Jay-Z at the table, which…I mean they're the King and Queen of America. They were unbelievably gracious."
Thrilled by her seating assignment, the funnywoman revealed that she went into the Globes with some hilarious icebreakers.
"My sister and I found out that we were gonna be at their table and started panicking and making a list of, like, 'Well, what can we say? We live in one-bedroom apartments in New York City. What can we say? You know, do you use Hello Fresh? What kind of a milk do you like to drink?'"
"So, my sister went right over and has balls of steel," Kate continued. "And Beyoncé was so nice and I was just such a...I just pretended I had something on my pants and was sort of like…I blew it."
Surprised by her reaction, Ellen asked the Bombshell star if she got starstruck working with such big names on SNL, to which Kate replied, "Not Beyoncé. We all know that's different. We all know."
Switching gears, the duo reminisced over the moment Kate presented the Ellen's Game of Games host with the Carol Burnett Award, which the comedienne joked that she would have turned down had Ellen not been one of her idols.
"Well, usually if anyone asks me to do anything, I sort of seize up and then try to find a way to say no because I don't leave the house," she said. "But then the moment you texted me I was like, "Yes, yes, yes!"
"Because, you know, you've changed my life," Kate continued. "You've changed so many people's lives—not just as a comedian, I mean, you're the greatest comedian of all time. But apart from the life that you've led and the choices that you've made and the bravery that you've shown…I just wanted a chance to say, to people, what that has meant to me and how that has changed my life."
During her moving speech, which Kate confessed she wrote on the plane to the Golden Globes, the Emmy-winning star thanked Ellen for her courage and for paving the way for LGBTQ+ artists like herself.
"And if I hadn't seen her on TV, I would have thought, I could never be on TV, they don't let LGBTQ people on TV—and more than that, I would have gone on thinking that I was an alien and that I maybe didn't even have a right to be here. So thank you, Ellen, for giving me a shot. A shot at a good life."
Watch Kate re-tell her amazing Beyoncé story and break down her speech-writing process in the video above!