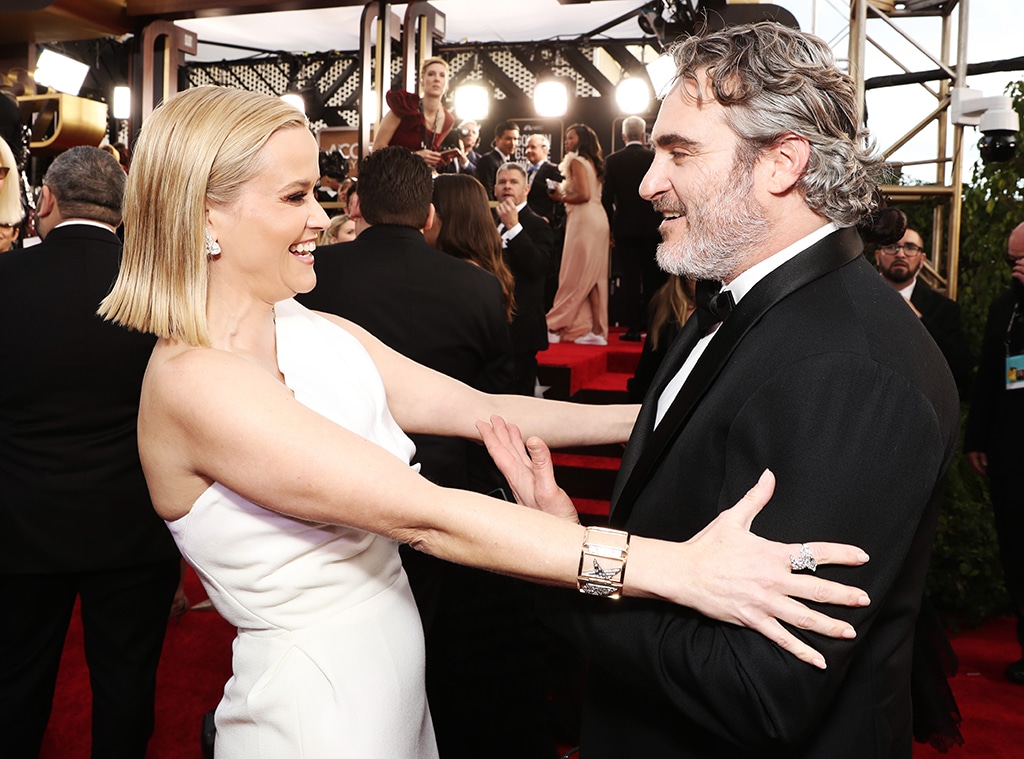 Todd Williamson/NBC/NBCU Photo Bank via Getty Images
June and Johnny Cash, is that you?
You'd be forgiven for thinking The Man in Black and his beloved had returned from the grave for a quick appearance at the 2020 Golden Globes on Sunday, Jan. 5 when Joaquin Phoenix and Reese Witherspoon, the very talented actors who brought the late musical icons to life on screen in the award-winning 2005 biopic Walk the Line, shared a brief moment on the red carpet as they both headed into the ceremony at the Beverly Hilton Hotel, where they were both nominated were major awards 15 years after they were awarded for their work in the film by the Hollywood Foreign Press Association.
Not only were Phoenix and Witherspoon awarded Best Actor and Best Actress in a Motion Picture—Musical or Comedy, respectively, back in 2005 for their performances in the film, but the movie also took home the trophy for Best Motion Picture—Musical or Comedy. (You'll recall that Witherspoon's work as June also nabbed her the first Academy Award in her career a month later.)
Both actors had a lot to celebrate as they headed into this year's ceremony, with Phoenix nominated for Best Actor in a Motion Picture—Drama for his headliner-making performance in Joker, while Witherspoon found herself nominated for Best Actress in a Television Series—Drama for her work in Apple TV+'s The Morning Show, leaving them plenty to congratulate one another about.
Todd Williamson/NBC/NBCU Photo Bank via Getty Images
Speaking with E! News' Ryan Seacrest before the event, where she eventually lost to The Crown's Olivia Colman, Witherspoon gushed about the moment she was having in her career. "I'm having the time of my life and I feel so lucky and so grateful that audiences have so many choices and that they're choosing to watch The Morning Show, which is amazing and that they wrapped their arms around Big Little Lies," she said. "It feels so good."
When asked what sort of alchemy she's worked out to agree to project that wind up being such celebrated hits, she had only this to offer: "I don't know, you know I worked obviously a very long time in this business and really seeing women parts not getting better or evolving. So I started reading a lot of books and buying options and it just created this incredible, you know, ability to tell a more dynamic version of what women's lives are, you know, and I think coming from that perspective has been really amazing. I've gotten to work with people like Nicole Kidman, Laura Dern and Meryl Streep and Jennifer Aniston now!"