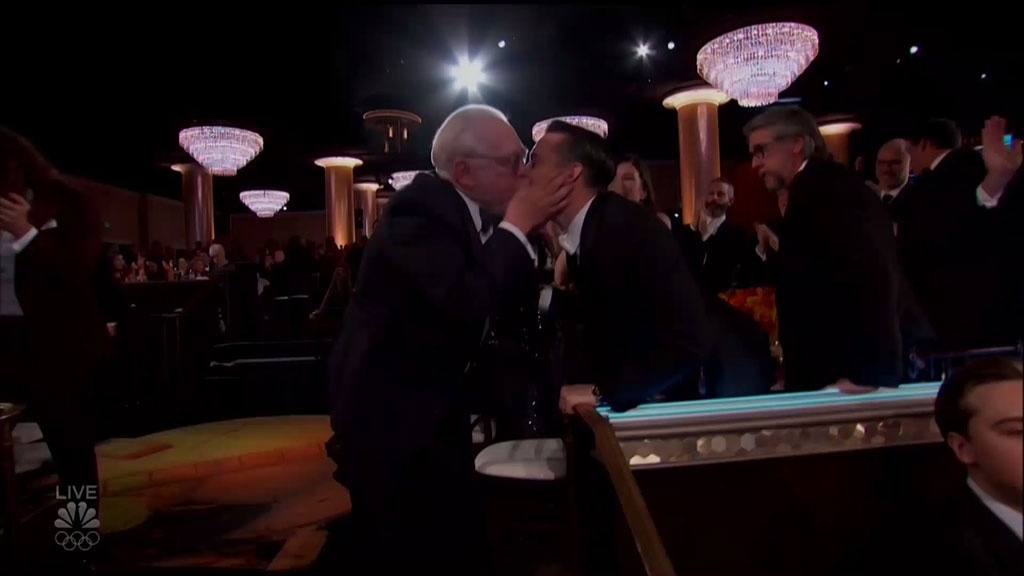 NBC
If this were Succession and not real life then this would be a REALLY big deal.
But, alas, we do not live in the world of Waystar-Royco. We live in the real world, where Logan Roy and Roman Roy, aka Brian Cox and Kieran Culkin respectively, are very much two loving, friendly people. This was proven when Kieran leaned over their table at the 2020 Golden Globes to get a kiss from the Best Actor in a Drama series recipient.
And this wasn't just any kiss... it was a kiss on the lips! Roman would likely die from the experience, if not because his father has never showed any affection, then he'd die because Roman doesn't strike viewers as the warm heartfelt moment type of guy. 
The rest of the Succession cast also received touches of affection from their family patriarch, but none as adoringly as that of Kieran. 
As for Brian's acceptance speech, he gave the cast a loving shout-out that runs quite contrary to what Logan Roy would've likely said. He revealed that his win "wouldn't have happened if I hadn't worked with the most extraordinary bunch of people ever the cast and the crew of Succession." 
Watch:
2020 Golden Globes: By the Numbers
He also humbly stated, "First of all, I want to apologize to my fellow nominees for winning this I mean, I'm sorry. That's all I can say, I'm sorry. I never expected this. And I've been in this business, well, next year I'll have been in this business for 60 years.  I mean, I started when I was two and I just never thought this would ever happen to me. I'm a wee bit shocked."
Brian will go home with not one, but two awards, since Succession also took home the gold for Best Drama Series. Perhaps the cast will celebrate with a game of Boar on the Floor tonight?
To see which of your favorite stars are taking home the gold at tonight's show, check out our complete winners list here.